Rzeszów 2023-11-17
EMU Newag Impuls 2.
On September 12, 2023, Regionalne Koleje Podkarpackie received five NEWAG Impuls 2 EMU trains. Then, in October 2023, another three trains of this type were received (four wagons in a set). Then, in November 2023, four NEWAG Impuls 2 Hybrids were delivered (three wagons in a set). There are a total of 12 new trains. By August 2023, Regionalne Koleje Podkarpacia had 37 trains of various types. After the latest deliveries, this number increased to 49 trains. Currently (2023) in one day, Regionalne Koleje Podkarpacia launches over 200 railway connections.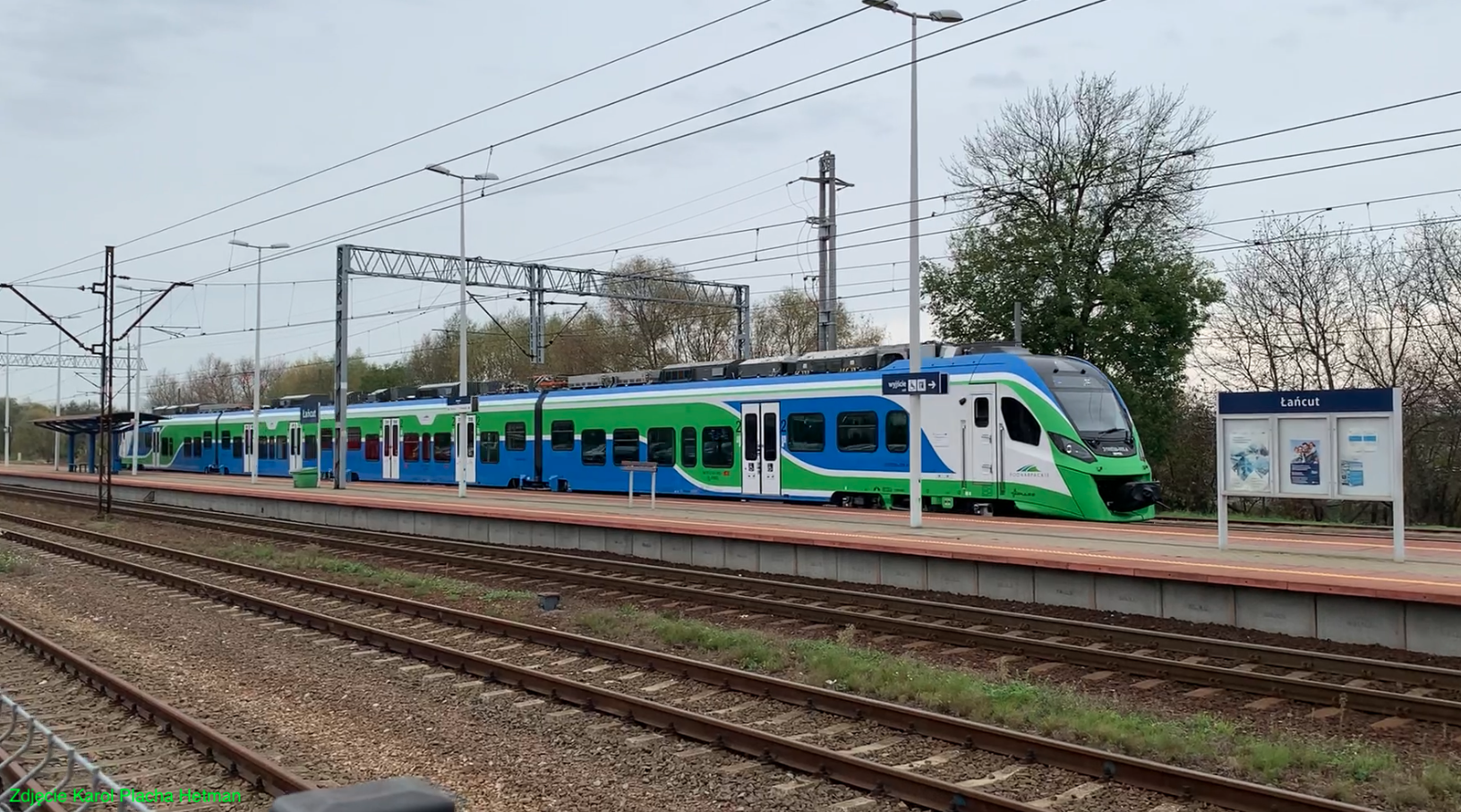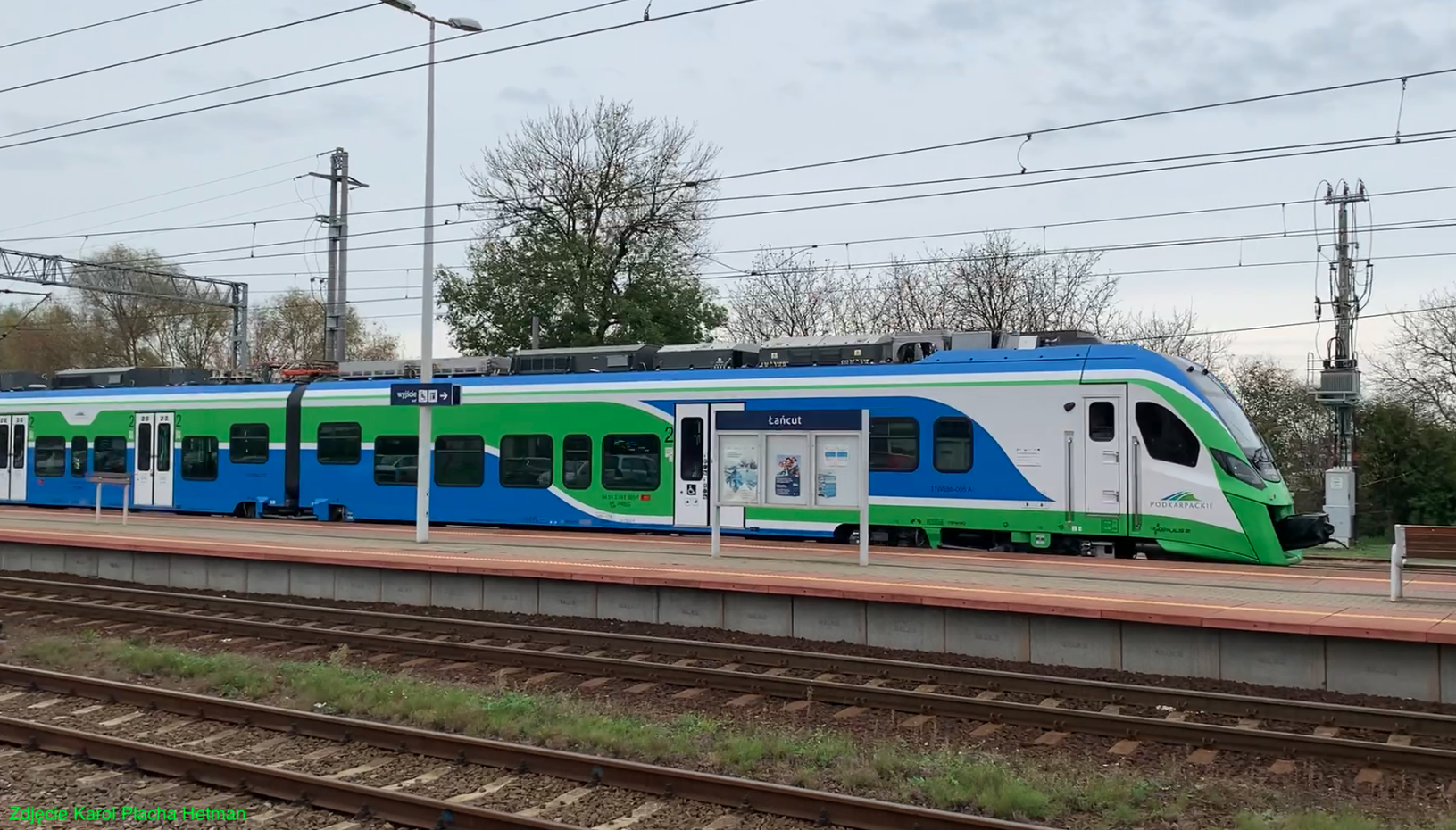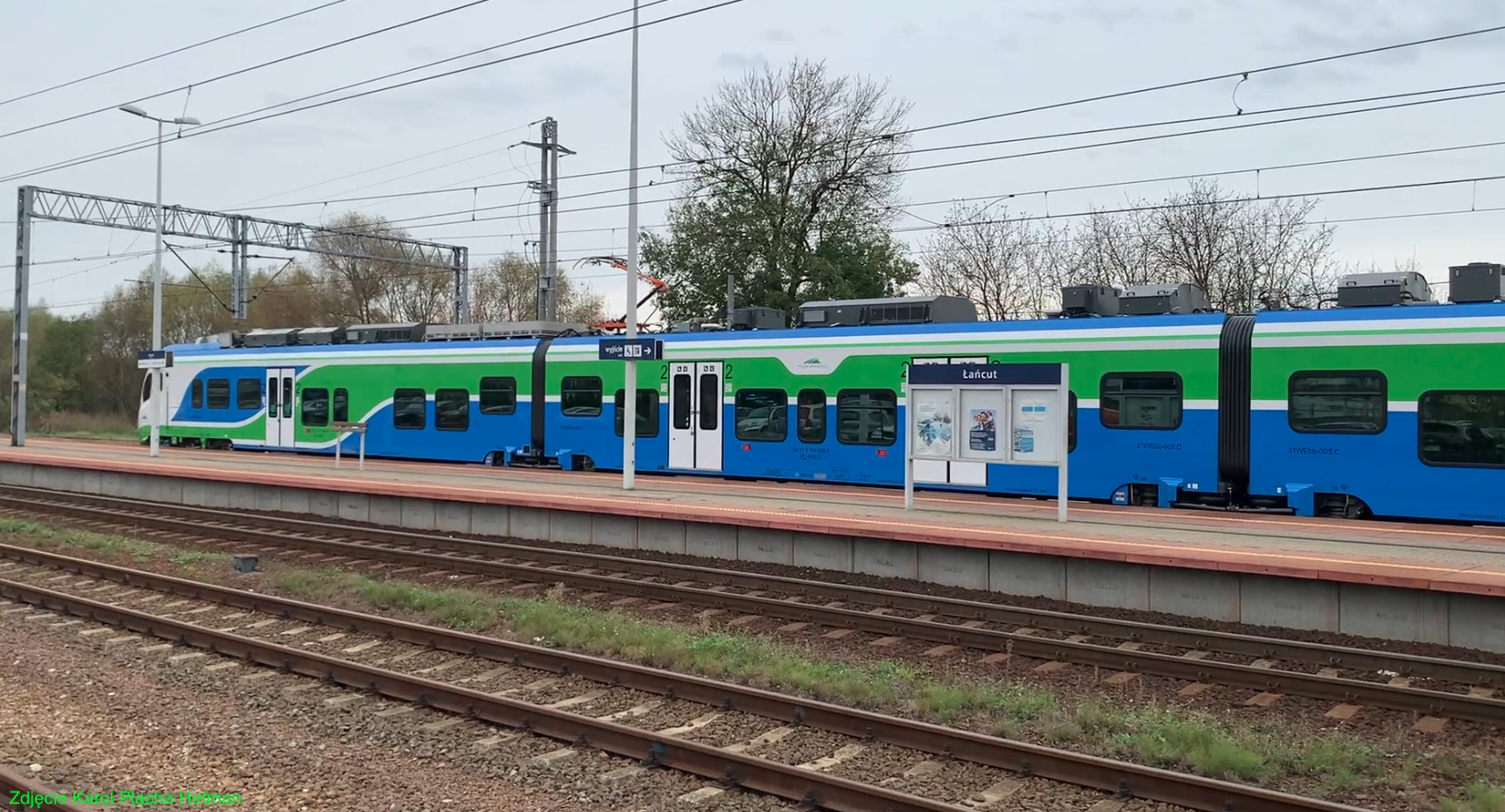 The contract for the delivery of 12 new Impuls 2 trains for Koleje Podkarpackie was concluded in July 2022. Two agreements were then concluded.
The first contract for the amount of PLN 263 million for 8 NEWAG Impuls 2 type 31WE trains, i.e. 4 wagons in a set. The price included one driving simulator, technical documentation and maintenance services. The trains are covered by a 6-year warranty. Each EMU takes up to 400 passengers on board, including 192 people in seats. The trains are air-conditioned, adapted to transport passengers in wheelchairs, with closed toilets and equipped with dynamic passenger information. There is also an electronic ticket distribution system. Tickets can be purchased using payment cards or mobile phones (smartphones). A novelty in new trains is the use of induction loops, which are intended to improve the effectiveness of the hearing aids of passengers who use them. Each vehicle was tested on the track of the Railway Institute near Żmigród.
The second contract, worth PLN 153 million, concerned the delivery of four NEWAG Impuls 2 Hybryda EMU trains. The vehicles are three-car, with a double drive system. The first is a classic system for collecting electricity from the grid and traction and driving with electric motors. The second system is the so-called three-machine; The combustion engine drives the generator, and the current is transmitted to the same electric traction motors. Thanks to this, trains can run under electric traction and on lines without wires. This type of trains are already in use in the Szczecin and Wrocław areas. Thanks to these trains, it is possible to launch the Rzeszów - Dębica - Mielec route with one train, without the need to change in Dębica. The vehicles also serve the Bieszczady area. lines No. 106, 107 and 108, as well as lines No. 101, 91 and 25. Each of these trains carries up to 300 passengers, including 140 people in seats.
NEWAG Impuls 2 Electric Multiple Unit.
Electric Multiple Units (EMUs) Impuls are very successful trains produced by NEWAG from Nowy Sącz. Trains are used in many countries, and especially in Poland on regional and agglomeration routes. NEWAG has proven that it can produce very good trains: comfortable, fast, elegant and, above all, tailored to the user's needs.
NEWAG decided to continue the development of the Impuls EMU and modernize the vehicles to the changing needs of passengers and users. The company wanted to improve their functionality, ergonomics and durability. Extend operational periods and facilitate service and renovation processes. Use new, advanced design solutions. An additional motif was the subsequent stacks of papers produced by the European Union Commission, which have been invented since 2014; TSI LOC&PAS, TSI SRT, TSI NOI, TSI PRM and TSI CCS.
The new EMU was named Impuls 2 and was built on the basis of experience gained by NEWAG from operating Impuls trains in cooperation with customers. NEWAG can produce the Impuls 2 EMU in the following configurations:
35WE 6-cars - Length 114.86 m. Power 3,200 kW. There are no Jacobs bogies between carriage 3 and 4. Powered bogies were installed under the wagons. The train has 8 electric engines with a power of 400 kW each.
45WE 5-cars - Length 91.9 m. Power 2,000 kW, i.e. 4 engines of 500 kW each.
31WE 4-wagons - Length 75.6 m. Power 2,000 kW or power 1,600 kW.
36WE 3-cars - Length 59.3 m. Power 1,600 kW, i.e. 4 x 400 kW.
37WE 2-cars - Length 43.0 m. Power 1,600 kW, i.e. 4 x 400 kW.
EZT Impuls 2.
The mechanic's cabin has been redesigned to be even more economical and to improve the field of view of objects right in front of the train. The cabin can accommodate one mechanic's position and an additional assistant's position. There is a separate air conditioning and heating system. You can install a fridge, kettle, microwave, washbasin and additional cabinets. There is a separate door leading from the outside to the mechanic's cabin. There were no such doors in the previous Impulse.
The floor in the Impuls 2 vehicle is 0.62 m high and 0.76 m above the bogies. Individual carriages can be equipped with a different number of passenger doors. The door opening is 1.30 m. The number of seats, their arrangement and orientation to the direction of travel may vary. Generally, the carriages are Class 2. The amount of space for wheelchairs, strollers and bicycles may vary. The number of toilets may vary, as they are in a closed system, adapted to serve disabled passengers and equipped with a changing table for children. Moreover, carriers can order vehicles adapted to service long-distance lines or with wagons made as Class 1.
All carriages have air conditioning and a heating system with automatic regulation. The carriages are equipped with LED lighting. The carriages have audio passenger information and LCD monitors. There is also monitoring of the vehicle interior. A passenger counter can be installed.
NEWAG offers bimodal vehicles, i.e. with an additional combustion engine, or hybrid vehicles. Vehicles powered by overhead lines have a running speed of up to 160 km/h. Vehicles with hybrid or bimodal drive guarantee a running speed of up to 120 km/h.
The drive engines have a power of 400 or 500 kW. These are three-phase asynchronous motors and are electronically controlled by an inverter. There is one inverter for each trolley. The mechanical transmissions are two-stage. The drive system is equipped with energy return to the traction network (recuperation) during braking.
T-T 36WE 3-car data:
Length 59.3 m. Height 4.21 m (collectors folded). Width 2.84 m. Axle system Bo'2'2'Bo'. Power 1,600 kW, i.e. 4 x 400 kW. Curb weight 110,000 kg. Total weight 130,000 kg. Maximum axle load on the track 20,000 kg. The total number of passengers transported was 308 people. Ambient temperature from -25 degrees C to +40 degrees C.
T-T 31WEbb 4-wagons data:
Length 75.6 m. Height 4.21 m (collectors folded). Width 2.84 m. Axle system Bo'2'2'2'Bo'. Power 2,000 kW or 1,600 kW.
Written by Karol Placha Hetman