Kraków 2008-09-05

276b Section 1989-01-12

PZL-130 Orlik Turbo, engine Walter.
Poland
History
Walter turboprop aircraft.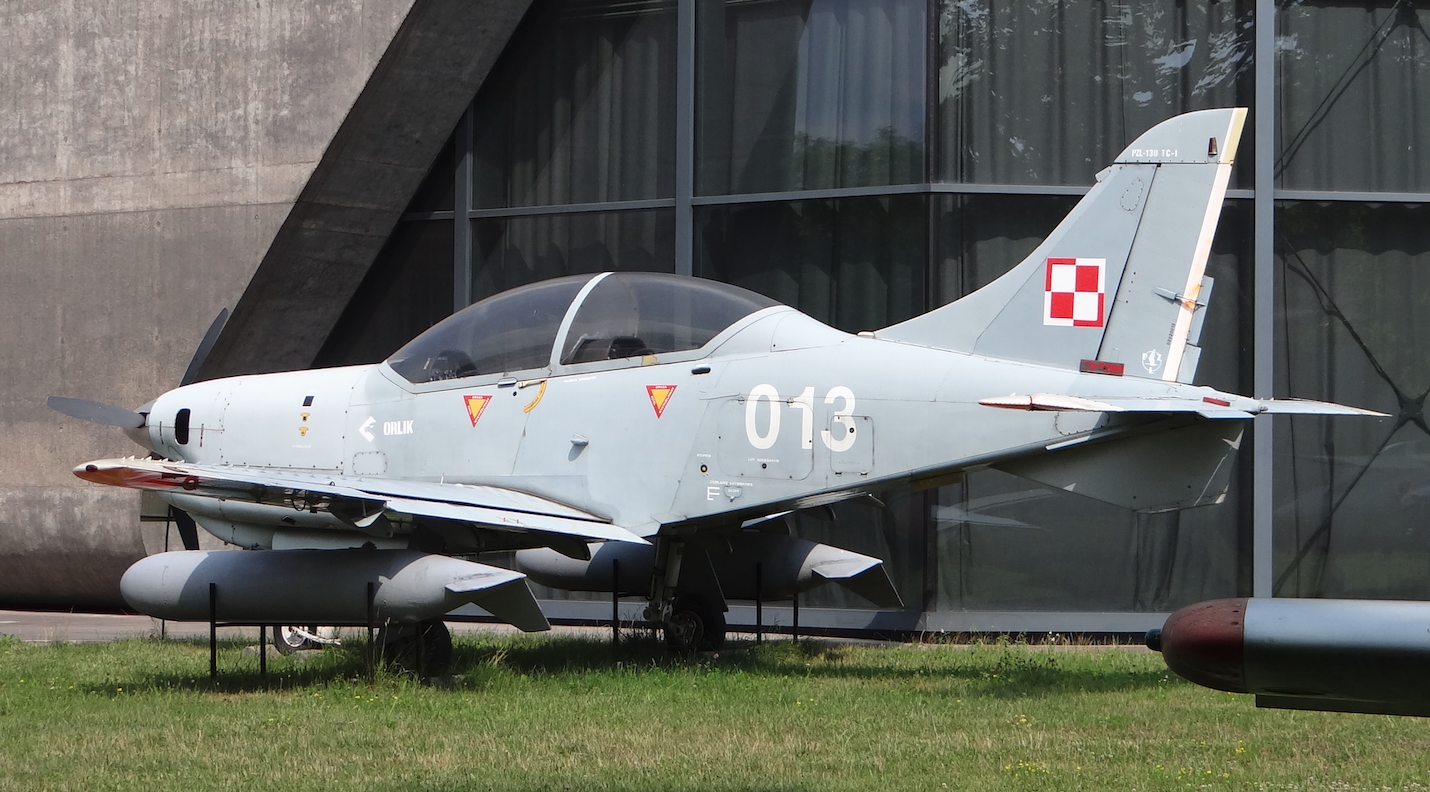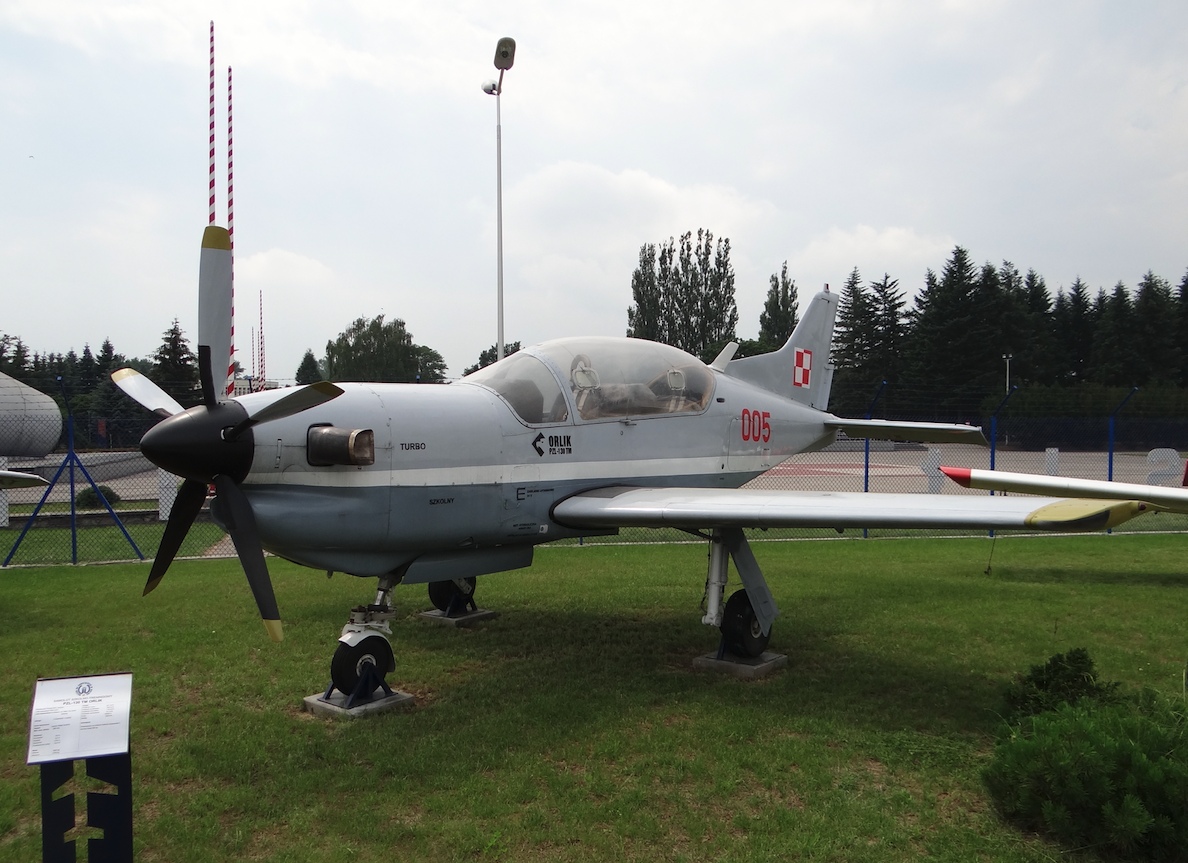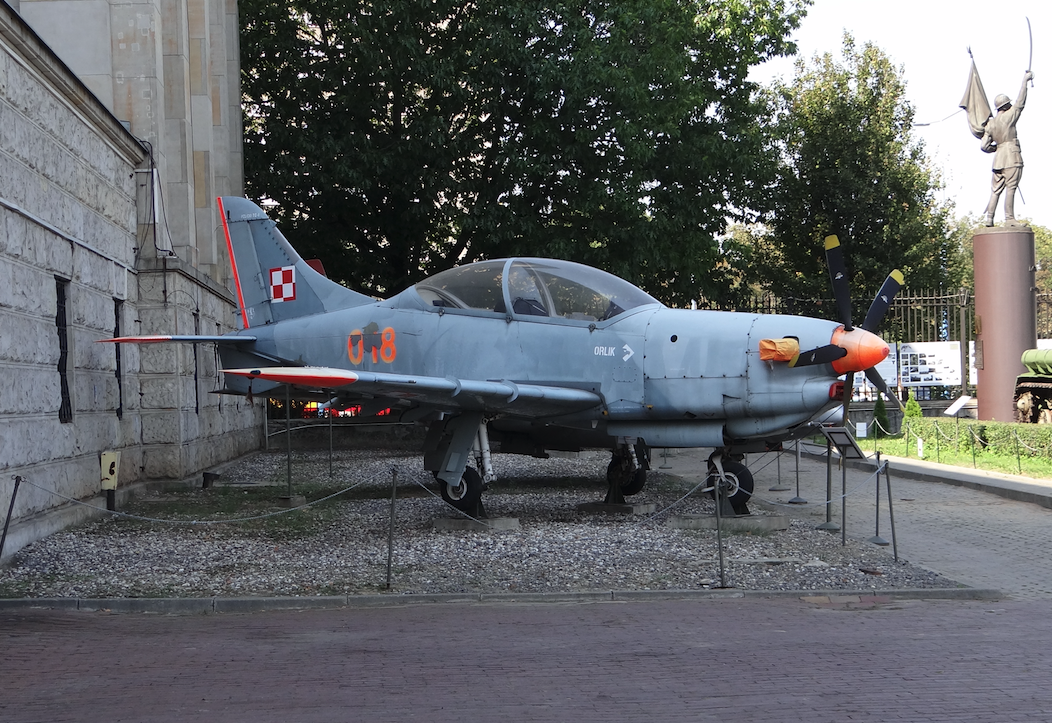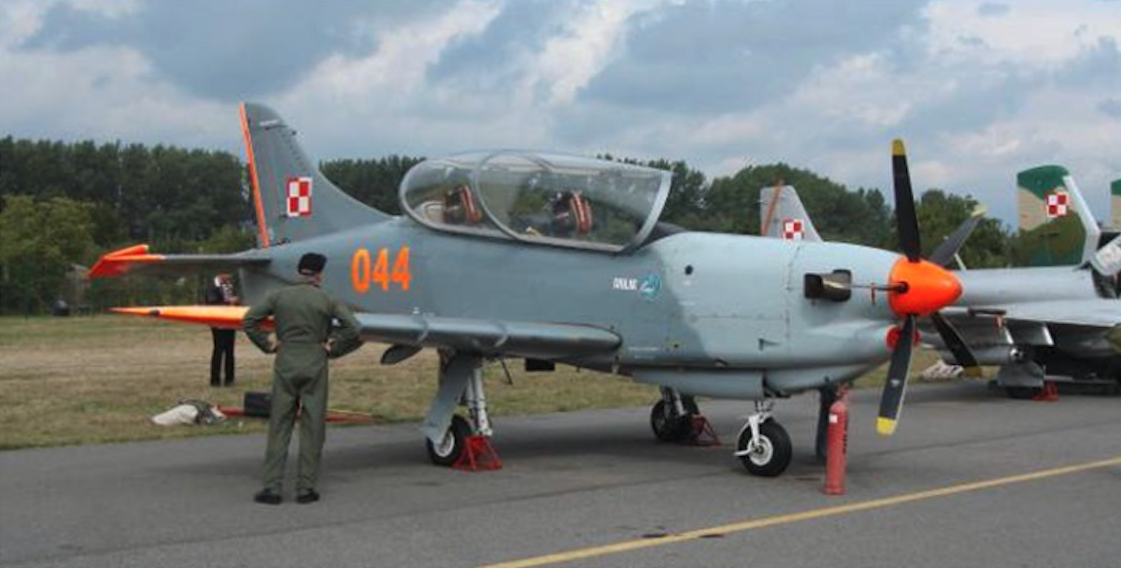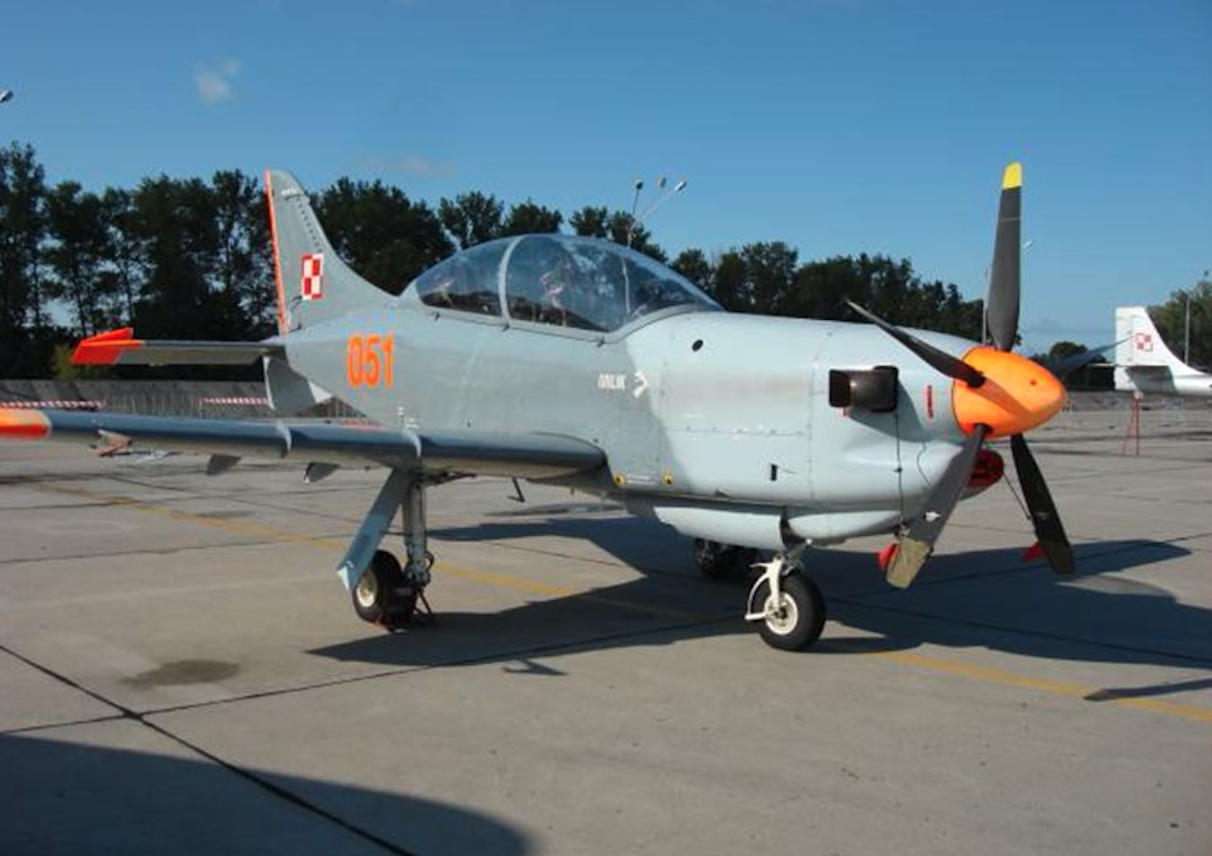 Piston-powered propeller aircraft imitating turbojet aircraft to users and potential users stopped responding very quickly. Turboprop propulsion was turned as more promising. This was mainly due to the power obtained from one kilogram of engine, i.e. at a comparable engine mass, much more power was obtained. However, simply installing existing engines was hardly an option. We will understand this when we see that the then turbojet engine cost from $ 150,000 to $ 250,000, and that accounted for 20-30% of the value of the entire aircraft. The durability of the engines had to be extended to reduce operating costs. One of the main ways was to reduce performance by artificially flattening their characteristics. In short, due to the deliberate failure to use their full potential. This type of power reduction, e.g. by about 30%, allows the motor to last at least twice. In turn, this smaller power is still very high in relation to the piston engine. A plane with such an engine has volatile properties similar to fighter aircraft from the last period of World War II.
The first training and training aircraft were designed from the very beginning with turboprop drive and made the first flights at the turn of the 70's and 80's. The first was the Swiss Pilatus PC-7 and the Brazilian Embraer EMB-312 Tucano. Soon they were joined by the Finnish Valmet L-80 TP / L-90 TP Redigo and the Swiss Pilatus PC-9.
A large group of planes previously powered by piston engines also appeared; Firecracker-Turbo, Turbo Pillan, Epsilon-Turbo, SIAI-Marchetti SF-260 TP.
In the field of turboprop engines for this type of aircraft, the market was dominated mainly by Pratt-Whitney located in Canada and the company from USA Allison. The first produced PT-6 engines with 410 - 740 kW. Second 250 B-17 with a capacity of about 300 kW.
PZL-130 TM Orlik Turbo. 1989.
Walter engine.
The PZL-130 aircraft decided to use a 550 kW Walter M-601 turboprop engine available in Poland and manufactured in Czechoslovakia. This engine is the propulsion of the passenger transport aircraft Turbolet-410 UVP-E, in the Walter M-601 version with 490 kW (665 hp), cooperating with the five-blade Avia VJ8.508E propeller. This engine is also the propulsion of the Ćmielak Z-37 Agro Turbo aircraft.
The first aircraft PZL-130 nb 007 with a Walter engine was built from scratch and made the first flight on 1989-01-12, and the pilot was the pilot of the Institute of Aviation, mgr inż. Jan Gawęcki.
Jan Gawęcki, a few years earlier, being a pilot of the PLL LOT Tu-134 plane during take-off from Istanbul airport, thanks to cold blood and quick decision he saved the plane and passengers.
The first Turbo Orlik flight with a Walter engine lasted 21 minutes. In 1990, this aircraft was transferred to military tests.
Also, PZL-130 aircraft No. 005 and 006 were rebuilt and Walter engines were installed on them. In 1990, these aircraft were also handed over to the army for tests.
The Walter M 601 engine was not very satisfying. Not even considering its greater weight than comparable constructions, it was above all not adapted to work in a larger overload range. The overload range was only + 3.8 g and - 1.3 g. Therefore, the engine had to be modified.
Orlik aircraft 005, 006, 007, after the tests were completed, were handed over to the army. Aircraft No. 007 was handed over to the Air Force Academy in Dęblin as a non-volatile scientific aid. However, aircraft No. 005, 006 were used for connecting flights at 23 EL (flight squadron) in Dęblin and 45 ELD (experimental flight squadron) in Modlin.
The modified Walter engine was designated M-601 E and has a power of 490 kW with a 5-blade Avia V-510 propeller. The power unit is partially unified with the PZL-130 TP version, i.e. a plane equipped with a Canadian turboprop engine. The engine bed and engine cover were left. The five-blade propeller thrust at a standstill reaches 15 kN.
The basic change in the powerplant was that the aircraft could perform partial aerobatics.
The dashboard and side panels have been redesigned, changing their shape and design. The crew cabin air conditioning and ventilation system was redesigned. The retractable landing gear extension system is now hydraulic rather than pneumatic as in the reciprocated version. The electrical installation had to change. As many as 6 armament hangers are installed under the wings. Previously there were 4 catches, and in the version with a piston engine only two catches.
New WTT (Tactical and Technical Conditions) for a Walter engine aircraft. 1991.
In-flight tests of existing PZL-130 TM samples confirmed the assumed airplane performance (with limitations resulting from the propulsion used) and were the basis for issuing on October 10, 1991, corrected tactical and technical assumptions (WTT), in which since PZL-130 Orlik Required: the ability to learn piloting in normal conditions and in emergencies, admission to the performance of higher pilot figures, the possibility of training pilots in flights without ground visibility, using navigation systems, air combat training and combat ground targets.
PZL-130 TB. 1991.
Once again the Walter engine was modified, which received the designation M-601 T. According to the manufacturer's information, the engine is adapted to Polish requirements, i.e. to perform full acrobatics.
The first aircraft PZL-130 No. 009 registration SP-PRF, made according to these assumptions, was completed in 1992.
Compared to the prototypes, the wingspan was increased by 1 m, extending the flap ends. The design of the wing flaps and the wedge angle of the wings were changed. In order to improve visibility from the cockpit, the cockpit cover was enlarged and the windbreak was removed. New wheel brakes and new low-pressure tires were used. Ballast tips and height controls have been changed. The seat mounting in the second cabin has been increased. In place of the existing trunk, oxygen cylinders were placed. Pilot and navigation equipment has been enriched. These changes resulted in an increase in the mass of the aircraft, which was compensated by the increased power of the Walter M-601 T engine increased to 551 kW (750 hp). The avionics and cabin arrangement were made similar to the equipment of the TS-11 Iskra training and training aircraft.
Despite this, this aircraft was not in the target version, because the successor of the flight was the Iskra successor - the training-training (training-combat) aircraft PZL I-22 Iryda, which together with the Orlik aircraft was to be the basic equipment of Polish flight units Air Forces and Air Defense. It is worth mentioning that aircraft No. 009 was initially called PZL-130 TB Orlik-bis.
The first flight of the PZL-130 TB aircraft took place on 1991-09-17, and then underwent military tests in 32 PLRT (Regiment of Tactical Recognition Aviation). The experimental pilot was Jerzy Wojnar.
In this form, the aircraft was approved by the Polish Army and adopted as a basic training aircraft by the Polish Air Force and Air Defense.
Orlik for Polish Military Aviation. 1992.
As mentioned above, the Polish Army ordered a series of 25 pieces of Orlik machines with piston engines. But after attempts by the Ministry of National Defense withdrew from the order. Only the PZL-130 TB version with a Walter M-601 E / T engine received appropriate recommendations. The following factors influenced this decision;
Correct pilot properties corresponding to those of a jet aircraft. Good visibility from the cab, also from the second seat. Low purchase price. Delivery and service guarantee. Low operating costs. Parallel development of a ground simulator. Construction development perspective.
On 1991-04-05, the Ministry of National Defense concluded a contract with the manufacturer for the supply of 48 PZL-130 TB aircraft, i.e. modified PZL-130 TM. On 1992-08-21, the first of the PZL-130 TB aircraft ordered by the army was flown.
At the beginning of 1994, the production of the first Turbo Orlik PZL-130 TB production series consisting of 9 machines was completed at the WSK PZL-Okęcie production plant in Warsaw. Numbers from 012 to 020. The aircraft received gray camouflage, yellow wing tips and a propeller hubcap, three-digit red board numbers and checkerboard (old model). From this batch, one machine No. 013 was left for further tests, and the remaining ones were transferred to Radom up to 60 LPSzk.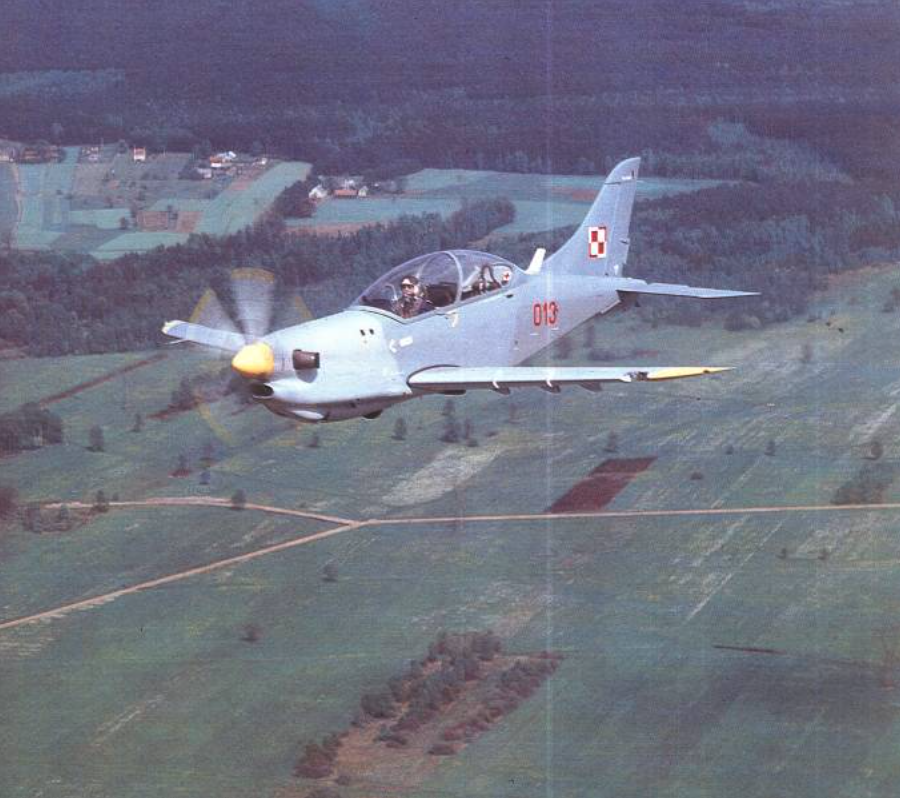 In the period from October 1992 to October 1993, aircraft No. 009 underwent military tests. As a result, the decision was made to allow the aircraft to enter the Polish Aviation equipment. However, it was requested to introduce 0-0 class reclined seats and retrofit the aircraft with better avionics. The aircraft designation on PZL-130 TC-I has also changed.
As for the markings, explanations are due; the designation TC previously meant a P&W engine, but the matter of this propulsion had to be postponed at that time, which is why TC is a developmental TB design. In turn, the "I" stands for a 0-0 class reclining chair. That is why in literature we can find the designation PZL-130 TB-I, i.e. the TB version with 0-0 class chairs.
Airplanes No. 021, 022 served as models for the PZL-130 TC-I version. The second Orlik series with the designation PZL-130 TC-1 and are slightly modernized compared to PZL-130 TB. The changes included; moving the airport power socket behind the wing (previously it was in front of the wing), a storage-step on the side was added to facilitate getting into the second cabin. GPS and transponder were installed. The electrical installation had to be modified.
The most important change was the equipment of planes with modern ejection seats class 0-0 by Martin Baker Mk.PL 11 B.
Painting has also changed. Wing tips, horizontal tail, propeller hubcap painted with orange fluorescent paint. The chessboard was painted in a new pattern, which has been in force since 1994.
In the meantime, an order was signed for 48 pieces of PZL-130 TB, whose deliveries began in 1994. The first air unit equipped with Orlik planes was the 60th Air School Regiment, stationed in Radom.
On 1994-07-07, the WSK PZL-Okęcie plant transferred to the WLiOP army another 6 PZL-130 TC-I aircraft (second series), with board numbers from 022 to 027, which joined Radom to 8 aircraft already handed over to PZL-130 TB. In this way, there were already 14 aircraft in Radom.
During inspections (renovations), PZL-130 TB aircraft were adjusted to the PZL-130 TC-I standard. In total, it was created from scratch or by modifying 40 machines of the PZL-130 TC-I version. According to other sources, 36 aircraft. Until 2000, 26 aircraft were delivered to Radom, and another two to 23 Air Squadron in Dęblin, also subordinate to WSOSP (Air Force Academy).
Four PZL-130 TC-I planes were damaged during the operation: nb 021 (no data), nb 034 (2001-10-11), nb 036 (2001-05-09) and nb 039 (2002-01-05) . In these cases, 7 pilots were killed.
Further work on the aircraft.
The PZL-130 TC-I No. 009 aircraft, as one of the PZL-130 TC-I prototypes, continued to undergo tests. During difficult and dangerous tests on 1996-01-25 the machine was destroyed burying two pilots (?). Further attempts were made by copy No. 037.
In 1995, tests were carried out on suspended weapons under the wings. Aircraft No. 018 is equipped with PZL-UBP beams enabling suspension of containers with machine guns, containers with non-guided missiles, bombs or additional fuel tanks. However, the adopted standard was different from the NATO standard.
PZL-130 TC-I. 2000.
The PZL-130 TC-I version has become the primary school aircraft in Polish Aviation. The Orlik aircraft was submitted for the "Teraz Polska" award. By the end of 1998, all serial PZL-130 TB were rebuilt into PZL-130 TC-1.
Opinion about the Orlik aircraft delivered by the commander 60 PLSzk Lt. Col. Dipl. pilot Marek Bylinka in 2000; - "The PZL-130 Orlik aircraft has been in operation at JW 5051 Radom since January 1994, and pilots have been using this type to date to 16,337 hours, which is approximately 600 hours per aircraft. In the opinion of the engineering and aviation service, the aircraft is easy to operate. It presents no major technical problems. All construction problems, and there were few of them compared to other training and training constructions, were removed jointly by the manufacturer and the user. It is currently the basic school aircraft at the University of Applied Sciences. Officers in the field of basic and medium pilotage train day and night. We perform individual and team piloting on it, continuing the many years of tradition of the Spark pilot team. The aircraft meets the requirements of training at WSOSP and its native production is not without significance, which facilitates its improvement and supply of spare parts. "
Written by Karol Placha Hetman
---
Kraków 2008-09-05
276b Section 1989-01-12

PZL-130 Orlik Turbo, engine Walter.
Poland
Construction
Walter turboprop aircraft.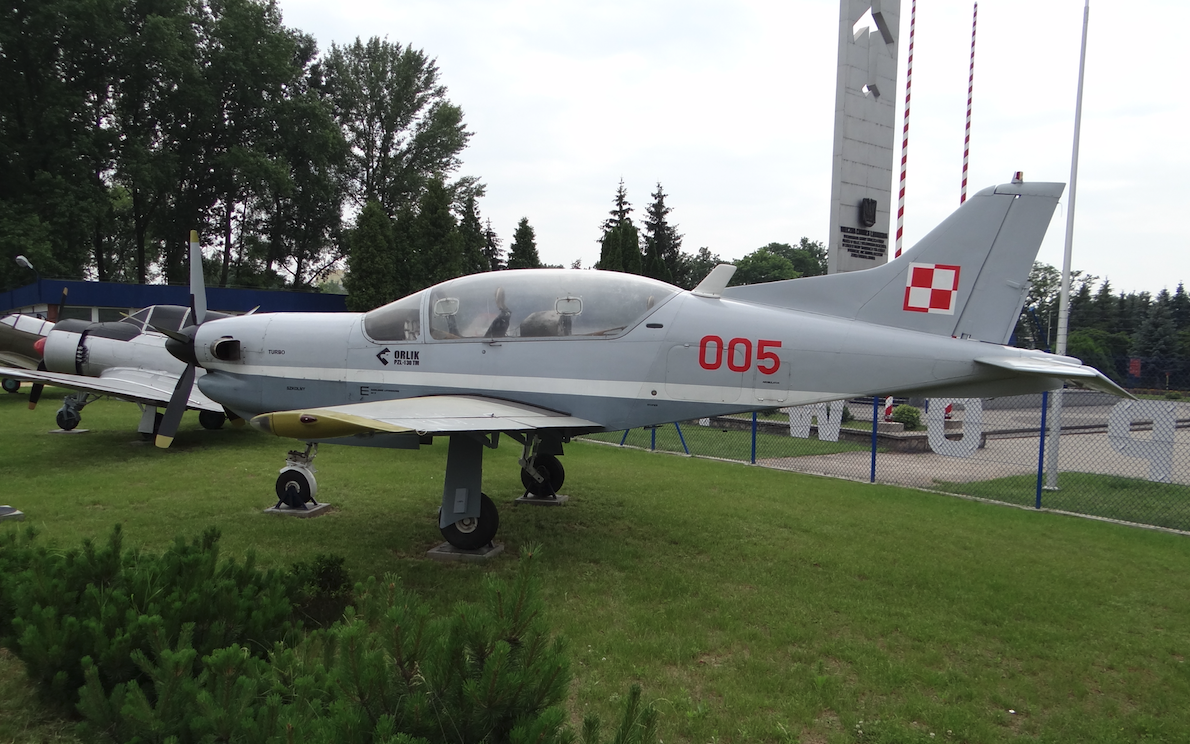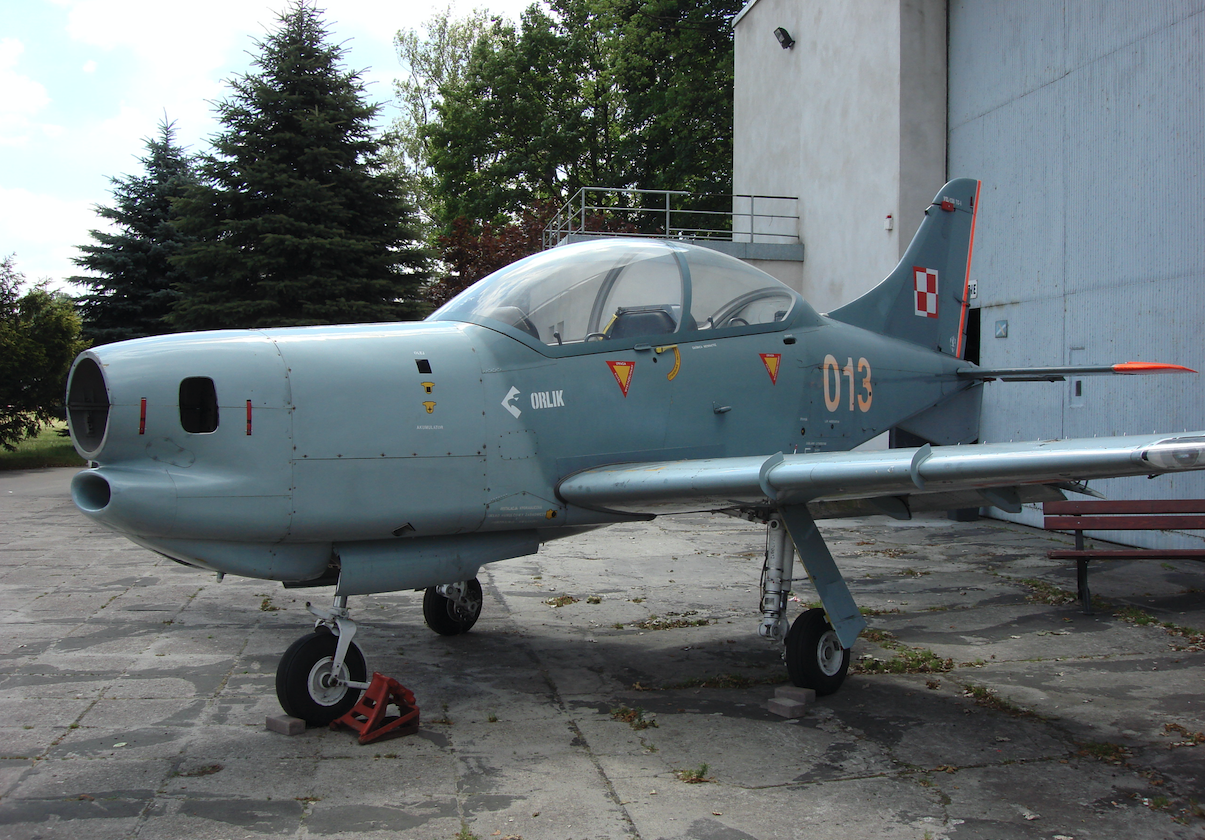 The PZL-130 TC-I Orlik aircraft is a training aircraft of all-metal construction.
Self-supporting wing with a trapezoidal contour and a positive lift of 5 degrees, one-piece and single-girder structure, fastened with two fittings, two rockers and four connectors. Welded flow structure. The cover is made of duralumin sheet metal, 1.2 to 2 mm thick, riveted with countersunk rivets. Inside the wings are integral fuel tanks with a capacity of 640 liters and a compartment for the wheels of the main chassis. In addition, on the lower surface of the wings there are 4 (TC-I) or 6 (TC-II) catches for attaching armaments. Slotted ailerons, pivoting with a pusher system and electrically driven double-gap Fowler flaps.
The hull of a half-shell structure, with a rectangular cross-section, oval vaulted. Riveted and welded, divided into two parts, front and back. The cab cover is opening to the right, made of organic glass and epoxy-glass frame. Behind the cab, an electrical equipment compartment.
Classic steer with rudder, single-girder with reinforced coverage. Vertical trapezoidal metal half-crust ballast, with rudder with mass balance and aerodynamic compensation, with unloading and balancing flap. Composite rudder. Metal, half-shell horizontal ballast. Rectangular, two-segment, half-shell metal rudder. At the rear of the fuselage, an aerodynamic steering wheel compensates for the propeller torque.
Front wheel on fork swingarm main wheels with telescopic shin. The chassis is equipped with oil-gas shock absorbers and hydraulic brakes, retracted into a recess with covers. Multi-disc brakes, hydraulically controlled, with three systems - basic, parking and emergency. Front landing gear with landing light.
The drive unit is the Czech turboprop engine Walter M-601 E, 490 kW, with a five-blade Avia V510 / 7 propeller, with a diameter of 2.30 m.
Data T-T PZL-130 TM Orlik.
Span 8.00 m
Length 8.73 m
Height 3.53 m
Bearing area 12.28 m2
Lengthening of the lobe 5.21
Curb weight 1,350 - 1,400 kg
Total weight 1,700 kg
Maximum weight 1 977 kg
Load weight 600 kg
Fuel weight 420 liters
Surface load 160
Power load 4.03
Top speed 507 km / h
Climbing speed 16.2 m / s
Cruise speed 438 km / h
Landing speed 149 km / h
Range of 1,000 km
Ceiling 10,000 m
Engine Walter M 601 E, 490 kW
Data T-T PZL-130 TC-I Orlik.
Span of 9.00 m
Length 9.00 m
Height 3.53 m
Bearing area 13.00 m2
Lengthening of the lobe 5.21
Curb weight 1,700 - 1,750 kg
Total weight 2 153 kg
Maximum weight: 2,700 kg
Load weight 600 kg
Fuel weight 560 liters
Surface load 166
Power load 3.84
Top speed 501 km / h
Climbing speed 13.3 m / s
Cruise speed 480 km / h
Landing speed 145 km / h
Range 1 062 - 1 905 km
Ceiling 10,000 m
Engine Walter M 601 T, 551 kW


Written by Karol Placha Hetman
---
---
Kraków 2008-09-05
276b Section 1989-01-12

PZL-130 Orlik Turbo, engine Walter.
Poland
Tally
Walter turboprop aircraft.
The list of all PZL-130 aircraft is in the PZL-130 chapter with a piston engine.
Written by Karol Placha Hetman
---