Kraków 2017-08-31
Women Aviators in Poland.
A friend, who is the first officer in the crew of the Bombardier DHC 8 Dsah 8-400 Q, told the following story:
During a social gathering, one man asked her a question: "What do you do?" - I'm a pilot. - Ah, you run tourist trips. - No. On a plane. - Oh. You are a flight attendant. - No. I am the first officer. - Oh. You manage several flight attendants. - No. I'm driving the plane. - Oh, I know. You sit in the tower and you tell the plane to turn. At this point, the friend has already given up. - I'll go fix my makeup.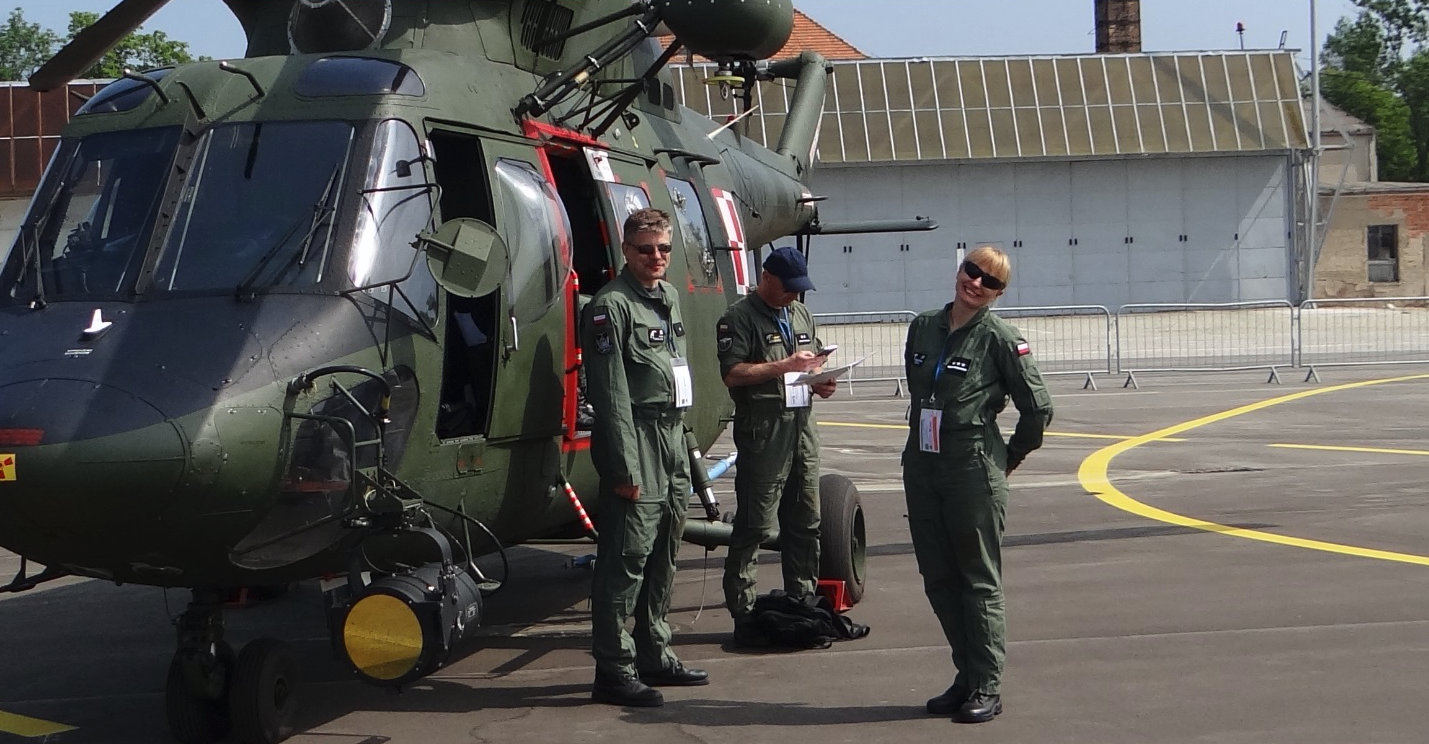 What is the difference between a man and a woman in the cockpit of an airplane or helicopter?
Essential. Smells nicer when the woman in the cockpit is piloting. All the switches are washed and the clocks are flashing. The tiller is not sticky with dried sweat. The panes are as transparent as if they were not there. The same behavior of women can be observed in city buses and trams.
The icon of women's aviation is undoubtedly Amelia Earhart. Her character is described in almost every aviation publication. But Polish women are not geese and they also have their share in aviation. According to popular opinion, a female aviator is a rarity in Poland. But is it really so? It is estimated that 6% of pilots worldwide are women. And in Poland this ratio is similar. In the Polish history of aviation, we have already counted over 100 women aviators, and they are outstanding. And a characteristic thing; they have always been and are beautiful women who achieved their goals with their persistence and diligence. Almost all of them confirmed that getting to the dream job was hard work, with no reduced rates. To achieve a status like a man, they had to work twice as long and harder.
Science has not proven that either sex is better suited to the profession of pilot. Among women, as well as men, there will be people more or less predisposed to piloting. Men have a good sense of perspective, they endure greater physical exertion better and, above all, are taskmakers. Women, in turn, have greater divisibility of attention, better spatial memory, and better concentration. They can do several things at once. However, the most important thing in aviation is the ability to perform well in stressful situations, and there is no rule here.
Biology has always emphasized the differences in the functions and tasks performed by both sexes. The same is confirmed by the Church. I am far from the slogan - "Women for tractors, for mines and trenches". According to Pentagon data from the 90s of the 20th century, a woman on the battlefield is 30% less fit than a man. But it's all about physical fitness. Well, where she doesn't come first, why can't a woman get this chance if she wants? And it has nothing to do with sick contemporary feminism. Margaret Thatcher may have become the UK's first Prime Minister, but that doesn't mean she supported a sick feminism. On the contrary; she told the feminists to go to work. In Poland, a woman, at the controls of the transport Ił-14, or at the controls of the modern B.787, or at the controls of the Mi-24, or at the controls of the MiG-29; she will always be a woman, and a beautiful one at that.
I apologize to all those brave female aviators that I omitted from this article. 
Lieutenant pilot Janina Lewandowska (1908-1940).
I will start right away with the maximum thrust, i.e. from an officer of the Polish Army, pilot Janina Lewandowska. Mrs. Janina Lewandowska was born on April 22, 1908. She was murdered in Katyn by mosquitoes on April 22, 1940, on her 32nd birthday.
Mrs. Janina Lewandowska was born in Kharkiv, in Russia at that time, in the family of Józef Dowbor-Muśnicki (1967-1937), general of the Polish Army, commander of the Greater Poland Uprising. The family had strong patriotic and military traditions. After Poland regained independence, the family settled in Batorów near Poznań, relatively close to the Ławica Airport. Ms Janina graduated from the Music Conservatory. She wanted to become a professional singer. A beautiful but weak voice did not allow her to do so. Also my father's objection. She was fascinated by air shows at Ławica Airport. She joined the Poznań Aero Club. Soon she became a sailplane pilot. She graduated from the Higher School of Pilotage at the Ławica Airport. Then she was sent on a radio telegraph course to Lviv (Skilinovo Airport) in 1937, where she underwent training on printing devices used in the Polish Army; Hughes' telegraph colloquially known as "juzem", ancestor of the teletype. In 1938, she was transferred to the Communication Training Center in Zegrze, where she perfected her specialty - air communication. She obtained the rank of cadet, then promoted to the rank of a reserve lieutenant. She was the first woman in Europe to perform a parachute jump from a height of 5,000 m. She met Lt. Col. Mieczysław Lewandowski (1892–1964), officer in the Polish Army of the 10th Sapper Regiment and at the same time a glider instructor. They fell in love and got married on June 10, 1939.
On September 1, 1939, together with other members of the Poznań Aero Club, Ms. Janina tried to get to Warsaw. Finally, in the vicinity of Września, on September 3, 1939, it joined the 3rd Air Regiment, and more precisely the circular throw of the 3rd Air Base. Here she was dressed in an officer's male flight uniform, a little too large for her, even though she was of average height. She was a brown-haired girl with her hair cut short. The retreating unit moved to Romania in small groups. Probably, in the area of ​​Husiatyn (30 km outside Tarnopol), on September 22, 1939, Janina Lewandowska was taken prisoner by the Soviets with others, and as a Polish officer, she was sent to Ostaszków, and then from December 6, 1930, she was in Kozielsk. Here she kept in touch with friends from aviation. In the camp, she participated in a secret life. Hiding her true origin, she gave false personal data to the enemy. On her 32nd birthday, on April 22, 1940, she was murdered by Moskali as the only female officer. We know about her fate on inhuman soil from the notes taken from the mass graves of Polish officers. We know she was brave. She didn't give out much information about herself. Only a few knew that she was the daughter of an NN general.
Janina Lewandowska's body was found by the Germans during the first exhumation from the Katyn graves in 1943. They were the only corpse of a woman in these death pits, which the Germans could not understand and concealed this fact. In 1945, the bodies were transported by the Germans to Wrocław (Breslau). After Wrocław was granted to Poland, the skull of Janina Lewandowska, along with six others, was handed over to Professor Bolesław Popielski, who knew that these were the remains of the victims of the Katyn Massacre. The professor hid them from the UB and NKVD for several dozen years. Just before his death in 1997, the professor revealed the secret to his colleagues. Using computer methods, it was confirmed that these were the remains of the Katyn victims, but only one skull was identified, that of Janina Lewandowska. It was identified in May 2005 using the super-projection method at the Department of Forensic Medicine, Medical Academy in Wrocław. After identification on November 4, 2005, the skull with military honors was buried in a special urn in the tomb of the Dowbor-Muśnicki family at the cemetery in Lusów, west of Poznań. Posthumously promoted to the rank of lieutenant of the Polish Army. 
In 2006, by a resolution of the Krakow City Council, the roundabout between Maria Dąbrowska and Mieczysław Medwecki Streets was named after Janina Lewandowska.
Janina Lewandowska's husband, Col. Eng. Mieczysław Lewandowski, after losing the defensive war of 1939, he made his way to the West. He served in the 307th Night Fighter Squadron "Lwowskich Puchaczy" and the 305th Bomber Squadron "Ziemia Wielkopolska". After the war, he moved to Great Britain.
Janina Lewandowska's younger sister, Agnieszka Dowbor-Muśnicka, was a member of the underground resistance movement. She was a soldier of the Military Organization "Wolves", the first armed formation against the occupiers. In the summer of 1940, arrested by the Germans, she was imprisoned in the Warsaw Pawiak. She died in 1940 in an execution in Palmiry.
Polish airmen during the Second World War.
During World War II, Polish aviators also wrote down some nice pages of history, although less known, because less sensational. Although they did not fight in combat, they piloted military planes, including fighter planes. This elite group included three Polish women: Jadwiga Piłsudska-Jaraczewska, Stefania Wojtulanis-Karpińska and Anna Leska-Daab. All three of them were skilled gliders before the Second World War. During the war, they served in the ATA - Air Transport Auxiliary, auxiliary transport service of the British Royal Air Force. The unit dealt with the distribution of new, repaired and damaged aircraft between factories, repair plants, combat airfields and scrap yards in Great Britain. The duties of ATA also included transporting pilots and maintenance and medical transport. Eventually, 183 women served in the ATA-RAF during the war.
Lieutenant pilot Jadwiga Piłsudska-Jaraczewska (1920-2014).
Lieutenant of the Polish Army, pilot Jadwiga Piłsudska-Jaraczewska was born on February 28, 1920 in Warsaw. She was the second daughter of Józef Piłsudski, Marshal of Poland, and Aleksandra Szczerbińska. She spent her youth in Warsaw and Sulejówek. She passed her high school diploma in 1939. In 1937, she began flying gliders, training at Sokola Góra near Krzemieniec and in Bezmiechowa in the Bieszczady Mountains. It belonged to the Warsaw Aero Club and also performed flights from the Mokotów Airport. She made the longest flight on the Delfin glider in 1939. She won all gliding categories, from A to the highest D. She flew competitively. She belonged to the Women's Military Training organization.
After the German attack on Poland, she and her mother and sister left for Vilnius. After the Muscovy aggression against Poland, they left for Kaunas and were evacuated by a special plane via Latvia and Sweden to England.
After evacuating to England, she began studies at Newnham College - University of Cambridge, majoring in architecture, which she graduated with a master's degree in architectural engineering in 1946. She also studied urban planning and psychology.
Immediately after arriving in England, Jadwiga Piłsudska applied for admission to Air Transport Auxiliary, but was refused due to her young age. It was only in July 1942 that Jadwiga Piłsudska was admitted to the Women's Auxiliary Air Service, subordinate to the British auxiliary service of the Royal Air Force Women's Auxiliary Air Force. She was the third Pole there after lieutenant Stefani Wojtulanis and lieutenant Anna Leska. She was sent to training, and with the rank of second lieutenant, she entered the service, which lasted two years. The service was very hard because it was flown regardless of the weather. Pilots of this service flew over 130 types of aircraft. Jadwiga Piłsudska piloted fighters and twin-engine bombers. Many planes were in such poor condition that they were only allowed one flight, to a repair facility, or to a junkyard. The pilots were not allowed to use the radio so as not to block the frequencies for hostilities. They only used simple maps. They were not allowed to perform acrobatics so as not to suffer unnecessary death. Weapons were not allowed. Jadwiga Piłsudska liked the Spitfire the most, due to its excellent speed. During the war, she spent 312 hours in the air piloting 21 types of aircraft. On average, she performed two flights a day. She left the service with the rank of lieutenant. She had not had any accident during her service, and her superiors, in an opinion issued in November 1943, assessed her as an extremely promising pilot with above-average skills. 
In 1944, Jadwiga Piłsudska married Capt. Andrzej Jaraczewski, a Navy officer. After the war, she remained in England as an exile. She worked there as an architect, and also ran a company with her husband. She had two children, son Krzysztof and daughter Joanna. In the fall of 1990, she returned to Poland for good. She died on November 16, 2014 in Warsaw. She was 94 years old.
For her service, she was awarded the Bronze Cross of Merit with Swords. On her birthday, on February 28, 2008, she was decorated by the President of the Republic of Poland, Lech Kaczyński, with the Commander's Cross of the Order of Polonia Restituta.
In 2005, a documentary of a Polish woman over London was made about the service in the aviation, Lt. Pil. Jadwiga Piłsudska, Capt. pil. Stefania Wojtulanis and Capt. pil. Anna Leska. Souvenirs of the three ladies are also on display at the Polish Aviation Museum in Czyżyny, on display since 2006.
Captain pilot Stefania Wojtulanis-Karpińska (1912-2005).
Stefania Wojtulanis-Karpińska was born on November 22, 1912 in Warsaw. She was interested in aviation from her youth. She belonged to the Warsaw Aero Club and paramilitary organizations. She was one of the first women in Poland to obtain a balloon and airplane pilot license. She studied at the Faculty of Mechanical Engineering of the Warsaw University of Technology. Being a balloon pilot, in 1935 she started her glider training. Later, she completed a parachuting instructor course. She took part in numerous aviation competitions: balloon and glider. She also took part in a group parachute jump in Lviv. In June 1939, she completed an aviation acrobatics course. She piloted RWD-10 and RWD-17 planes.
After the attack of the Germanic plague on Poland, she volunteered to join the Polish Army as a liaison pilot. She was mobilized to the Staff Squadron of the Supreme Air Commander, General Józef Zając. She performed flights on RWD-8 planes. After the aggression of the Moscow state, she evacuated to Romania together with some of the air personnel. In Romania, she worked as a courier organizing transfers of Polish soldiers to France. Then she managed to get to France, where she went to work in the air force headquarters. After the fall of France, she made her way to Great Britain. On January 1, 1941, together with Anna Leska, they were the first foreign women to be admitted to the British ATA (Air Transport Auxiliary).
Stefania Wojtulanis was the first Pole to fly 1,000 hours on airplanes of various types. She was promoted to lieutenant and then captain. She married an aviation colonel Stanisław Karpiński.
After the war, in November 1947, Stefania Wojtulanis-Karpińska was demobilized. She remained in exile. In 1958, she and her husband settled in Los Angeles, California, USA. She was a Polish activist. She died on February 12, 2005.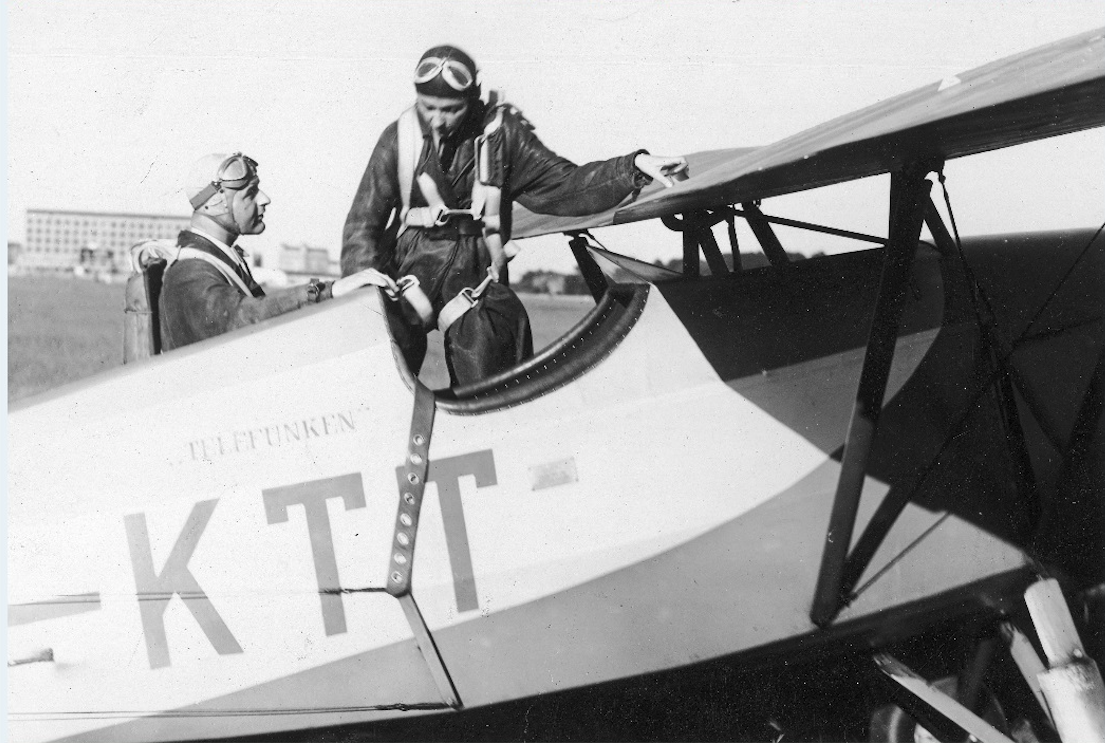 Captain pilot Anna Leska-Daab (1910-1998).
Anna Leska was born on November 14, 1910. She is the sister of colonel pilot Kazimierz Leski, pseudonym Bradl, the legendary intelligence officer of the Home Army. Before the war, she underwent gliding, balloon and airplane training. She flew, inter alia, RWD-8 planes.
At the outbreak of World War II, Ms. Anna was appointed commander of the liaison squadron in the Staff Squadron of the Aviation Command. During the defensive war, she managed to escape from the field airfield conquered by the Germanic troops on the RWD-8 plane. It reached England via Romania and France. She started applying for admission to the ATA-RAF, which took place only on January 1, 1941, together with Stefania Wojtulanis. She completed the course and entered the service. Anna Leska has a raid of over 6,000 hours. She completed her service with the rank of captain. She married the captain of the pilot Mieczysław Daab. She died on January 21, 1998.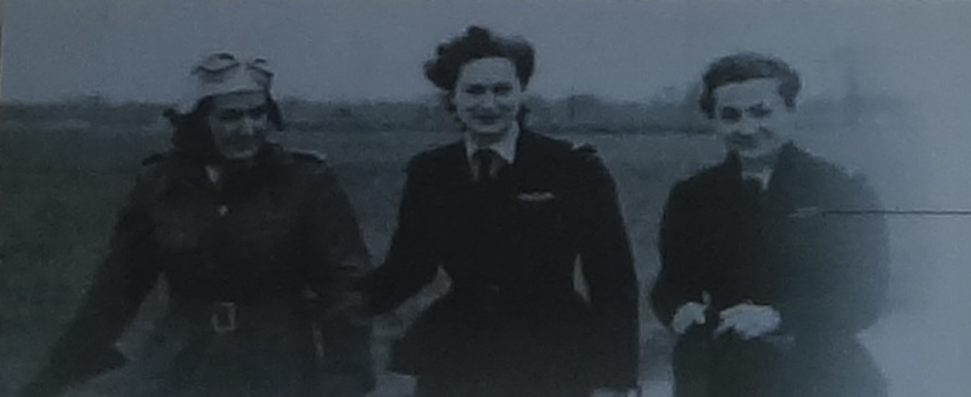 Polish airmen after the Second World War.
Colonel pilot Irena Karpik-Sosnowska (1923-1990).
Irena Sosnowska was born in Lviv. Together with her sister Virginia, in 1944 she began aviation training in Grigoriewsko, and then at the Aviation School in Zamość. She went through all levels of command, from the instructor, through the key commander, squadron commander, to the position of the regimental deputy commander for pilotage. She achieved the rank of colonel. She flew on the following types of aircraft: UT-2, PO-2, Jak-18, Jak-12, An-2, then on helicopters: SM-1, SM-2, Mi-4, Mi-2. Flight time 4,300 hours. She was an active pilot until 1972.
Captain pilot Virginia Seregiet-Sosnowska.
Virginia Sosnowska is Irena's sister. She was a student of the Aviation School in Zamość. The flights began on UT-2 planes at the airports in Ułęż and Podlodowo. She completed the basic training course in mid-June 1945. She was assigned to the 15th Reserve Aviation Regiment in Radom, where she performed the duties of an instructor on Po-2 airplanes. The service was also performed at the Grójec Airport. Around 1950, it was sent for training to Li-2 planes. She reached the rank of captain. In 1953, due to her health condition, she was transferred to the reserve.
Lieutenant Colonel Bronisława Dudek-Kamińska.
Lieutenant-colonel Bronisława Dudek is one of the four female pilots from the communist period. Memories of her service were included in the book entitled "The Blue Trail". He has 4,000 hours of flight time in his corner.
Ms pilot Bronisława Dudek was born on October 19, 1928 in Męcina. From childhood, she was interested in aviation. As a little girl, she stared at the sky for a long time, watching the planes fly by. The Second World War interrupted these dreams. After the war, she and her family moved to Brzezina near Brzeg. She started working as a teacher. The noise of airplanes from the nearby Brzeg Airport awakened dreams again. She tried to enter the School of Eaglets, but heard everywhere that women were not accepted. At the urging of Lieutenant Pilot Aleksander Milart, she wrote a letter to the President of Poland, Bolesław Bierut. On the wave of the new state policy, Ms Bronisława got a chance to become an aviator. In the summer of 1949, she graduated with a very good result - the First Women's Gliding Course, organized in Lębork. On September 25, 1949, she became a recruiter at the Officers' Aviation School in Dęblin. Practical training of cadets began in the spring of 1950 on UT-2 planes in Ułęż. Ms pilot Bronisława Dudek graduated from the School of Eaglets with honors and was the first to fly independently for a year. The promotion took place on July 15, 1951 in Dęblin.
Ms. Bronisława tried to get a training assignment for fighter planes. After long efforts, she was given a chance and went to the Radom Aviation School. However, the training was prolonged because she was given a task together with two friends: Cpt. pil. Irena Sosnowska and cadet. pil. Zofia Dziewiszek to prepare an aerobatic team. Ladies have become the showpiece of the new era. They took part in the Central Air Show, during which commentators emphasized that the plane or helicopter was flown by a woman. They flew acrobatics on UT-2 and Jak-18 airplanes. They piloted Po-2 (CSS-13), Yak-7 B, Junak-2, Junak-3, Yak-9 (fighter), Yak-11.
Ms Bronisława completed a course in Radom (OSL No. 5) on Jak-9 fighter planes and received a fighter pilot license. However, turbojet planes entered service at that time. She served in Radom, training young cadets. After the school in Radom was dissolved, in 1964 she was offered training for transport planes and she went to Balice with her husband. They began their service here in April 1965. At that time, in the 55th Regiment of Transport Aviation, JW. 1616.
Ms Bronisława Dudek was the only woman from the group to be assigned to a transport unit to fly Li-2, Ił-12 and Ił-14 planes. The remaining ladies went to helicopter or auxiliary aviation. In Balice, Ms Bronisława was comprehensively trained on Li-2 and Ił-14 at DTWA and NTWA. She was authorized to fly abroad. She also passed the exams before the National Radio Inspectorate and received the 1st Class Professional Airplane Pilot License. Ms Bronisława, completed most of the aviation service in the 13th Regiment of Transport Aviation in Balice. Colonel pilot Bronisława Dudek On December 18, 1979, she ended her career as a pilot by performing a farewell flight, with a flight time of 4,000 hours. Privately, Mrs. Bronisława married Józef, also a pilot. They have two daughters.
Colonel pilot Zofia Andrychowska-Dziewuszek.
Colonel pil. Zofia Andrychowska-Dziewuszek. She was born on March 29, 1931 in Warsaw. After graduating from high school, Ms. Zofia applies for admission to the Air Force. She received a negative answer. Like Ms Bronisława Dudek-Kamińska, she wrote a letter to President Bolesław Bierut and was then accepted into the School of Eaglets. She trained in one group with Ms Bronisława. It made its first flights at the Podlodowo Airport in 1950. He finishes his basic training first, before the promotion. As a platoon officer cadet, with the consent of his superiors, he trains his colleagues from the group, and after promotion in 1951, he becomes an instructor on the UT-2 training plane. Then he trains the next generations of pilots on Junak-2, Junak-3, Jak-18, TS-8 Bies. It flies from the airports Podlodowo, Świdnik, Dęblin, Radom, Tomaszów Mazowiecki. In 1958 he became a squadron navigator in the 64th Air School Regiment in Przasnysz.
At the beginning of the 60s, Ms. Zofia is sent to helicopter training. Years for Mi-1, SM-1, SM-2, Mi-8. He serves in the 56th Combat Helicopter Regiment in Inowrocław, as a squadron commander and senior navigator. Then, from 1971, he served in the 37th Regiment of Transport Helicopters in Leźnica Wielka, as the regiment's senior navigator. She ended her service in 1979 with the rank of colonel (promoted in 1977). Mrs. Zofia has been awarded many times. Flight time 5 140 hours. She also flew PZL TS-11 Iskra and PZL Lim-2 airplanes. Privately, Mrs. Zofia is the wife of the pilot Bolesław Andrychowski, the regiment commander. They married in 1951. They have one son. 
Pelagia Majewska (1933-1988).
Pelagia Majewska née Pietrzak is the most famous Polish airplane and glider pilot-instructor. Winner of many gliding world and Polish records. She was born on April 26, 1933 in Rivne in Volhynia. She moved to Lublin with her family. She passed her high school diploma in 1950. She had a wide range of interests: athletics, swimming, she belonged to the scouting movement. She joined the Lublin Aeroclub, where she practiced parachuting and gliding. In 1953, she moved to Warsaw with her future husband, Tadeusz Majewski. In the Warsaw Aeroclub she took part in numerous gliding competitions. As the second in Poland and the third woman in the world, she won a gold glider badge with three diamonds. It obtained 17 world and 21 national records. The total sailplane flight time is 3,500 hours and the distance covered is nearly 100,000. km. She was the first woman in Poland and the second in the world to receive the world's highest gliding decoration - the Lilienthal Medal (1960) awarded by the International Aviation Federation (FAI). In the 80 years she worked as a pilot at Zakład Usług Agrolotniczych WSK-PZL Warszawa-Okęcie. Its last flight was the transport - under an international contract - of the PZL M18 Dromader fire-fighting aircraft to Setubal in Portugal. On July 12, 1988, she died at the airport in Lisbon as a result of an air accident.
Privately, she is married and mother of one son. She is buried in Lublin. In 2008, the ALTAIR Aviation Agency published a book by Pelagia Majewska's sister, Irena Kostka, "Szybowniczka świata", devoted to the sports and professional career of Pelagia Majewska.
A new generation.
After Poland joined NATO, there was a significant change in the approach to candidates for military pilots. Knowledge gained in civilian life began to be valued. WKU centers have 1,000 - 1,500 people a year willing to enter the School of Eaglets. The candidate or candidate must have a high school diploma and not more than 23 years of age. A large number of candidates drop out after general medical examinations carried out at District Medical Commissions. The qualified candidate goes for specialist examinations to Dęblin, and then to the Military Institute of Aviation Medicine in Warsaw. Already then, there are about 200 people. After the candidate has passed the medical sieve, he or she takes the exams in July; math-physical tests and a foreign language. He must also pass a physical test, consisting of, inter alia, running at various distances, swimming, pull-ups, etc. The limit of candidates is determined by the Ministry of National Defense. Usually it is 70-80 people. Most of them become pilots of transport planes or helicopters. Only 8-12 people go to typical combat units, i.e. MiG-29 and Su-22 planes. Piloting the F-16 is the next level in service. Four-year studies are free of charge. Accommodation, uniforms and food are provided by the military. A graduate of WSOSP holds the rank of second lieutenant pilot and the title of engineer.
Nowadays, more women are admitted to the School of Eaglets. The percentage of women dropping out of school is almost the same as that of men. On June 4, 2004, the celebration of the 101st Officer's Promotion took place at the Air Force Academy. There were 129 cadets + 1 professional soldier (from the ensign corps) in the following specialties: - plane pilot - 2 - helicopter pilot - 52 (including 3 women ) - guidance navigator - 41 (including 2 women) - air traffic controller - 34 (including 5 women) + 1 professional soldier. That is a total of 10 women out of 130 people. This ratio continued for the next 15 years.
Currently, there is no platoon in the School of Eaglets in which there would not be a few women. They usually march in the last four, not because they are inferior, but because they are shorter than men. They cope with science as well as men, and often even better. They are definitely more ambitious, disciplined and focused on a set goal. They are less often informed by their superiors. They finish the following semesters with high marks. And that hasn't changed for years. Forty years ago, in the unit where I served, young doctors, graduates of medical schools, underwent several months of training. Simple people called them - the army of holes. The problem was that they were much more disciplined than the ugliest divisions. They did no worse on the obstacle course than the men.  
Lieutenant pilot Katarzyna Tomiak.
Lieutenant pilot Katarzyna Tomiak is an aviator of the young generation. She graduated from the School of Eaglets in Dęblińska in 2012. She was immediately assigned to the 22nd Tactical Air Base in Malbork. The MiG-29 fighter is flying here.
Mrs. Katarzyna has two older brothers. It was thanks to them that she always liked the military and aviation. Katarzyna had a dream to become a pilot from childhood, although at first she did not believe in their fulfillment. She had the syndrome of a small town child and false information: about horse health, that women cannot be pilots in the army, etc. Her father supported her in her efforts. She got into the aviation high school in Zielona Góra, known for years for its cooperation with Dęblin. Here her dreams flourished and her belief that she could become a pilot. She met the right people. Then there was only hard and persistent work. She took her first steps in the air on the Cessna. She obtained a pilot's license.
After joining the School of Eaglets, she underwent training for PZL-130 Orlik, and then PZL TS-11 Iskra. She was assigned to training for MiG-29 combat aircraft and was the first woman to control these machines in the Polish Army. In 2012, it performed its first solo flight on a MiG-29 aircraft. Together with five colleagues, she passed the combat exam in the first half of March 2014. Exactly on the Polish Aviation Day on August 28, 2014, it fired an R-60 missile and hit the target. Shooting at air targets is the last test before being allowed to participate in combat duty. On November 28, 2014, it performed its first combat duty in the defense system of the Republic of Poland and NATO. (Congratulations, Lieutenant !!!) Her next shift was in December 2014, also on Christmas Eve. In 2016, she had a flight time of over 300 hours on MiG-29 aircraft.
Second lieutenant pilot Urszula Brzezińska.
Second lieutenant pilot Urszula Brzezińska serves at the 23 Tactical Air Base in Mińsk Mazowiecki and flies on the combat MiG-29. She is the second woman in Poland to pilot these machines.
Second lieutenant pilot Barbara Trzybulska.
Second lieutenant pilot Barbara Trzybulska serves at the 21st Tactical Air Base in Świdwin, she is flying Su-22. She is the first woman in Poland to pilot these machines.
Mrs. Barbara belongs to the generation of young aviators. She graduated from the School of Eaglets in 2012 with the second position. After graduating from the School of Eaglets, she was sent for further training on the Su-22 combat aircraft. In October 2013, Sec. pil. Barbara Trzybulska has started practical training on the Su-22. She was the first woman to master this type of plane. The only base operating the Su-22 planes is the 21st Tactical Aviation Base in Świdwin, (40 Tactical Aviation Squadron).
On March 10, 2014, Sec. pilot Barbara Trzybulska performed the first independent flight on a Su-22 combat aircraft. It was the next step in her career. Further flights and tasks were progressively more complicated. There were flights at low altitude, performing blows at the prescribed time on designated targets with training and combat ammunition and theoretical classes at the Personnel Training Center of Tactical Air Area Control Teams in Dęblin. On June 10, 2015, 2nd Lt. pilot Barbara Trzybulska performed her first task over the training ground, consisting in direct support of operating ground troops (Close Air Support - CAS). A dummy attack piloted by 2nd Lt. The pilot Barbara Trzybulska of the Su-22M4 aircraft on a ground target, in cooperation with a separate Tactical Air Area Control Team, was performed under the supervision of Lieutenant Colonel Jarosław Więcek, a master class pilot, senior flight safety inspector in the 21st BLT, one of the most experienced instructors.
Captain pilot Joanna Erbetowska.
Captain pilot Joanna Erbetowska pilot of Mi-17 helicopters.
Captain pilot. Joanna Erbetowska is the first Polish woman who in 2001, still as a cadet at the School of Eaglets, in the event of a training failure of the PZL-130 Orlik, used a catapulted chair to save her life. It was during an independent training flight on the route Dęblin-Radom-Dęblin on October 11, 2001. The engine speed regulator has failed. The plane was then over the village of Janów near Ożarów. It was then that Colonel pilot Jerzy Piłat, maintaining radio communication with the pilot Joanna Erbetowska, calmly, precisely and unambiguously helped the young pilot to launch herself by issuing commands. Colonel pilot Jerzy Piłat died on January 23, 2008 in a CASA C-295 Nb 019 plane crash on the approach to Mirosławiec Airport.
Second lieutenant pilot engineer Joanna Erbetowska was born on February 10, 1982 in Warsaw. In the years 1996 - 2000 she studied at the 14th Secondary School of General Education named after Stanisław Staszic in Warsaw. She graduated from the school by passing the secondary school-leaving examination in 2000. After successfully passing the medical examinations and passing the entrance examination to the Air Force Academy in Dęblin, she entered the unitary training on August 21, 2000. During the unitary training, she performed 5 school jumps on the L-2 "Kadet" parachute. After taking the military oath on September 30, 2000, she was accepted as a student of the WSOSP. During the entire course of studies, she underwent practical training on the PZL-130 "Orlik" plane (in 2001, completed with a flight time of 80 h 52 min) and on the Mi-2 helicopter (in 2003, completed with a flight time of 59 h 47 min). In 2004, Ms Joanna defended her diploma thesis at the final exam with a very good result. At that time, she had a 3rd degree of English language skills and an incomplete 3rd degree of Germanic language skills. After graduating from the School of Eaglets, she was sent for further training in helicopters. She piloted Mi-2, Mi-8 and Mi-17 helicopters. She was also sent on military missions to Afghanistan, where she piloted Mi-17 helicopters.
Lieutenant pilot Patrycja Balcerowska.
There are also other airmen in the Polish Army. Lieutenant Patrycja Balcerowska is a navigator of the M-28 Bryza aircraft in the Polish Navy. Her dad was a military pilot. Ms Patrycja is a glider and airplane pilot. She is a graduate of the Academy of Physical Education and the Military Academy. Her husband is also a military man. He is an approach controller. Currently, there are four female navigators and three female pilots in the Navy Aviation.
Lieutenant pilot Mariola Andrasik.
Lieutenant Mariola Andrasik is the first Polish female pilot of the Mi-24 helicopter. It serves in Pruszcz Gdański at the 49th Air Base. She graduated from the School of Eaglets in Dęblin with the third place. She took part in military missions outside the Republic of Poland five times. Twice in Iraq and three times in Afghanistan. She started her aviation career with Cessna planes. Then there were the Mi-2 and SW-4 Puszczyk helicopters. She is a graduate of the Air Force Academy in Dęblin, graduating in 2012 with the third place. Mariola has been piloting Mi-24 helicopters since September 2016. Another lady serves in Pruszcz Gdański, who is piloting the Mi-2 helicopter.
Major pilot Katarzyna Arabska.
Major pilot Katarzyna Arabska is a pilot in the Border Guard aviation. She is one of the four airmen serving in the Border Guard. She started her aviation career at the age of 16 with a gliding course at Aeroklub Lubelski in 1989. The first plane on which she flew was the Zlin 142. She is a graduate of the Rzeszów University of Technology. During her studies, she raised her pilot qualifications. She flew, among others on PZL Koliber, Socata, PZL M-20 Mewa, PZL Wilga, PZL An-2 airplanes. She obtained a professional airplane pilot's license and permission to fly on multi-engine airplanes. After graduation, she chose to serve in the Border Guard and is proud of it. She started her service in 1998 in the Independent Aviation Section of the Bug River Border Guard Department in Chełm, as an airplane pilot. Currently, he is the head of the 3rd Aviation Department of the Border Board of KGSG based in Chełm. In 2000, she completed an Officer's course at the Central Border Guard Training Center in Koszalin. In 2015, she received a bronze medal for many years of service in the Border Guard. Currently, it has almost twenty years of service and a flight time of nearly 2,000 hours. He is flying the PZL-104 MF "Wilga 2000" plane. Privately, a married woman. The husband is also a pilot. They have two children.
Lieutenant pilot Justyna Czerwonko.
Ms. Lieutenant pilot Justyna Czerwonko is the first woman in the Navy to pilot the PZL W-3 Anakonda helicopters. These helicopters perform SAR (maritime search and rescue) tasks. Ms. Justyna performed her first action on the Baltic Sea on January 10, 2018, and has been the pilot since 2012.
Pilot Paulina Różyło.
Paulina Różyło is a young generation pilot. Unlike the ladies above, she is a civil aviator. On a daily basis, she is an experimental pilot and the only woman in Poland who tests the newly built PZL M-28 planes. Flight time over 800 hours. She piloted 18 types of aircraft.
Ms Paulina Różyło started her aviation career at the age of 19. In October 2008, she completed the first glider training course at the Aero Club of the Copper Belt in Lubin. It was not enough and Ms Paulina Różyło continued her flight training. In the opinion of the instructors, she had talent. Paulina Różyło took the next courses in Chicago. She trained on Cessna 172 and Cessna 210 aircraft. She obtained the US FAA pilot's license and subsequent hours of flight, which are an important element enabling further training. Paulina Różyło's next training, in 2011, she obtained a professional license. The experience gained was summed up in the ATPL exams that Ms. Paulina passed in 2011. Subsequently, she obtained IFR license to fly in bad weather conditions and multi-engine aircraft qualification. She started working as a command pilot in a development company on the Piper Seneca plane. Relatively quickly, she moved to PZL Mielec. Ms Paulina has been working at Polskie Zakłady Lotnicze in Mielec since April 2013 as a test pilot. She is the first woman to work as a test tester in the aviation plant in Mielec, when she was only 26 years old.
In addition, Ms Paulina Różyło obtained the qualifications of a test pilot, which means that she is the first female pilot in Poland to perform test flights. She was trained by the most experienced pilot on the PZL M-28 type, Mr. Wiesław Cena.
Pilot Maria Muś.
Ms Maria Muś is a professional helicopter pilot, just a woman in her twenties. Outside of work, he represents Poland as a member of the national helicopter team. Maria is the only woman in Poland who performs acrobatics in a Bo-105 helicopter. Her performances can be seen at many Polish Air Shows. Mrs. Maria started her age when she was only 16 years old. Despite his young age, he has over 2,000 hours of flight time in the corner. Horse riding is also her hobby. Horses were a great love of the girl from childhood.
Women in LOT Polish Airlines.
The situation of PLL LOT in the Polish People's Republic was specific. Most of the passenger crews were former military pilots. Therefore, theoretically, in order for a woman to become a liner pilot, she should be a military pilot. The first women who appeared in the cockpits of LOT Polish Airlines were the navigators flying the Il-18: Ewa Jagiełło and Katarzyna Radzio. The situation changed with the opening of the aviation pilot program at the Rzeszów University of Technology. The problem was that the Rzeszów University of Technology did not have its own multi-engine aircraft. The largest machines were the single-engine PZL An-2. There was then a special scholarship, thanks to which graduates of the piloting course of the Rzeszów University of Technology could complete the course in the piloting of liner aircraft.
After the socio-economic changes, the situation has changed. In 2005, there were already 10 women at the controls of PLL LOT's scheduled airplanes. The chance of meeting a woman in the cockpit of an Embraer plane is even greater, because there are already 7 women there.
Captain pilot Adela Szarzec-Porter.
Captain Adela Szarzec-Porter nee Szarzec. Mrs. Adela, at the age of 16, joined the Bielsko-Bialski Aero Club. She flew on gliders and Zlin 526 F planes. She joined the Rzeszów University of Technology when it opened the pilot course. She graduated with a master's degree in engineering and a professional pilot license in 1981. She obtained the qualifications of an An-2, An-24 and Tu-154 aircraft pilot. After the socio-economic changes, she was trained for Boeing B.737, B.767 planes. In 2013, she was trained for Boeing B.787 Dreamliner planes. Mrs. Adela can boast a fantastic flight time of 16,000 hours, including 12,000 hours in the captain's seat. Privately, married and mother of two sons. The older son is also a pilot.
Captain pilot Joanna Biedermann.
Captain Joanna Biedermann comes from Grudziądz. It flies with balloons, gliders, small planes and Boeing B.787 Dreamliners. He is also an instructor. She took her first steps at the Aeroclub in Grudziądz at the age of 16. Aviation has become her passion, which turned into a profession. She piloted commercial, turboprop ATR-42 and ATR-72 airplanes in the Eurolight. Later Embraer 170 turbojet, Boeing B.737. After the purchase by PLL LOT B.787, it was selected to the group of pilots for training. Ms Joanna became the first officer of the Boeing B.787 in 2013. Ms Joanna is still an active sports competitor and is in the national team. She is the winner of the bronze medal in the World Gliding Championships, European runner-up in the women's club class.
Congratulations to the ladies.
In Poland, we already have typically female crews: Dagmara Świderska and Olga Bednorz. Mrs. Dagmara Świderska, captain of the ATR-72, took her first steps on an airplane course in Poznań, with a master's degree in economics. First, it had a tourist license. Mrs Olga Bednorz, first officer, pilot since the age of 15, a graduate of the Rzeszów University of Technology.
Written by Karol Placha Hetman