Chabówka 2021-12-19
TKb1-1479 steam locomotive in the Chabówka Open-Air Museum.
The TKb-1479 steam locomotive is the oldest surviving steam locomotive in Poland. This locomotive is a typical representative of industrial locomotives widely used in the second half of the 19th century. It also resembles a typical track locomotive used until the mid-19th century, with the difference that those locomotives had a tender to take more water and coal. Steam locomotives of this type were produced by many plants in Austria-Hungary and the German Empire. The tendering steam locomotives were manufactured with two or three axles. Such locomotives were used on local and industrial railways. They serviced passenger commuter railways, pulled light freight trains and performed maneuvering works at stations and production plants.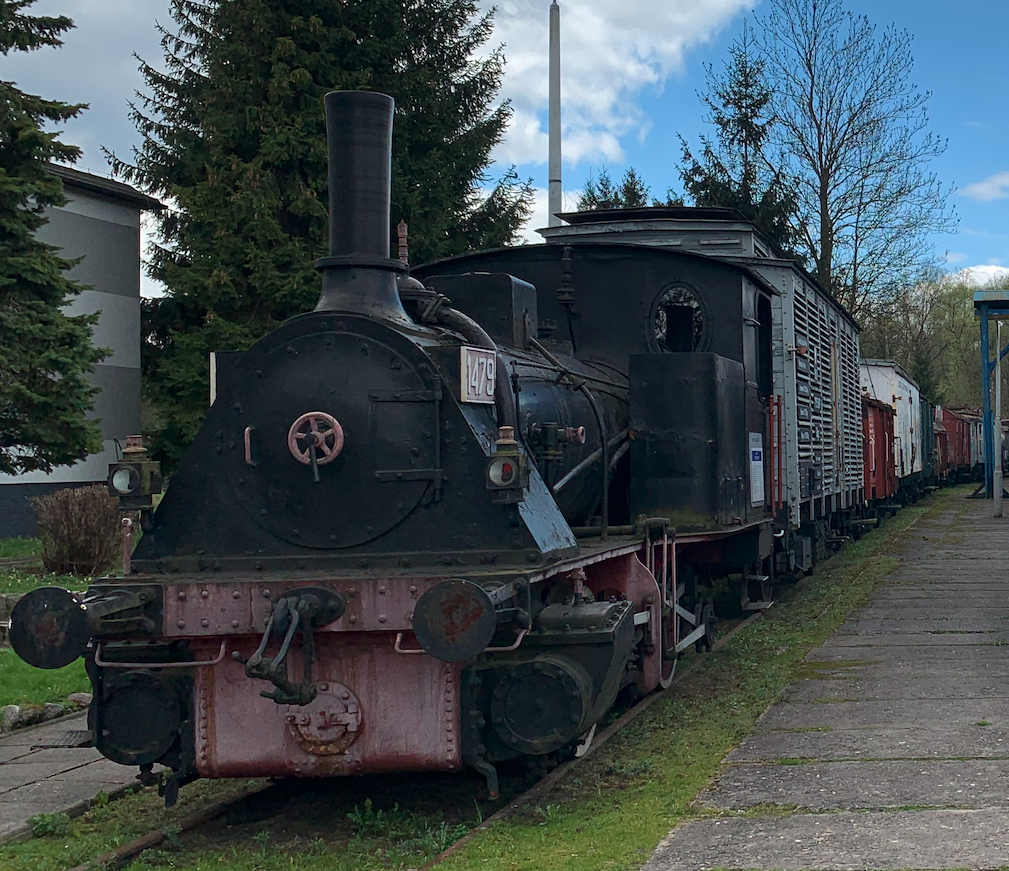 The TKb-1479 steam locomotive was commissioned by the Magdeburg - Halberstadt railway company. These are two cities in central Germany connected by a 55 km railway line. The locomotive was manufactured in 1878 at the Schwartzkopff (BMAG) plant in Berlin, with the factory number 915. The locomotive owner gave it the name "Königstein", which means "King's Stone". At that time, it was common practice to give steam locomotives proper names, like ships and later airplanes.
In 1883, the locomotive was handed over to the Prussian State Railways with the numbers: "Magdeburg" 1455 and "Altona" 1663. In 1895, the name was changed to "Berlin" 1479. In 1901, after the locomotive was withdrawn from service, it was bought by manufacturers in Wierzchosławice near Inowrocław. She served in a sugar factory. In 1914, the sugar plant had 60 km of railroads and 6 steam locomotives and 220 wagons worked on them. When Poland regained independence in 1918, the locomotive found its way to Poland, and it continued to operate a sugar factory with the name "Berlin" 1479 left. In 1939, the Gdańsk Shipyard (then Danziger Werft) made a new boiler for this locomotive. From 1952, the locomotive worked in the Cykoria Dryer in Wierzchosławice, and it was the same production plant. The locomotive served in industry in Wierzchosławice until 1970.
In 1974, the locomotive went to the collection of the Railway Museum in Warsaw. In 1992, the locomotive was rebuilt by employees of the Sucha Beskidzka and Chabówka locomotive depots. The locomotive was given the Polish designation TKb-1 1479, according to the markings used in the Polish State Railways. The locomotive went to the Railway Museum in Warsaw, and then permanently to the Open-Air Museum in Chabówka.
Data T-T TKb1-1479:
Service weight 18,000 kg. Bn2t axle system. Overall length 8.10 m. Wheel diameter 1.10 m. Standard gauge track. Steam pressure in the boiler 10 atm (at). The heating area in the boiler is 57.0 m2. Grate area of 1 m2. Water supply 3.5 m3. Coal stock 1 000 kg. Design speed 45 km / h.
Written by Karol Placha Hetman