Łebień 2021-04-26
Airport Łebień, Lędziechowo, Maszewko, Zdrzewno.
At a distance of about 18 km, to the north, from Lębork there is the area of the former military airport. Currently, a wind farm has been erected on this site. In turn, it is about 21 km from Łeba to the former airport. The airport had different names of nearby small towns: Łebień, Lędziechowo, Maszewko, Zdrzewno. The most frequently used name was the Łebień airport, and less often - Lędziechowo. Two voivodeship roads no. 214 (Lębork - Łeba) and no. 213 (Celbowo near Gdynia - Słupsk) run nearby.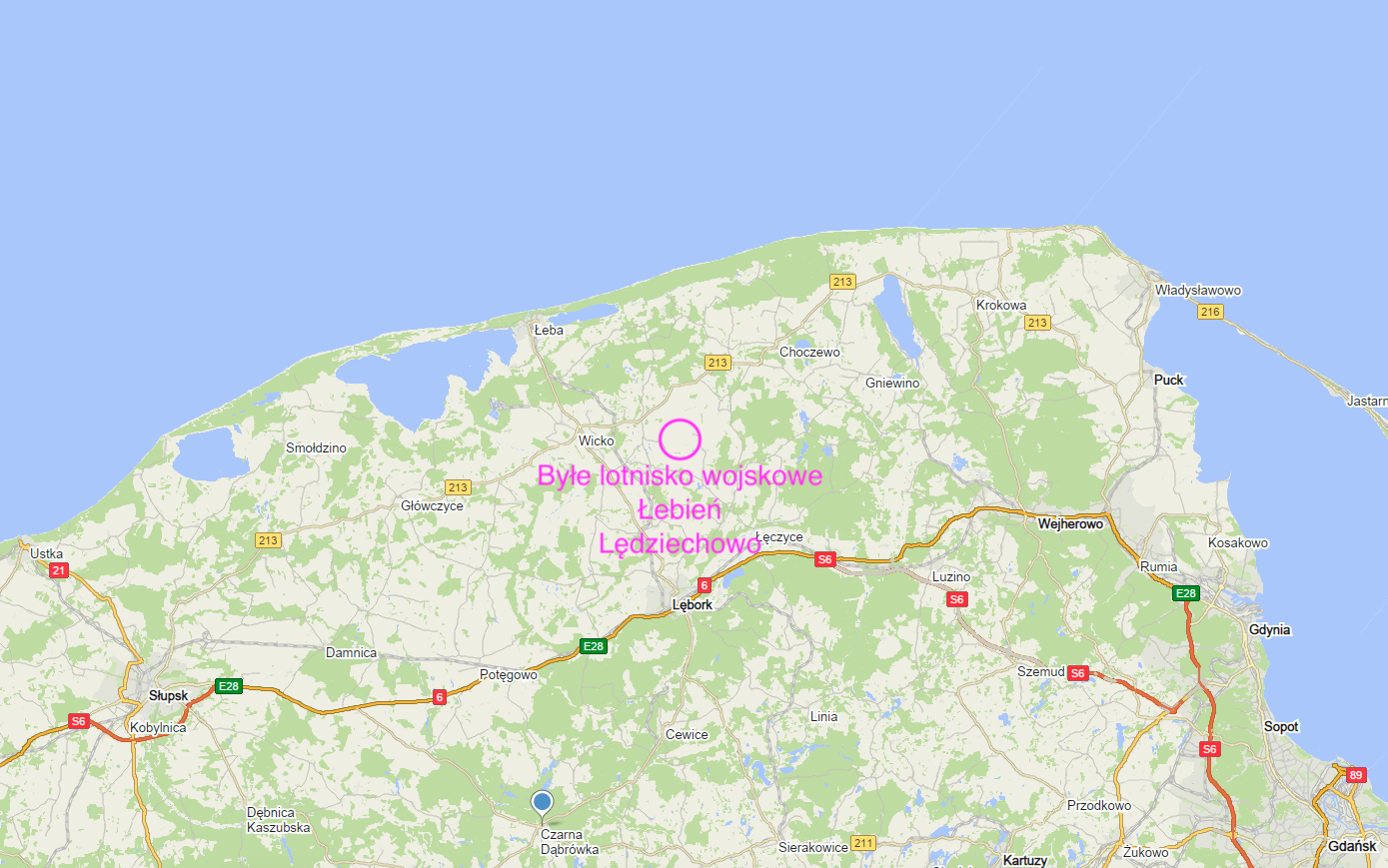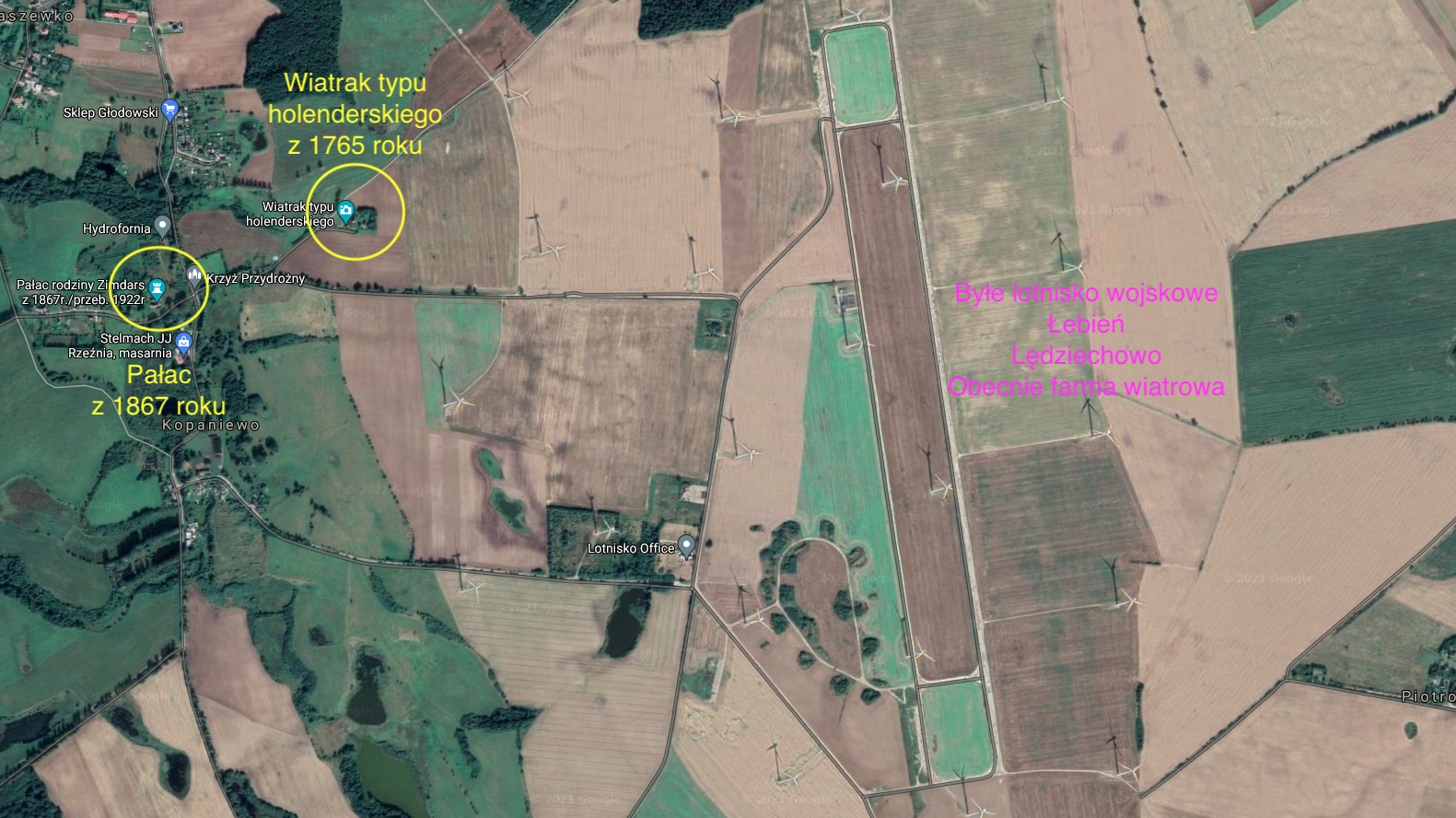 Łebień airport.
The airport was founded by the Germans in 1939. German planes took off from here already during the Second World War. After the Second World War, the area was taken over by the Red Army, and in the 1950s by the Polish Army. The airport had a ground take-off area and was used sporadically. At the end of 60 years, a concrete runway with a length of 2,200 m x 40 m (1969) was built at the airport, capable of receiving MiG-21 supersonic fighter planes. In 1970, the airport was entered into military records as an alternate airport for maritime aviation. Taxiways and parking planes were also built. In the western part of the airport, a centering zone for 16 aircraft was built. The parking spaces are surrounded on three sides by earth embankments. Air combat units, mainly of the navy, were often transferred to the airport as part of the exercises.
In the 80s, during one of the renovations, RWY was covered with an asphalt surface. In the 90s, the military used the airport sporadically. In 2003, the Polish Army ceased to use the airport, especially the unit from the Siemirowice airport - the Polish Navy Aviation Brigade, which was its host. The army handed over the airport to the Military Property Agency, without the need to maintain the airport function. The airport was taken over by the Wicko commune, where the airport was located, from the agency. The spatial development plan for the Pomorskie Voivodeship, adopted by the voivodeship council in 2002, provided for a local civil airport in this location. However, there was an investor to build a wind farm (wind farm). Local government officials changed their decision. The aviation community was dissatisfied with the decisions of local government officials. Another airport was removed from the map of Poland.
In the period 2005-2010, asphalt was removed and used to repair local roads. It was the so-called bituminous waste. The windmill farm was built in 2013-2015.
Data of the Łebień airport.
Coordinates N54 ° 40'06.9 "E17 ° 44'35.3" Elevation 290 ft, 88.4 m above sea level. RWY direction 172/352, dimensions 2,200 x 40 m, asphalt and concrete beneath. Until 2015, at the airport sometimes private GA planes landed.
Written by Karol Placha Hetman