Kraków 2023-09-14
KAI KF-21 Boramae.
KAI KF-21 Boramae is a multi-role combat aircraft developed in South Korea by the KAI - Korea Aerospace Industries concern. The prototype made its first flight on July 19, 2022. The plane has a one- or two-person crew and is powered by two General Electric F414-GE-400K turbojet engines, with a thrust of 2 x 97.9 kN with an afterburner. The plane was built using stealth technology.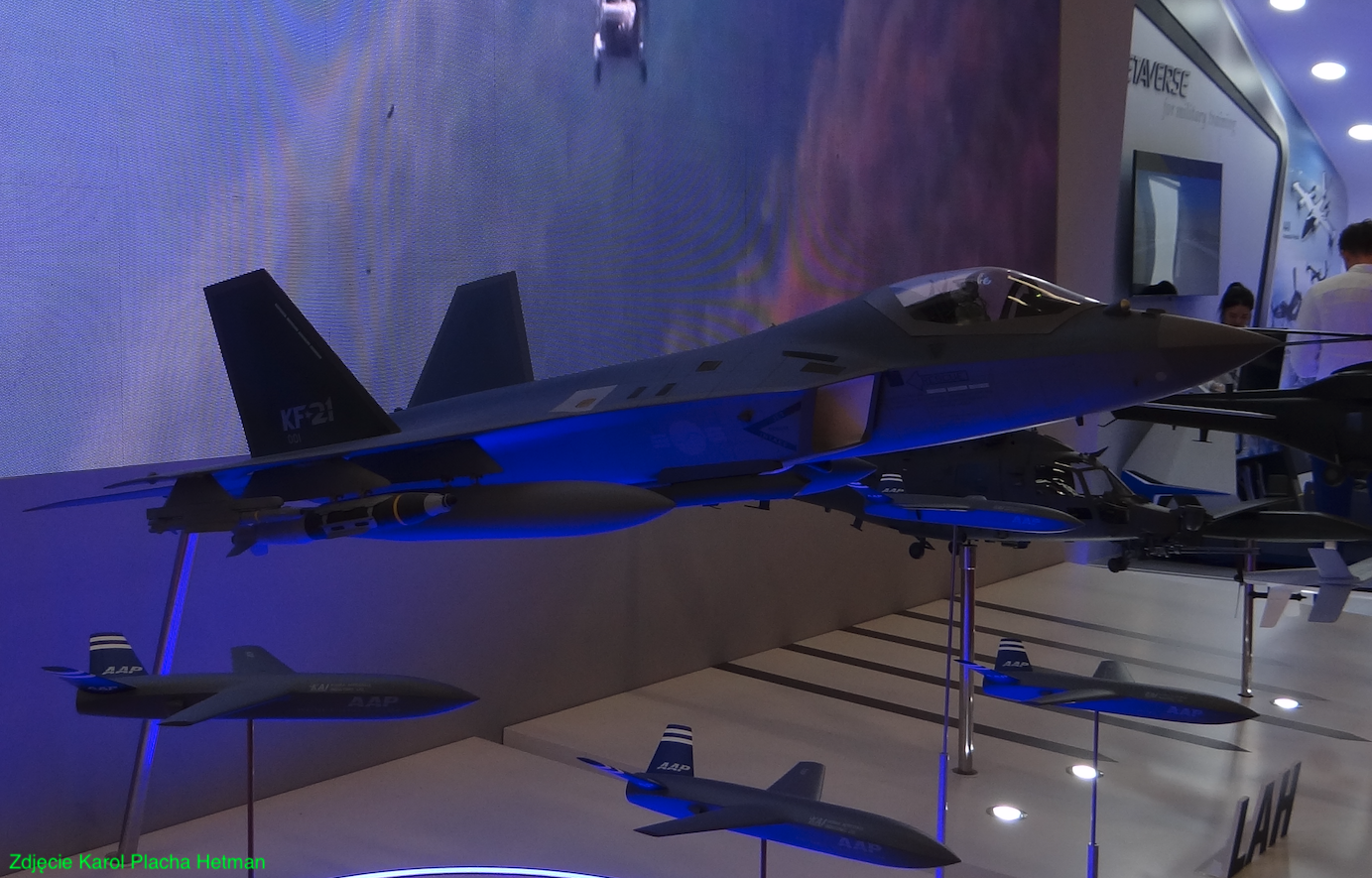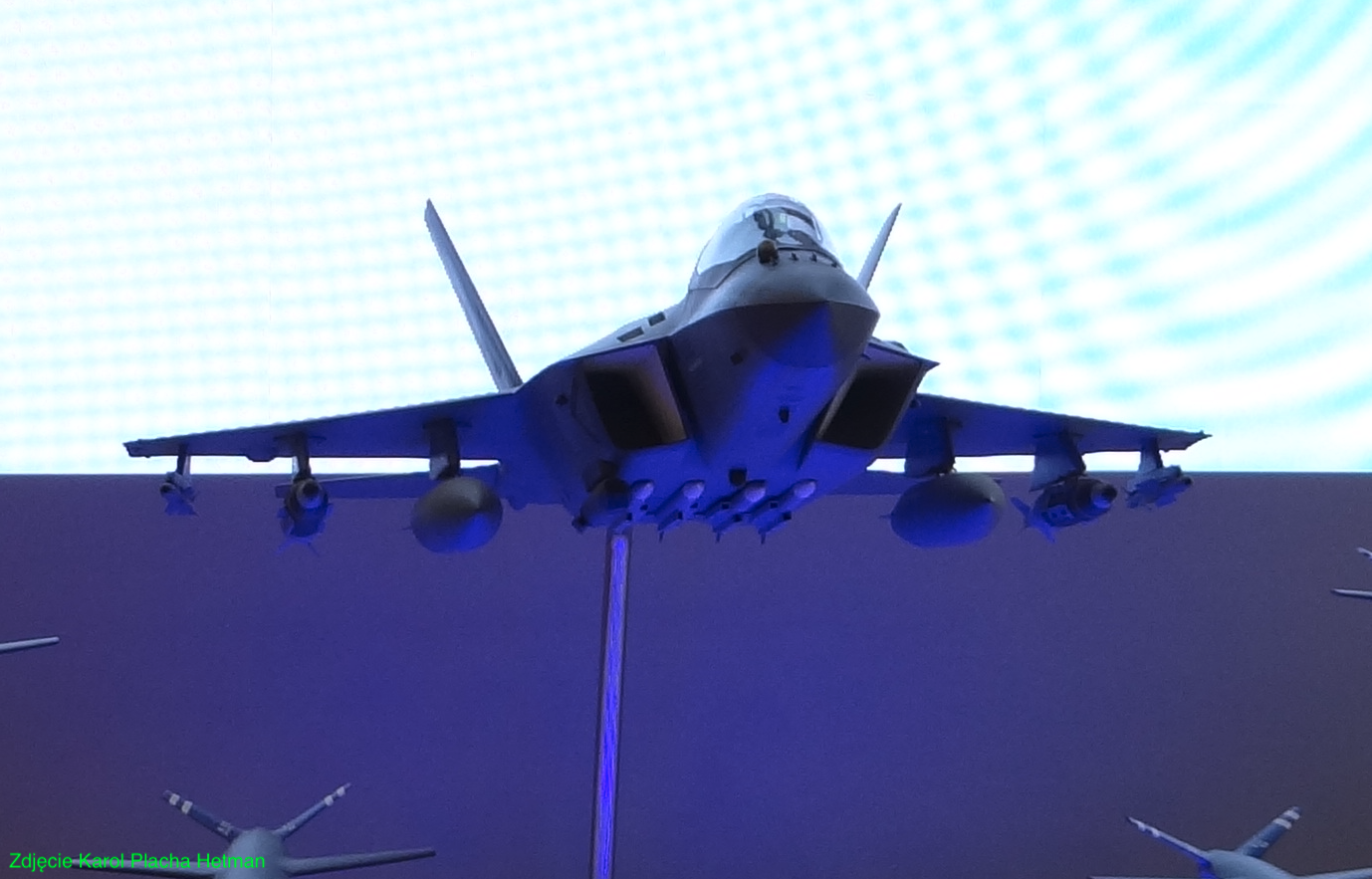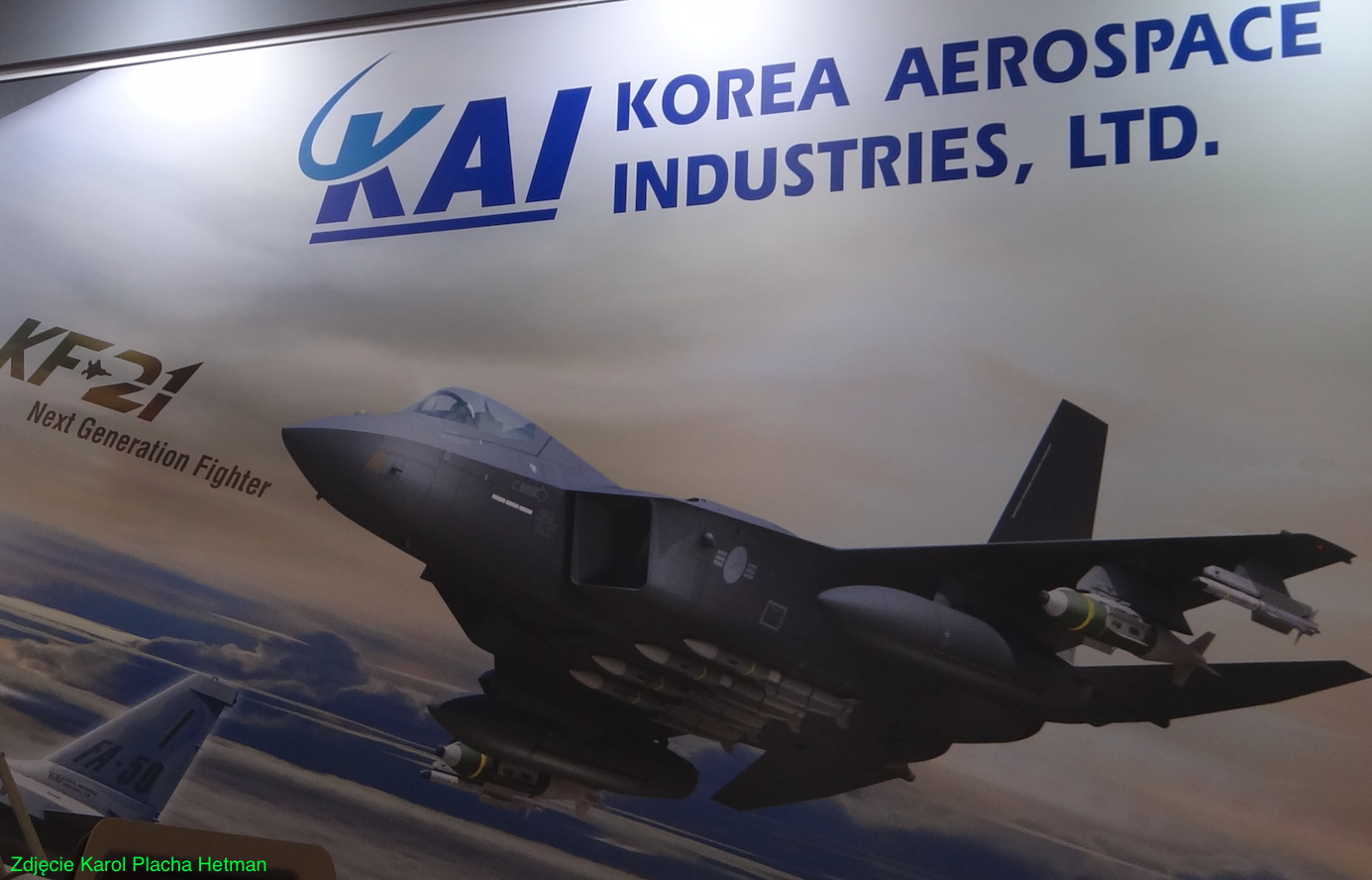 In 2002, the South Korean government announced its intention to build a multi-role combat aircraft to replace the used McDonnell Douglas F-4 Phantom II and Northrop F-5E/F Tiger II aircraft. It should be noted that neighboring countries; Japan and China have already developed new combat aircraft of their own, which they describe as fifth-generation aircraft. For South Korea, the goal was ambitious because the plane was to be built thanks to domestic industry. As a result of the discussion, it was determined that some components should be obtained from foreign suppliers. South Korea had approximately 63% of the necessary technologies. In 2008, a study was presented which confirmed the necessity and advisability of launching a new aircraft program. The project was named Korean Fighter eXperimental (KF-X). Initial plans assumed cooperation with, among others; Boeing, Lockheed Martin and SAAB Group. Ultimately, SAAB did not participate in the program.
In 2010, it was announced that Indonesia had joined the program and was to cover 20% of the planned expenses. In Indonesia, the program was designated IF-X (Indonesian Fighter - Experimental), and the main work was to be performed by PT Dirgantara Indonesia.
Initial plans were to acquire 120 aircraft for Korea and 50 aircraft for Indonesia. Korea was to buy a maximum of 250 aircraft and Indonesia 80 units. At that time, South Korea was in talks with Lockheed Martin regarding the purchase of the Lockheed Martin F-35 aircraft, so Korea decided to designate its aircraft as F-33, i.e. as a lower model.
In 2013, South Korea confirmed that it had chosen Lockheed Martin F-35 Lightning II aircraft. In 2014, an agreement was signed to purchase 40 F-35 aircraft. The contract was linked to an offset. Lockheed Martin proposed to South Korea the transfer of 21 key technologies for the aviation industry, and this was implemented. Radar technologies, optoelectronic systems and WRE systems (radio-electronic warfare) were not transferred. Therefore, Korea developed the radar for the new aircraft itself with the help of Elta Systems Israel. This was the reason that Korea defined the FK-1 aircraft as a generation 4+ machine.
Two General Electric F414-GE-400K engines were used to power the FK-1 aircraft, with a thrust of 2 x 97.9 kN with an afterburner. The units are ultimately to be manufactured under license by Hanwha Aerospace in Korea. The company will also be responsible for engine spare parts.
On July 27, 2022, Poland, through the Ministry of National Defense, signed a framework agreement under which 48 KAI FA-50PL light combat aircraft were purchased. As part of further cooperation, the Polish Minister of Defense, Mr. Mariusz Błaszczak, expressed the opinion that in the future Poland may be interested in acquiring Korean KF-21s as a complement to the F-35.
KFX-101 project.
South Korea has been watching other new combat aircraft very closely. Therefore, it was determined that the new aircraft should have engines with a thrust of approximately 22,000 - 22,500 kg. This immediately indicated a dual-engine drive. The aim was to achieve that the plane would fly at a speed of Mach>1 without afterburning. But a single-engine drive was also taken into account. It was also decided that the plane should have stealth features. That's why it was decided to use internal fighting chambers. It was assumed that the plane would have a single crew. But a two-person crew was also considered if operating the weapons was too complicated for one pilot.
In 2013, the project was designated KFX-101. The project includes two General Electric F414 or Eurojet EJ200 engines. The plane was to have an empty weight of approximately 11,000 kg and a maximum take-off weight of 24,000 kg.
KAI KF-21 Boramae program.
In January 2014, it was decided to continue work on KF-X. At the same time, further development of the KFX-E project, a single-engine successor to the FA-50, was rejected. It was planned to build 6 prototypes, and one of them was to be tested in Indonesia. It was optimistically assumed that mass production would start in 2021. There were plans to set up an assembly plant in Indonesia.
Between 30 and 120 engineers from Indonesia worked on the program. But in 2020, due to the Chinese virus, the engineers returned to Indonesia. In addition, Indonesia failed to meet its 20% share of financing. In 2021, an agreement was reached between Korea and Indonesia on further cooperation and finances. The problem is that if Indonesia does not have FK-1 planes, the chances of exporting the machines to other countries decrease, and in addition, Indonesia may buy other planes. As of now (2022), Indonesia is still in financial trouble.
In February 2019, Korea announced the start of construction of the first prototype. On April 9, 2021, the first prototype number 001 was completed and the rollout took place. The plane was then designated KF-21 Boramae. The word Boramae in Korean means young hawk, which is already used in hunting.
In addition to 6 flying prototypes, two airframes were built for static tests. The prototypes did not receive an internal weapons bay. The weapons will come from Western European producers, because the US has not agreed to provide the source codes. The MBDA Meteor and IRIS-T guided missiles are planned for the air-to-air combat.
The plane made its first flight on July 19, 2022, taking off from the manufacturer's factory airport in Sacheon. The flight lasted 35 minutes. The second flight was performed on July 29, 2022. The landing gear of the plane was then hidden. On November 10, 2022, the second prototype No. 002 was flown, and on January 5, 2023, the third prototype No. 003 was launched. Prototype No. 003 is a two-seater and is intended mainly for training in piloting the FK-21. On May 16, 2023, the fifth prototype No. 005 took to the air for the first time. By June 2023, FK-1 prototypes had completed over 200 flights. Serial production of the aircraft will probably start in January 2024.
KAI KF-21 armament.
The M61 Vulcan multi-barreled cannon is installed on board the aircraft. The aircraft's primary armament will be the MBDA Meteor long-range and IRIS-T medium-range guided missiles. AIM-120 AMRAAM and AIM-9X Sidewinder guided missiles will be used. South Korea also has its own guided missile programs. The total weight of the suspended weapons is 7,700 kg.
IRIS-T is a medium-range air-to-air missile developed by a consortium of several Western European countries. The missile is thermally guided. In early April 2023, the missile was successfully launched from the FK-21 and hit the target.
KF-21 radar system.
The KF-1 aircraft uses an AESA radar system (radar with an active electronically scanned array), i.e. EL/M-2032, which is manufactured by the Israeli company Elta Systems. The system is new and little is known about it. The manufacturer of EL/M-2032 announced that the radar has a long range, high resolution and the ability to simultaneously track multiple targets (?). The system includes many sensors located in various places on the airframe, which provides 360-degree observation coverage. The combination of AESA radar and DAS in the KF-21 aircraft provides the pilot with advanced situational awareness, making it easier to detect and track aircraft and other enemy threats.
Data T-T KIA FK-21 Boramae:
Wingspan 11.20 m. Length 16.90 m. Height 4.70 m. Take-off weight 25,600 kg. Armament weight 7,700 kg. Maximum speed 1.8 Mach. Range 2,900 km.
KAI KF-21 and Poland.
In the future, Poland may become the first country to purchase KAI KF-21 multi-role aircraft. This information was provided in December 2022 by representatives of the Polish Armaments Group. We can thank Tsar Comrade Putin for Poland's closer cooperation with South Korea. Especially after Warsaw made military purchases in Seoul. This concerns the purchase of Korean K2 tanks, K9 self-propelled howitzers, the K239 multiple rocket launcher and the FA-50 light attack aircraft. Polish export orders to South Korea for defense equipment reached the amount of $US 15 billion in 2022, which is more than twice as much as in 2021, i.e. $US 7.2 billion.
It is possible that Poland will join the program at the mass production stage, which may take place in the period 2024-2026. The possibility of Poland taking over the shares that Indonesia has not fulfilled is being considered. If Poland joins the KF-21 program, we may have a complement of F-35 aircraft, the first examples of which will be delivered to the Polish Army in 2024. Production of the KF-21 in Poland will reduce not only delivery costs, but also future operation costs.
Without a doubt, Poland's accession to the program is also beneficial for South Korea. The plane would be introduced to the European market, and Poland belongs to NATO. In addition, the political situation of South Korea and Poland is very similar; We have aggressive neighbors nearby.
Let us recall that over the last 30 years, the Council of Ministers has rejected many proposals to participate in aviation programs, such as; SAAB Gripen, Lockheed Martin F-35 or Boeing B.787. In Poland, the main initiator of joining the KF-21 program is Polska Grupa Zbrojeniowa. Its representatives do not hide the fact that in the future the KF-21 could even replace Lockheed Martin F-16C/D Block 52+ aircraft.
Written by Karol Placha Hetman