317c Section 2010-11-02
Diamond DA-20
Poland
History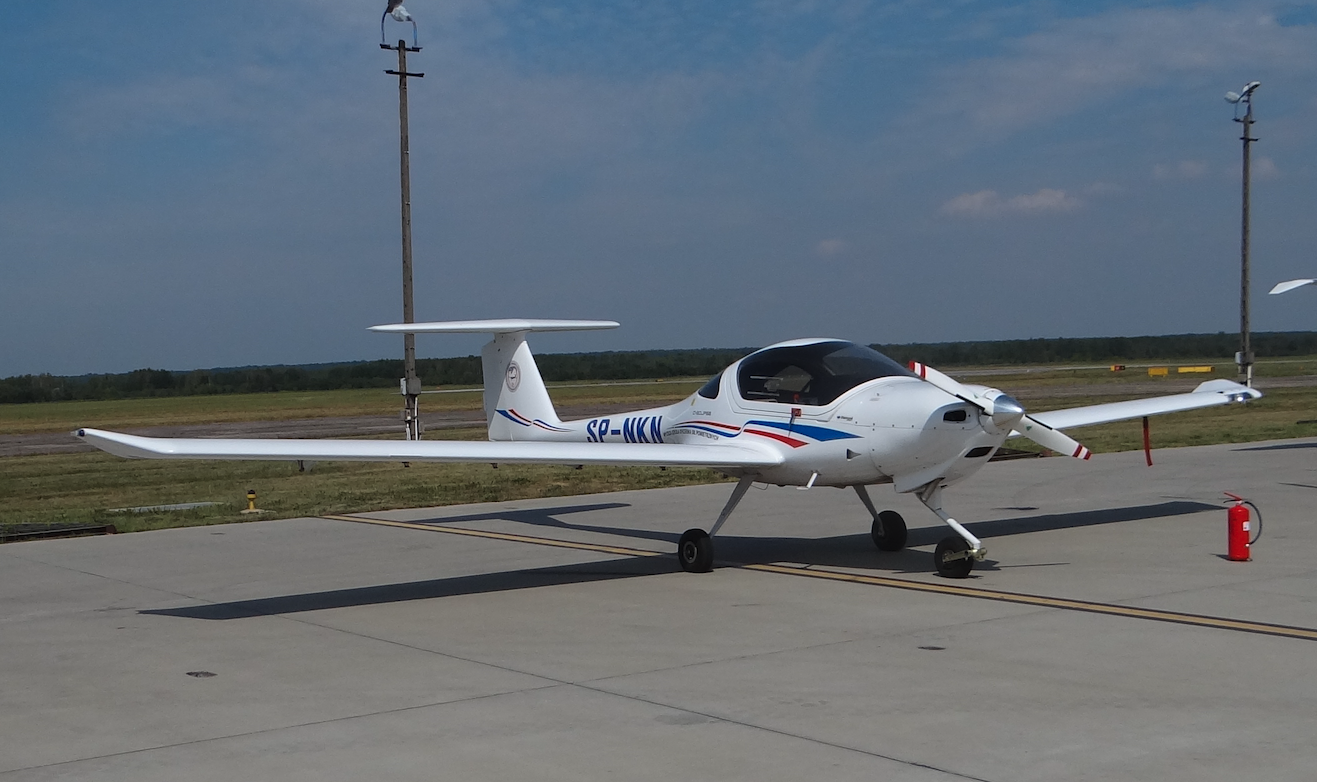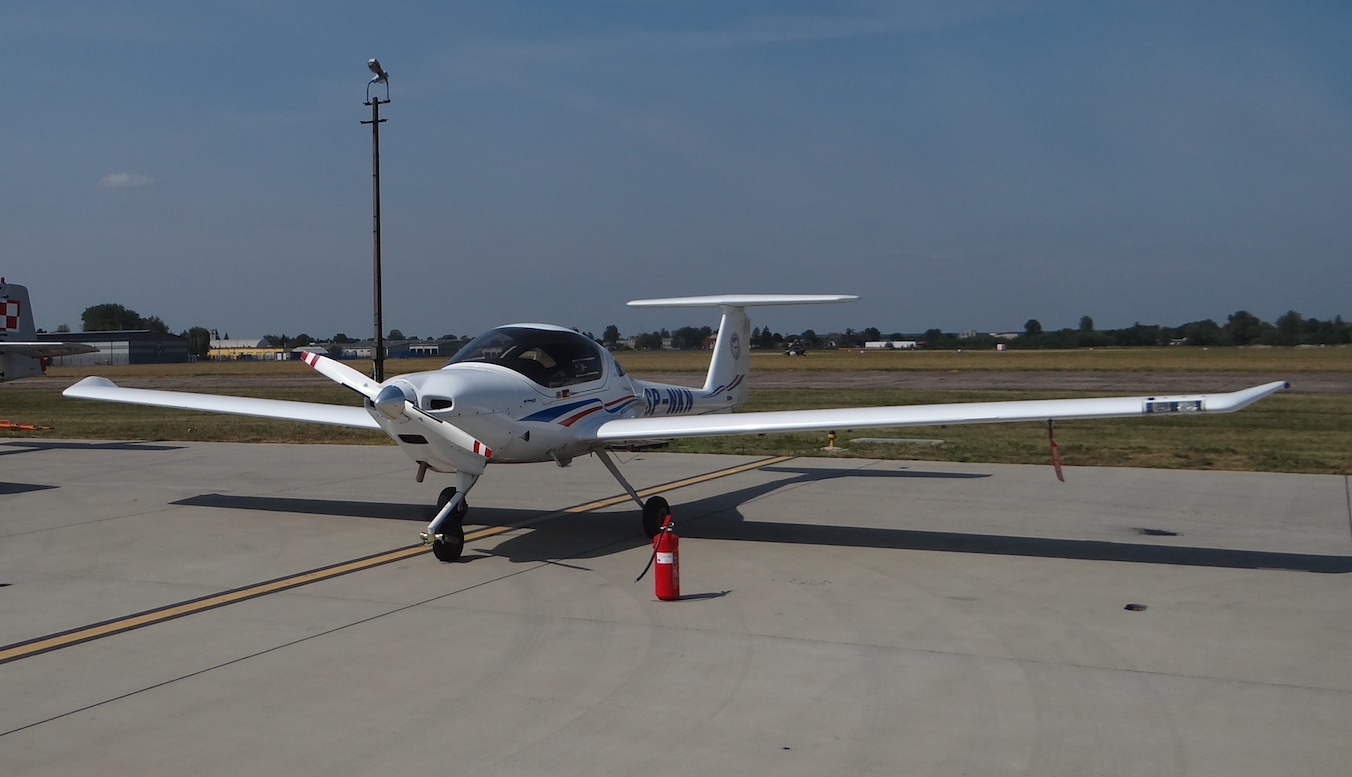 In 1981, in Austria created a new airline company, which adopted the name Hoffmann Flugzeugbau. The company designed and built General Aviation aircraft. At the end of the 80s, the company underwent ownership changes and adopted the new name Diamond Aircraft.
At that time, based on the successful Diamond HK36 Dimona aircraft, a new two-seater aircraft designated DV20 Katana was developed. The new aircraft received: greater wingspan, flaps behind wings, fixed landing gear with front wheel and new avionics.
The first flight of the DV20 Katana aircraft was made in 1991. In 1993, the aircraft was certified. In 1993, the DV20 Katana aircraft was presented at the Paris Air Show. The production of DV20 Katana aircraft was launched in Austria in 1993. At that time, the company opened a branch in Canada and production of DV20 aircraft began there. In Canada, the aircraft designation was changed to DA20. In Canada, the DA20 has received about 40 modifications to successfully compete on the North American market. Production of DA20 aircraft in Canada started in 1994.
By 2010, approximately 1,000 DA20 aircraft had been built. The new DA20 costs less than US $ 200,000. DA20 aircraft are built in several variants and have their own names Evolution and Eclipse.
Since 1998, the aircraft have been fitted with 125 HP Continental piston engines. Later, Rotax engines with 100 HP were adopted, which are more economical. They are powered by car gasoline and lubricated with car oil.
DA20 aircraft are certified: Canada CAR 523, USA FAR 23, China. The DA20 aircraft has avionics for IFR flights, but due to the plastic structure and the lack of lightning protection, it cannot be certified for IFR flights.
Airplanes may have liquid crystal displays since 2008. In 2009, the optional Garmin G500 glass cockpit was introduced to the aircraft.
The DA20 was introduced to basic flight training in the USAF. The aircraft received the designation DA20-C1 Falcons. Pilots were trained on these planes who did not have a private pilot license and were just starting their aviation career in the army.
DA20 aircraft are used in Ecuador (20 units since 2012) and Poland (3 units).
DA20 in Poland.
In 2005, the first private DA20 aircraft was registered in Poland. It was the DV20 Katana version.
In November and December 2010, the Academic Aviation Training Center of the Air Force Officers' College in Dęblin received 3 Diamond DA20-C1 aircraft. The aircraft were purchased for a total of PLN 2,298,480, along with a set of tools, devices and spare parts. From 2011, aircraft were used for aviation training for both military and civilian pilots.
Written by Karol Placha Hetman
---
317c Section 2010-11-02
Diamond DA-20
Poland
Construction
Diamond DA20 is a classic built airplane. The construction is mainly made of plastic. The cabin has two seats. The cabin is relatively quiet, which means that you can not use the intercom. The aircraft is well suited for training. Diamond DA20 is distinguished by easy operation and control. However, it is difficult to repair in case of structural damage.
The wings have a large elongation and resemble the wings of a powered sailplane. As a result, the aircraft is characterized by low operating costs and good performance, mainly long range.
The chassis is three-legged with a front wheel. The front wheel is self-adjusting. The airplane is controlled during taxiing by differential braking of the main landing gear wheels. The chassis is complemented by a skid-bumper as a plane tail.
The aircraft surface control system consists mainly of arens (cord in a flexible tube).
Avionics
Garmin GNC 420W GPS/COM or Garmin GTX 327
The engine
DA20 C series airplanes have Continental O-240 piston engines. Engine Continental IO-240-B3B, 4-cylinder, power 93 kW (125 HP). The engine has fuel injection.
DA20 A-series airplanes have Rotax 912 engines, 100 HP. The engine has fuel injection. These engines run on automotive gasoline. Mobil car oil. In an emergency, the engine can run without oil (dry) for two hours, with less than 60% power.
Sensenich Propeller propellers have two blades made of composite. The propeller with the engine is connected through a clutch that will disconnect the engines when the propeller hits an obstacle.
Data DA20
Span 10.87 m (35 ft 8 in)
Length 7.16 m (23 ft 6 in)
Height 2.18 m (7 ft 2 in)
Curb weight 528 kg (1.164 lb)
Take-off weight 800 kg (1,764 lb)
Fuel 91 liters (24 US gallons, 20 imp gallons)
Cruising speed 256 km / h (159 mph, 138 kn)
Minimum speed 83 km / h (52 mph, 45 kn)
Climb speed 5.1 m / s (1,000 ft / min)
Range 1 013 km (629 mi, 547 nmi) with a 30-minute reserve
Operating ceiling 4,000 m (13,120 ft)
Written by Karol Placha Hetman
---
---
317c Section 2010-11-02
Diamond DA-20
Poland
Tally
The first DA20 aircraft in Poland was registered in 2005. It was a private plane.
In 2010, there were three DA20 aircraft at the Aeroclub in Dęblin. Diamond DA20-C1 Eclipse: SP-NDE, SP-NEU, SP-NKN.
Written by Karol Placha Hetman
---