Nowy Glinnik 2012-08-24
Open barracks day at Nowy Glinnik Airport.
The day of open barracks at the Nowy Glinnik Airport near Tomaszów Mazowiecki was held on August 24, 2012.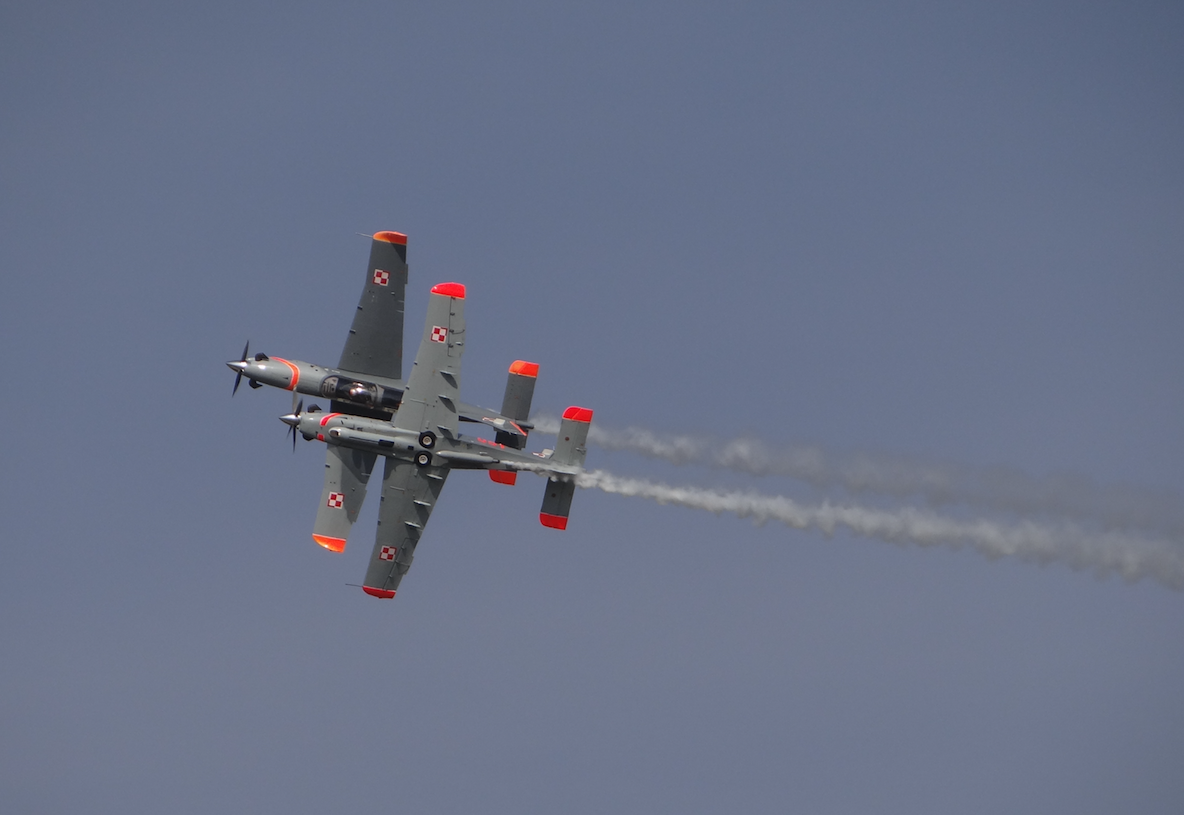 On August 24, 2012, at the Nowy Glinnik Airport, another day of open barracks was organized and the ground army aviation holiday. The ceremony began at 09.00 a.m. Mass in the Garrison Church. Then a commemorative plaque was unveiled in memory of Sergeant Zbigniew Biskup, who died on December 22, 2011 as one of the four soldiers of the 25th Air Cavalry Brigade, during a mission in Afghanistan. Zbigniew was 35 years old. Honor his memory!
Between 12.00-18.00 at the Nowy Glinnik Airport, air shows, both dynamic and static, took place. Thanks to good weather, all points of the air show were completed. We could admire both planes and helicopters in the sky. We could observe;
Dynamic show of a pair of Su-22 airplanes that came to the show from Świdwin. (The planes did not land at Nowy Glinnik Airport).
We saw a 20-minute show of the Orlik group on PZL-130 TC-II Orlik planes. This show was particularly interesting, because from this year (2012) the Orlik group has a new version of the aircraft, which is a modernization of the PZL-130 TC-I machines. The differences between these versions are large, which the reader can read about in the article about the history of PZL-130 Orlik.
Of course, helicopters were the most in the air. There was a parachute landing. Helicopter flights; Mi-2, W-3, Mi-8, SW-4. We saw an impact on the target of the W-3 and Mi-8 helicopters. There was a show by the Air Medical Evacuation Unit.
At the static exhibition, you could admire and, above all, enter; Mi-2 nb 5244, Mi-8, Mi-14 PŁ nb 1005, Mi-17, Mi-24 D nb 460, W-3 nb 0904, W-3 nb 0911 medical, EC-145 registration SP-HIL (in civil version, but the company is counting on a contract for the Polish Army).
And; KTO Rosomak combat vehicle, KTO Rosomak in medical version, communication and radiolocation equipment used on the battlefield, individual soldier's equipment, firearms (carbines, grenade launchers) of various caliber, guided missiles, anti-aircraft artillery, mortars, parachute equipment, falconry show (birds of prey flocks of other birds from the field of flights), historical exhibition, fire fighting vehicles, police patrol on horses, field hospital and others. Despite the announcement, the C-130 Hercules and CASA C-295M aircraft did not come to the show.
Written by Karol Placha Hetman