Kraków 2017-08-11
255 Section 1979-06-04
OKB Mikojan and Guriewicz MiG-23 UB
Poland
Two-seater combat aircraft.
History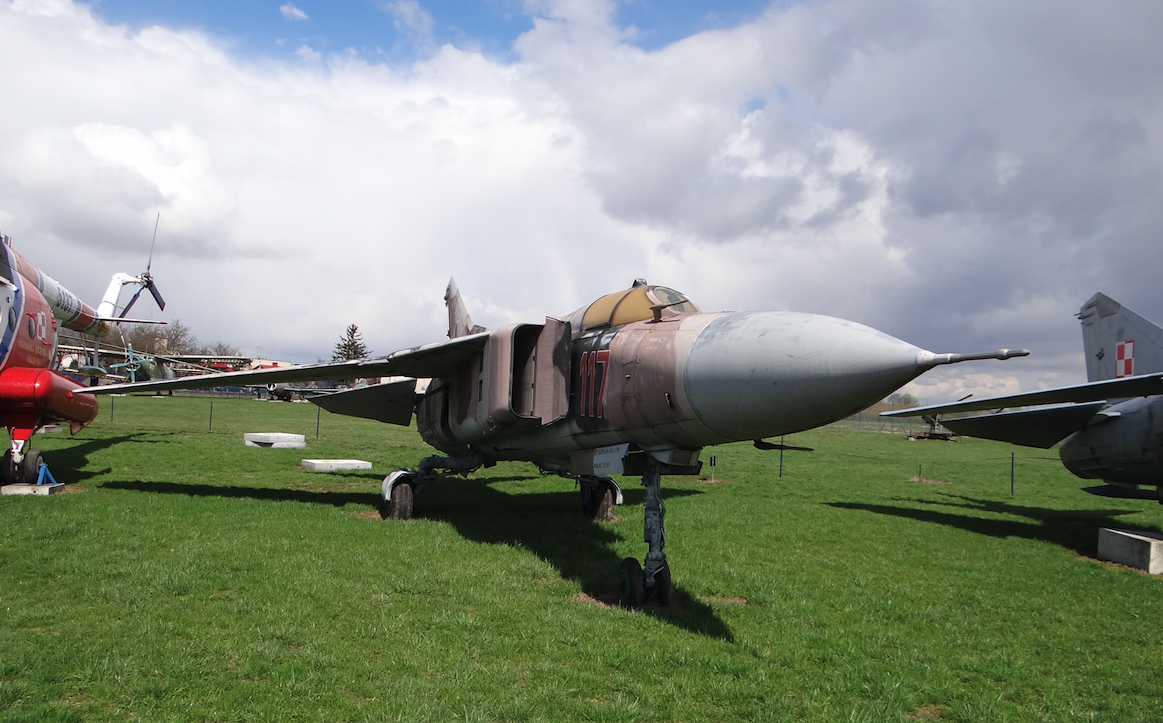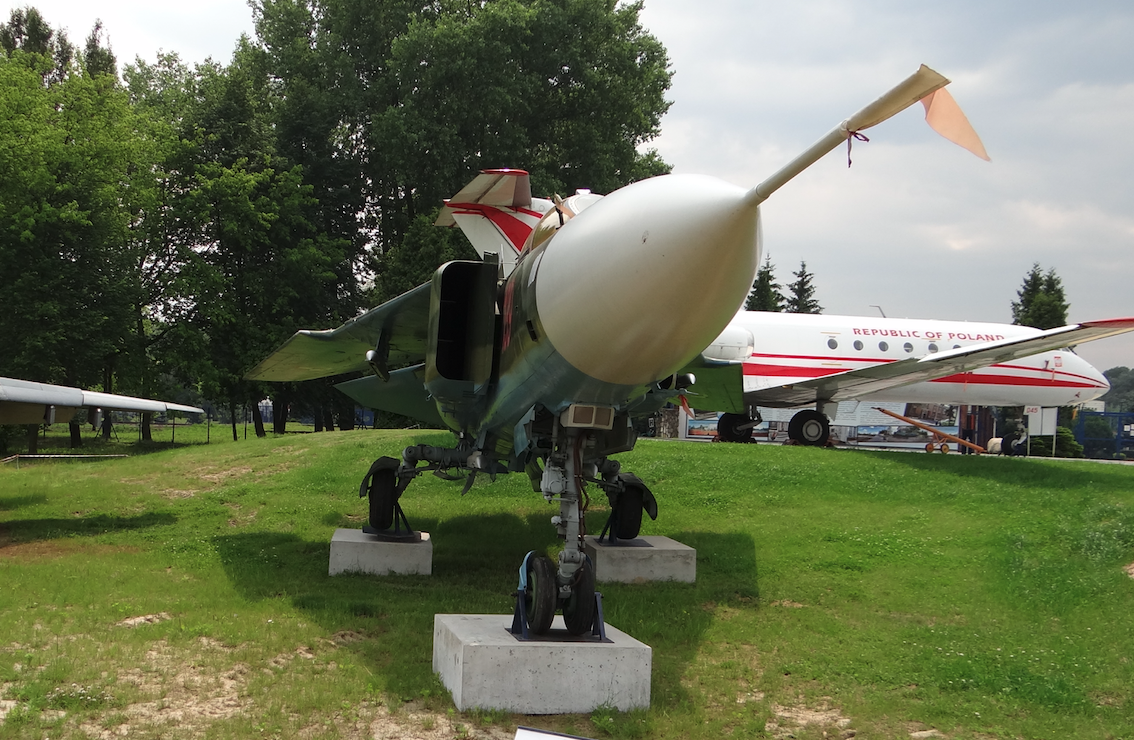 For the first time with the MiG-23 aircraft, our politicians and military officers came across while looking for a successor to the IL-28 bomber aircraft. The last six bombers were removed from the state in 1979, but in fact for the entire decade they were no longer of any combat value. CCCP offered us MiG-23 BN or Su-20 aircraft. Both with variable wing geometry. According to Polish specialists, none of the aircraft offered did not meet our requirements, but there was no other alternative. The choice fell on the Su-20, as a cheaper machine and in a sense similar to the "dry" used so far. Ultimately, these were Su-22 M4 and two-seat Su-22 M3U aircraft.
The search for a new aircraft for WOPK (the country's air defense forces) was similarly difficult. Our eastern partner (then it was necessary to say - brother country) offered us a MiG-23 MS plane. This offer was not satisfactory to us anymore. They were weapons with MiG-21 bis weapons. They had no way of attacking at a meeting course. In addition, problems with the operation of these machines effectively discouraged the Polish side from this investment. The export display of the MiG-23 M version was constantly postponed. The MiG-23 MS aircraft was equipped with newer avionics and a large number of structural defects were removed. The resulting version was called MiG-23 MF and was offered to the Polish side. This time in May 1978, the proposal was approved and accepted.
At the same time, a decision was made to train the first group of pilots and technicians for a new type of fighter. The first of the three planned airborne regiments was 28 PLM stationed in Słupsk. However, before a group of Polish officers was selected for training in CCCP, the unit's staff from Słupsk, using the invitation of the Soviet 871 PLM stationed in Poland in Bagicz near Kołobrzeg, got acquainted with the aircraft and its capabilities. The Soviet pilots presented the MiG-23 M in flight, and the technicians had the opportunity to familiarize themselves with the airframe.    Opinions of the Polish side were different. On the one hand, there was talk of high machine failure rate and complicated operation. However, positive reviews prevailed. Much attention was paid to the variable geometry of the wings, which until now could only be seen in Powidz, where from 1974 to 1976 the conversion of the Su-20 fighter-bomber took place. Good take-off and landing parameters, high altitude and high maximum speed were optimistic about the MiG-23.
On January 29, 1979, a group of 13 pilots from 28 PLM and technicians under the command of lieutenant colonel pilot Janusz Dorżyński went on a three-month training to Ługawoje in CCCP. The pilots underwent a two-month theoretical training ended with an exam, after which they sat at the controls of the Soviet MiG-23 M / MS / MF / UB. The first flights showed very good flight properties. Rapid acceleration of the machine has been confirmed. The engine quickly and eagerly entered the revs. The plane was easy to fly. The performance and equipment of the MiG-23 did not resemble the fighters used so far in Poland. I mean MiG-21 up to and including the MF version. The MiG-23 was supposed to completely displace the first line of the MiG-21. On April 28, 1979, after passing the final exams, all staff returned to Poland.
By the way, it should be said that when the first MiG-23 was brought to Poland, they had been on the CCCP's armament for 9 years, and were also in the stock of African countries such as Sudan, Libya, and East Germany and Czechoslovakia in Europe.    Because Słupsk Airport was under renovation at that time, the planes were handed over in Minsk Mazowiecki. We received the first MiG-23 MF / UB on June 4, 1979 in the number of 11 pieces. MiG-23 MF nb 120, 121, 122, 139, 140, 141, 145, 146, 147, together 9 pieces, MiG-23 UB nb 845, 846 together 2 pieces. Factory pilots arrived. On the planes there were Soviet hallmarks (red stars), which were quickly washed away after landing. Technical acceptance took place and an official acceptance report was signed. Seven days later, on June 11, 1979, the first flights began under the guidance of 12 Soviet engineers. The first Polish pilots who sat behind the controls of the MiG-23 UB side No. 845 were the commander of 28 PLM Lt. Col. Pilot Janusz Dorżyński and Major Pilot Bogdan Sokołowski. On June 25, 1979, three more MiG-23 MF nb 148, 149, 150 arrived in Poland. At the end of 1979, the renovation of the Słupsk airport was completed, therefore, on January 4-7, 1980, owned 14 MiG-23 MF / UB was transferred from Mińsk Mazowiecki to Słupsk to Redzikowo. On January 14, 1980, training began at the home airport. From October 13, 1980, the regiment reached combat readiness and began regular combat duty.
Even before the next batch of aircraft was delivered to 28 PLM on May 25, 1981, as a result of the failure, the first MiG-23 MF nb 140 aircraft was lost, which was piloted by pilot captain Ryszard Drzymała. The plane approached from the west side of the runway. At the last moment he released the chassis, which unfortunately did not get stuck in the locks. It folded and broke at the time of the touchdown. The pilot released the braking parachute. The plane slowed down, scrubbing the belly on the runway. At the end she leaned on her right wing and slid down onto the grass. The pilot was not seriously injured. Damage to the machine turned out to be very serious and eventually it was overhauled. On April 26, 1985, this aircraft was handed over to COSSTWL in Oleśnica. With time, the plane began to be designated as nb 40, and years later after the dissolution of the center, the plane as a monument was transferred to the Radom-Sadków airport, and after the creation of the Air Force Museum in Dęblin it was transferred there.
On January 29, 1981, MiG-23 UB nb 850 flew to Słupsk. On September 2, 1981, MiG-23 nb 455, 456, 457, 458, 459 arrived, and on September 25, 1981, MiG-23 nb 460, 461 , 001, 005, 007, 010, 012. On October 19, 1981, two MiG-23 UBs were delivered.
The last aircraft were delivered in 1982. On June 26, 1982, the last sixth MiG-23 UB was delivered. On August 25, 1982, MiG-23 MF nb 062, 065, 101, 102, 105 was delivered, and on September 21, 1982, MiG-23 MF nb 021, 050,110,115, 117, 152, 153.
Deliveries of a total of 36 copies were completed in 1982. Polish MiG-23 MFs came from series 17 (originally they did not have the ability to carry NCR R-60), 20, 21 and 24. The aircraft received modernized APU-23 M 1 launchers. They served until 2000. In total, 6 MiG-23UB were purchased for training purposes.
As the organizational structures were improved, new equipment and armaments were introduced, the content of the regiment's training tasks changed, systematically verified in exercises, during which often actions were carried out simultaneously from two airports and the road section (DOL). Many times the regiment took part in exercises organized at the level of the Polish Army, and until 1989 in the exercises of the Warsaw Pact, cooperating with the CCCP and NAL GDR (National People's Army of the German Democratic Republic).
In 1988, friendly contacts with one of the Soviet units in Poland, supported by personal knowledge of both commanders, brought measurable results. By withdrawing the MiG-23 M aircraft by the end of 1989, the Soviets handed over to the Poles, as parts of the warehouse, three aircraft, with the numbers "19", "32", "46". The latter, after returning the soviet engine, armament and pilot's seat, was painted gray, typical for the unit, painted chessboards and the fictitious number "979" (the end of the year MiG-23 was put into service) placed in front of the officer's casino.
In the 90s, the basic tasks of the regiment did not change significantly. Safe flight training remained the priority, the result of which was verified by completed exercises, including annually since 1992 rocket shooting at the training ground in Ustka and exercises combined with landing on the airport road section (DOL). The craftsmanship of piloting the regiment on MiG-23 MF aircraft were presented in numerous air shows, including in 1991 at the Air Show'91 in Poznań, in 1993 in Gdynia and Dęblin (simulated air fight 4 MiG-23 MF with 4 MiG-29 from 1. PLM), and in 1996 in Bydgoszcz. All tasks in the air in the 90s pilots performed safely. The commander of WLiOP for 1992, 1993, 1995, 1996 awarded the regiment with a diploma and a Transitive Cup for Flight Safety. In 1997, the regiment received the WLiOP Commander's Cup for Flight Safety.    From 1993, the planes were repaired in the country, at the Military Repair Works in Dęblin, and not as before in Ukraine or Bulgaria. On August 8, 1996. The MiG-23 MF nb 139, ending its course, was handed over to Bydgoszcz, becoming a museum exhibit. On the same day, another MiG-23 MF nb 120, also finishing its resources, enriched the collections of the Polish Aviation Museum in Krakow. By the end of 1998, almost 90% of fighters were decommissioned. On September 2, 1999, all remaining MiG-23 MFs were practically grounded. It was on this day that the last school flights were made. Five MiG-23 MF and 2 MiG-23 UB aircraft took part in them. Only two MiG-23 UBs remained able to fly, those that flew on September 2, 1999. In turn their last flight took place on November 30, 1999. Some of the planes removed from the WLiOP inventory and handed over to AMW for sale to collectors, while a few of the youngest units (24 series airplanes), which still had a supply of resources, were transported to the Nadarzyce training ground and "shot" there. In 2005, information appeared that an American businessman bought several MiG-23 MF / UB aircraft (probably 5 units) with the intention of using them as flying attractions at aviation festivals. In 2005, the price of one machine at AMW as an exhibit was PLN 20,000.
Written by Karol Placha Hetman
---
Kraków 2017-08-11
255 Section 1979-06-04
OKB Mikojan and Guriewicz MiG-23 UB
Poland
Fighter aircraft with variable wing geometry. Two-seater.
Construction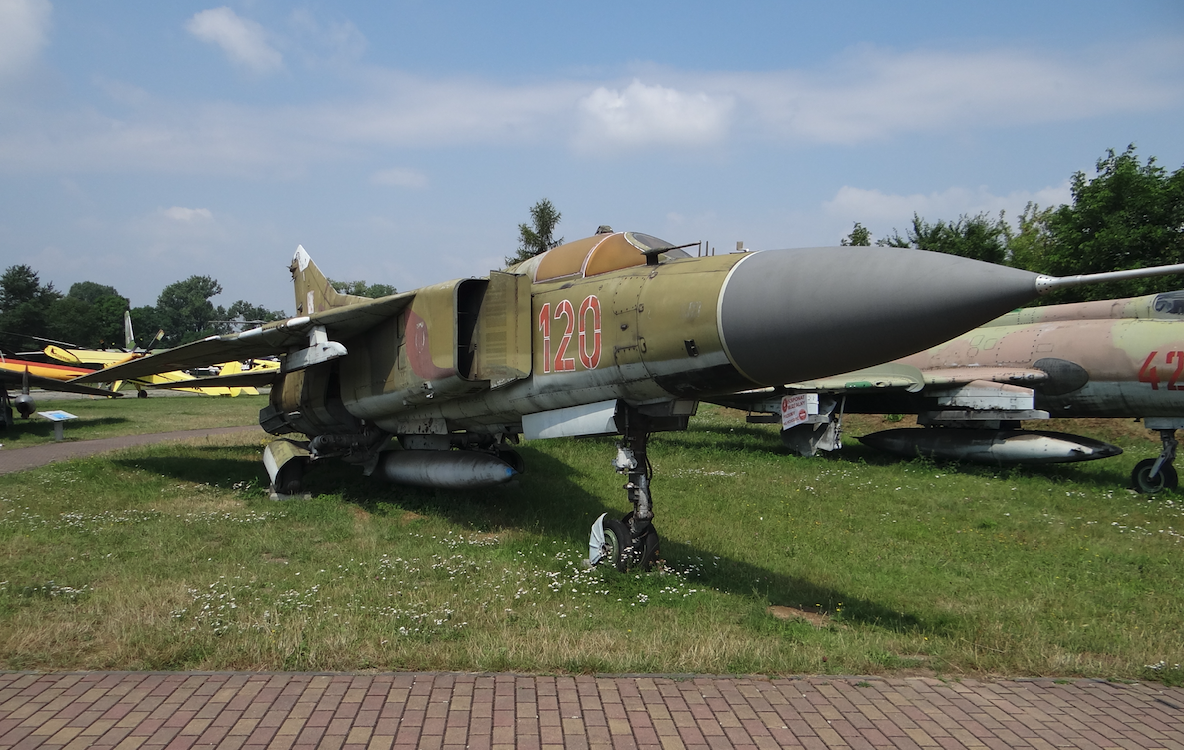 Construction MiG-23.
A single-seat, single-engine supersonic interceptor fighter, capable of performing assault and bomber tasks. High-wing aircraft with variable wing geometry. The main strength elements are made of steel; fuselage fuel tanks, wing girders and tailings, wing suspension knots. In addition, aluminum alloys and, to a small extent, titanium, magnesium alloys and composites were used in the construction. The plane withstands a load of 7g, and with a minimum bevel of 4.5g.
The wings consist of a center wing with a skew leading edge of 70 degrees and moving parts with a skew angle change from 18 degrees 40 minutes to 74 degrees 40 minutes. The wedge angle is 0 degrees and the rise angle is 4 degrees. In the center wing there are integral 2 x 90 liters fuel tanks, radio equipment antennas, oxygen tank, weapon nodes and wing rotation mechanism. The rear part of the center wing contains a sealing system connecting the movable and fixed part of the wings. It is made of hinged flaps and vertical curtains with Teflon seals, pressure rods, levers and pneumatic cylinders. The moving parts are mounted on a large diameter pin. The movement is provided by a hydraulic system. Structurally, they have two girders and 7 ribs. Inside there are fuel tanks with a capacity of 2 x 215, 2 x 140, 2 x 90 liters. The wings are equipped with 4-segment toes tilted to an angle of 20 degrees, with an area of 1.32 m square. Their movement was synchronized with the rear flaps. On the upper surface, 2-segment choppers, 0.6 sq m, were mounted, tilted 45 degrees at a small skew angle. At the rafting there were 3-segment flaps, 5.9 sq m, swinging 25 degrees at takeoff and 50 degrees at landing. Each segment is supported on two bearings, with the end segments having frictional vibration dampers.
The fuselage was technologically divided into two parts on the frame No. 28. In the front part 60% is occupied by fuel tanks. There is electronic equipment for frame 6, mainly a radar station. An airtight pilot's cabin was placed between frame 6 and 12. The chassis with a servomotor is attached to frames 6 and 11. Other equipment was placed from the pilot's cabin, below it was lowered tow truck with a cannon and two weapon attachment nodes. The engine side air intakes are about 90 mm from the fuselage. The air intake plane is inclined 3 degrees forward. The front air wedge is stationary. Behind it, a hinged plate with perforation for suctioning the boundary layer of air is placed. A second plate was placed with it, also movable, but with a hinge at the back. Adjustment is carried out by hydraulic cylinders with a lever system. Plate encapsulation is ensured by vertical curtains and Teflon profiles at the top and bottom pressed with flat springs. Two additional air intakes were placed on the air ducts. Frame no. 14 starts fuel tank no. 1 with a capacity of 1 940 liters and ends with frame no. 18, which simultaneously starts tank no. 2 with a capacity of 870 liters and ends with frame no. 20. The main strength elements of the center wing, main landing gear and suspension tank attachment node. Between the frames 20 and 22 there are chambers of the main chassis closed with 4 flaps. Fuel tank No. 3, with a capacity of 740 liters, is closed with frame No. 28. Engine frame, another central wing fitting and weapon nodes are attached to frame 25. The tail part begins with frame No. 28A. Between fuel frames No. 29 and 30 there was a fuel tank No. 4 with a capacity of 470 liters. To the frame No. 31 is attached the tail, aerodynamic brakes and the afterburner tube. Aerodynamic brakes, upper 0.21 sq m and lower 0.40 sq m. Swiveling 45 degrees. Behind frame 32, the hull was made of titanium.
Horizontal slab formation with a skew angle of the leading edge of 55 degrees and 40 minutes, with an area of 6.93 square meters. Swiveling in longitudinal control by +8.5 degrees and -24.5 degrees, and in lateral control by -1 degree at the wing <57.40 degrees and 6.5 degrees> 57.40 degrees. The composition has a mixed construction, classic at the front, riveted, beehive at the back, glued. The horizontal formation has a span of 5.51 m. The vertical formation with a bevel of 72 degrees 20 minutes, with an area including an inflow of 7.21 square meters. Rudder tilts 25 degrees and 0.93 sq m. The ballast is attached to frame No. 29B and 31. Classic design, beehive rudder, glued. A parachute tray was placed under the helm. At the bottom, a foldable aerodynamic steering wheel, 1.42 m square. Folding is made to the right by 90 degrees and is synchronized with the chassis.
Chassis hydraulically moved. Emergency retractable with compressed air. Pneumatic disc brakes. Liquid-nitrogen shock absorbers. KT-152 front chassis with dimensions of 520 x 120 mm and a spacing of 250 mm, in a downward configuration. Hydraulically controlled MRK-30 device with a 40 degree swing. Fenders. KT-150 D main chassis with dimensions of 840 x 290 mm. Tubeless pneumatics. The chassis base is 5.812 m, the spacing is 2.86 m.
Catapult armchair.
The KM-1M catapult chair, weight 135 kg, classes 0-130. The limits are a maximum speed of 1,200 km / h and a ceiling of 20,000 m. The chair in the first phase ejects the pyroquisher, and after moving 0.82 m, the rocket engine starts for 0.38 seconds and rejects the chair about 45 m from the flight path plane. Then a stabilizing parachute opens with an area of 0.1 square meters. Then, depending on the ceiling, a second with an area of 2 square meters. At a height of less than 3,000 m, a 54-square-meter main parachute opens. Fall <6 m / s. When catapulting at a height of 0 m, the main parachute opens at a height of> 25 m. The chair is controlled by the KAP-4/425 device. Next to the chair is the NAZ-7 emergency container in the marine, desert or northern variant. Includes food, signaling, communication, first aid kit, MŁAS-1 boat (Polish LŁR boat), field equipment.
Engine
Dual-flow turbojet R-29-300 and greening 55, with 1 x 81.40 kN thrust, and with afterburning 1 x 120.0 kN. The length of the engine is 4 991 mm, the diameter at the height of the compressor 846 mm, and the height of the combustion chamber 922 mm. The maximum gas temperature behind the turbine is 1,000 degrees Celsius. Engine weight 1 222 kg. Consists of; 5-stage low pressure, (1 and 2 stage made of titanium, the others made of heat-resistant steel), 6 stage high pressure, compression ratio 13: 1, annular combustion chamber with 18 injectors, 1 high-pressure turbine, 1-turbine low pressure, afterburner about 1.5 m long with three rows of injectors. The engine ends with an adjustable nozzle made of 18 hydraulically operated flaps. Starting the engine on the ground with a turbo-starter TS-21.
Kerosene T-1, TS-1, RT. Oil IPM-10 or synthetic WNII-50. Specific fuel consumption 0.9 - 1.2 kg / daN / h, with afterburning 1.5 - 2.0 kg / daN / h. The engine's service life is 900 - 1500 hours depending on the production series. Renovation period 350 - 450 hours.
Installation
Fuel - also fulfills the role of balancing the aircraft and coolant of some devices. In the basic variant, the aircraft takes 4,800 liters of fuel. Additional 3 x 800 liter tanks can be suspended. Pressure or gravity refueling.
Electrical - DC 28 V, 208, 115 and 36 V AC, and 400 Hz single and three phase. Generators, battery pack. Two taxi and landing lights, position lights.
Pneumatic - two main and emergency circuits. It brakes the wheels, seals the wing-fuselage passage, ventilates the equipment compartment, ventilates and seals the cabin, releases and rejects the braking parachute, emergency switches off some systems. Emergency releases the landing gear and retracts the hull steering wheel.
Hydraulic - two independent circuits, one main and one supporting. Retracts and extends the chassis including the hull steering wheel, controls the front chassis, air intakes, steering surfaces, sets two wing rotation hydromotors in motion.
Equipment
Communication system - 120-channel R-832 M radio in the VHF and UHF bands, emergency radio R-855 UM, SMU-7 system for remote control with technicians.
Navigation and landing system - the system allows you to fly on a programmed route and automatically approach the landing, RSBN-6 S close navigation system, low altitude radio altimeter RW-4 in the range from 0 m to 1 500 m, automatic compass ARK-15 M, receiver MRP-56 M markers.
Recognition and warning system - SRZO-2 active query and response system, SPO-10 radiation warning system (shows the direction and moment of interception by the opponent, SO-69 active response system).
Armament control - the Szafir s-23 radar station with an analogue AWM-23 meter, the ASP-23 D optical sight, the TP-23-1 thermal indicator. The situation is represented on the display by SIĘ (a system of one induction). Searches targets, prepares data for guided missiles, calculates corrections for the cannon of non-guided missiles, highlights targets.
Armament MiG-23 MF
The aircraft was equipped with 5 suspension nodes. 3 under the fuselage and 2 under the fixed parts of the wings. The middle node is only for hanging the fuel tank. In the 90s Polish planes were equipped with movable knots under the moving parts of wings in the number of 2 pieces. They only serve to suspend fuel tanks or containers from e.g.
Nudelman-Richter GSz-23 Ł double-barrel cannon, cal. 23 mm, 200 rounds.
Guided missiles p-p class, 2 pieces each; R-3 S, R-3 R, R-13 M, R-55 on APU-68 E launchers; 4-6 pieces; R-60 M, R-60 MK on APU-60 IM or dual IIM launchers, R-23 R, R-23 T on APU-23 M. launchers. Class p-z, 2 each; H-23 M on APU-13 MT, H-23 M on APU-68 E.
Non-guided missiles S-5-M 1, -K 1, -MO, -KO, -P, -S, -O, -I, KPM, in tanks UB-32A or UB-16 and S-24 B weighing 235 kg on APU-68 E launchers.
Bombs up to 500 kg. E.g. 16 x OFAB-100, 6 x FAB-250, 4 x FAB-500. Ignition tanks 2 x ZB-500. Everything on BD 3-60-23 F 1-Ł 1, MD 2-67 U or other beams.
Data T-T MiG-23 MF
Span from 7.779 m to 13.965 m
Length 17.18 m
Height 4.82 m
Bearing area from 34.16 m2 to 37.27 m2
Own weight 10 845 kg
Total weight 15 750 kg
Maximum weight 18 270 kg
Landing weight 12,000 kg
Weight of 4,000 kg
Fuel weight 4 800 liters + 3 x 800 liters
Maximum speed of 2,445 km / h at 12,500 m
Maximum speed Ma-2.35
Maximum speed 1,350 km / h at 0 m
Climbing 7 min to a height of 15,000 m
Cruising speed 940 km / h
Landing speed 255 km / h
Maximum range of 2,500 km
Operating ceiling of 17,500 m
Run-up at take-off 580 - 825 m
Run-off during landing 1 225 m
Written by Karol Placha Hetman
---
---
Kraków 2017-08-11
255 Section 1979-06-04
OKB Mikojan and Guriewicz MiG-23 UB
Poland
Two-seater combat aircraft.
Tally
LIST OF AIRCRAFT MiG-23 UB serving in 28 PLM in Słupsk
MiG-23 UB nb 845 No. A1037845 - Delivered on June 4, 1979. in the first batch. He took part in the first visit of 28 PLM to a NATO country in Denmark on October 2, 1995. Withdrawn in 1999
MiG-23 UB nb 846 No. A1037846 - Delivered on June 4, 1979. in the first batch. Withdrawn in 1999
MiG-23 UB nb 850 No. A1038850 - Delivered on January 29, 1981. as the only one in the third party. Withdrawn in 1996
MiG-23 UB nb 842 No. A1038842 - Delivered on October 19, 1981. in the sixth party. Withdrawn in 1998
MiG-23 UB nb 844 No. A1038844 - Delivered on October 19, 1981. in the sixth party. Withdrawn in 1998
MiG-23 UB nb 831 No. A1038831 - Delivered on June 26, 1982. as the only one in the seventh party. Withdrawn in 1999
Written by Karol Placha Hetman
---