Kraków 2009-04-20
History
256b Section 1980-02-04.
OKB Mikojan and Guriewicz MiG-21 bis in Poland.
MiG-21 bis. Supersonic fighter aircraft, operating in "all weather conditions".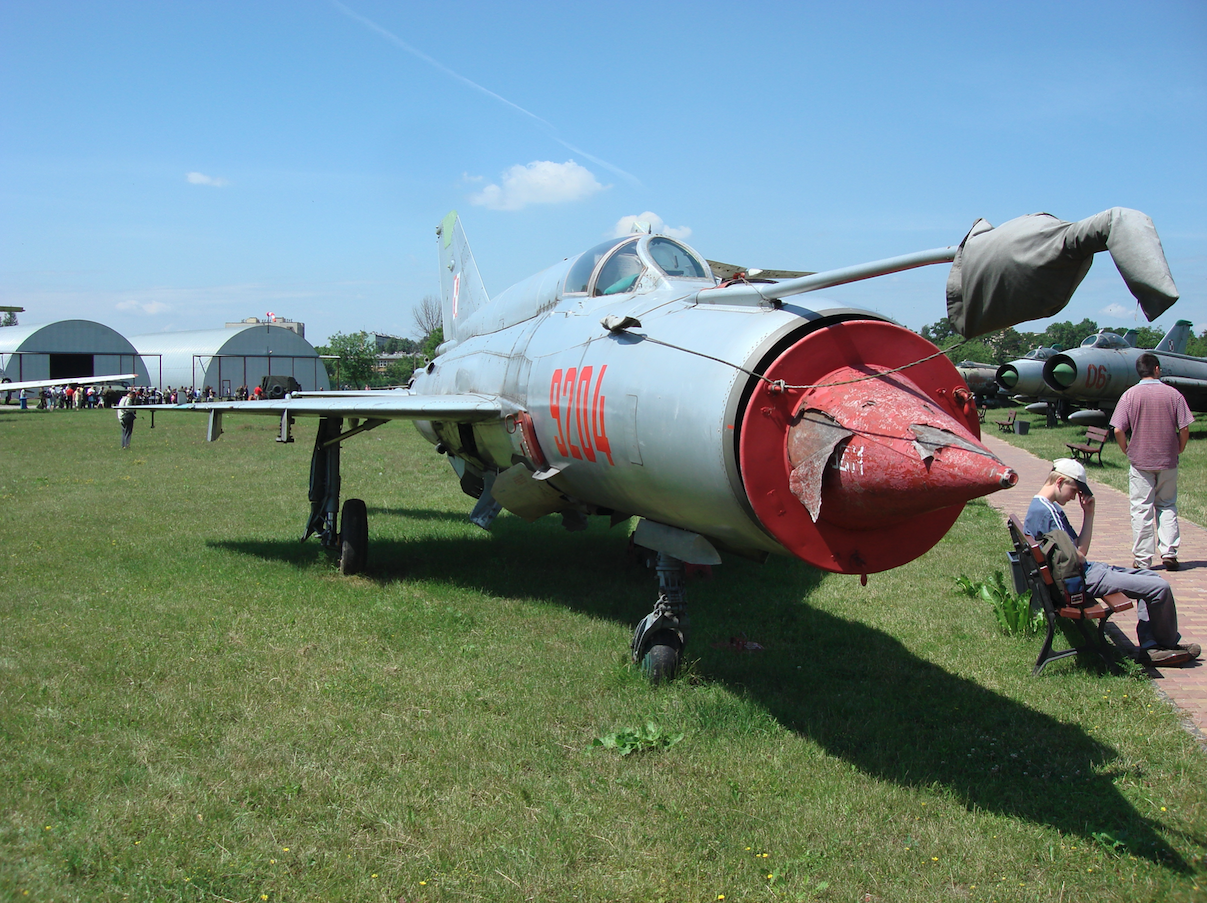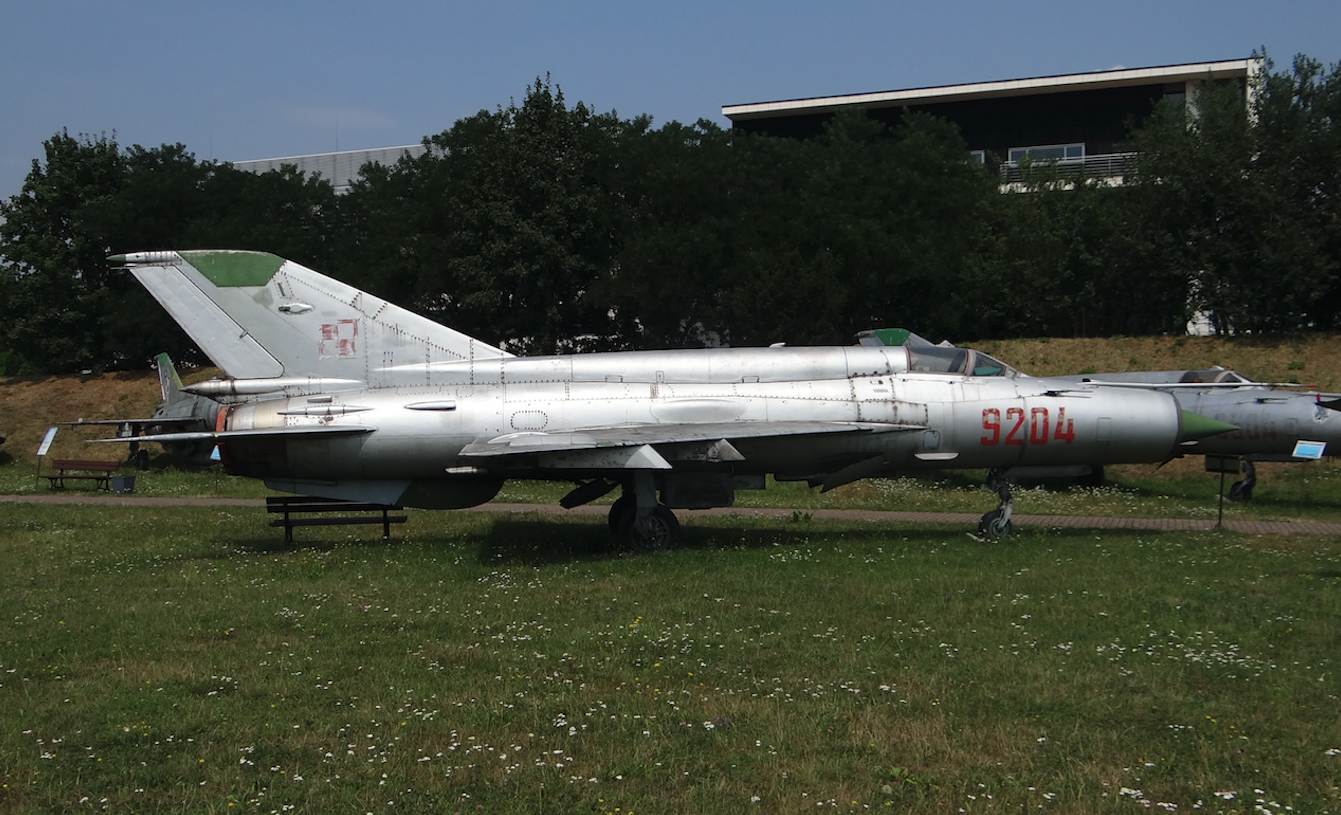 MiG-21 bis.
The MiG-21 bis aircraft belongs to the fourth and last generation MiG-21.
In February 1971, from the experience gathered from armed conflicts in which MiG-21 fighters took part, the concept of expanding combat capabilities at close distances and at low altitudes emerged. This is how the MiG-21 bis type 75 - E-7 bis were built.
The aircraft received a new R-25-300 engine with 4,020 / 6,960 kG. The construction engine received an 8-stage compressor and a double afterburner. It was the engine's operating range called CZR, from the Soviet "czieriezwstandj rieżim" or extraordinary range. It allows, after enabling the "full afterburning" range, to activate the second stage of the afterburner. The turbine turnover then increases to 102.5%. The result is that the thrust increased to 1 x 9 720 kG (1 x 9 800 kG), i.e. it exceeded the weight of the aircraft. This range can only be started at speeds Ma> 1 and at altitudes up to 4,000 m and can only work for 3 minutes. The climb speed increased to 225 m / s, when the MiG-21 F-13 is 150 m / s and the MiG-21 SM is 130 m / s. Acceleration time from 600 km / h to 1,100 km / h from 28 seconds decreased to 19 seconds. Operating overloads from 7 g increased to 8.5 g. Fuel consumption in this range increases enormously. Roughly 7.1 liters per second. For this range, a third pump with regulator is mounted on the engine. To complete the information, this is the CZR range, when the aircraft exceeded the 4,000 m ceiling, it switched off automatically without the pilot's participation. The start of the second afterburning was signaled in the cabin by the DOD DOP lamp and the fire from the engine nozzle lengthened.
Unfortunately, the new engine has smaller resources, more complicated and time-consuming operation and greater failure rate. Polish mechanics (at least initially) preferred to operate previous R-11/13 engines. R-25-300 engines in Poland required greater care and reliability. The R-25 engine could no longer be "twisted". Perhaps this opinion resulted from the poorer quality of the materials, which was the result of the deepening crisis in CCCP.
The aircraft's fuel system reached a capacity of 2,885 liters. This effect was achieved by expanding the tank over the fuselage. Aerodynamics deteriorated, but only slightly and not noticeably with the new engine. The machine was armed with R-13 M and R-55 missiles, and later with R-60 M missiles. In a word, the assortment of weapons increased. A new radar station has appeared. Theoretically, it enters work 4 minutes after switching on, but practically much faster.
The cabin equipment is very similar to the MiG-21 MF version.
From 1975, the MiG-21 bis fighter-bomber modification began, with the automatic control system SAU-23 ESN and the RSBN-2 S close navigation kit, and later the RSBN-5 S. This equipment enabled accurate automatic navigation or through the given commands. It allowed landing at the cloud base of 150 m, visibility up to 1,500 m. Previously, respectively, 200 m and 3,000 m. Unofficially these planes were called MiG-21 bis SAU.
MiG-21 bis aircraft were produced in Gorki in 1972-1982, and until 1987, for the needs of India, despite the fact that in 1980, the license for these aircraft was sold to India. A total of 2,030 pieces of MiG-21 bis aircraft were built.
According to the Soviets, the MiG-21 bis version, unlike previous versions, is already a typical front fighter. Capable of maneuvering combat, not just capturing air targets. However, Polish pilots have proved that versions of the MiG-21 MF and even the MiG-21 R (after 1995) are able to compete with the last version of this fighter. The core of success lies not only in weapons but also in the tactics and skills of pilots.
Why were MiG-21 bis planes bought for the Polish Army?
CCCP has offered MiG-21 bis aircraft since 1975. MiG-21 bis aircraft have been produced for the Red Army since 1972. In Poland, the Ministry of National Defense (Ministry of National Defense) wanted to skip the fourth generation of the MiG-21 and go straight to the MiG-23 aircraft. This could be done because the 70s was a period of international relaxation. Poland's potential was sufficient. However, the MiG-23 aircraft still had construction problems, and the armament and radar station of the MiG-23 MS version was not a significant improvement over the MiG-21 bis.
In December 1977, by decision at the Warsaw Kremlin (Warsaw Pact), he was to withdraw the MiG-17 fighters (oasis derivative - Lim-5) and MiG-21 F-13 completely and gradually remove the MiG-21 PF / PFM aircraft from the first line. A new MiG-23 MF aircraft appeared in the Soviet offer, much better than the MiG-23 MS. Therefore, a decision was made to purchase these aircraft for 28 PLM OPK Słupsk.
But our country was in crisis. In addition, the Second Cold War began. It is hard to imagine a possible confrontation of the Lim-5 / 5P with the F-16. Export production of MiG-21 bis aircraft was at the finish. Last pieces were produced for Finland. But it turned out that there were MiG-21 bis planes in stock, and the possible production would be faster anyway, so it was decided to buy cheaper MiG-21 bis. Bulgaria also bought MiG-21 bis after Poland. The MiG-21 bis aircraft protected the Polish Army from purchasing the MiG-25 reconnaissance and MiG-25 DP interceptors to combat reconnaissance Lockheed SR-71. In the UW (Warsaw Pact) only Bulgaria purchased the MiG-25.
The MiG-21 aircraft purchased by Poland were generally new aircraft, built for export. Some of them, however, were not picked up by the ordering parties or were returned to the manufacturer to remove defects. That is why the MiG-21 bis aircraft in Poland were numbered one after another.
Polish MiG-21 bis. 1980.
On February 4, 1980, Soviet pilots brought the first 10 machines to Poland. They entered service on March 6, 1980. In the years 1980–1982, the Polish Army received 72 pieces of the MiG-21 bis version.
MiG-21 bis aircraft were bought for 26 PLM (later 9 PLM) in Zegrze Pomorskie and for 34 PLM-MW in Babich Doły. 36 pieces evenly. Compared to previous versions of the MiG-21, these planes had more economical and more efficient engines, better sights and better rocket armament. Therefore, it is not surprising that they are placed in units operating in the direction of the most probable threat. Thanks to the new 26 PLM and 34 PLM machines, they have transferred their existing machines, mainly the MiG-21 PFM, to other hunting regiments.
During combat duty, Polish MiG-21 bis were usually issued so that one had 2 x R-3 R suspended, and the other 2 x R-60.
Quantity of Polish MiG-21 aircraft on July 31, 1991:
45 Aviation Experimental Squadron in Modlin reports directly to the WLOP command - 1 MiG-21 PFM, 1 MiG-21 MF, (additionally 2 Lim-5, 1 SB Lim-2, 1 TS-11 Iskra).
32 PLRT in Sochaczew reporting directly to the WLOP command - 24 MiG-21 R, 6 MiG-21 UM.
1 PLM Warsaw in Mińsk Mazowiecki subordinate to 1 PEC in Warsaw - 12 MiG-21 PFM, 3 MiG-21 US, (additionally 9 MiG-29 A, 3 MiG-29 UB).
10 PLM in Łask subordinate to 1 PEC in Warsaw - 22 pieces of MiG-21 in versions PFM, M, MF, 5 pieces of MiG-21 UM.
2 PLM Krakow in Goleniów subordinated to 2 KOP in Bydgoszcz - 24 MiG-21 M, MF, 5 MiG-21 UM.
9 PLM in Zegrze Pomorskie, subordinate to 2 KOP in Bydgoszcz - 26 MiG-21 bis, 6 MiG-21 UM.
41 PLM in Malbork, subordinate to 2 KOP in Bydgoszcz - 24 MiG-21 MF, 6 MiG-21 UM.
11 PLM in Starachowice subordinated to the 3rd KOP in Wrocław (the regiment was partly stationed in Mierzęcice) - 24 MiG-21 M, 5 MiG-21 UM.
62 PLM in Krzesiny was subordinated to the 3rd KOP in Wrocław - 26 MiG-21 PFM, 6 MiG-21 US.
34 PLM-MW in Babich Doły subordinated to LMW in Gdynia - 32 MiG-21 bis, 6 MiG-21 UM.
In 1998, liquidation of 9 PLM from Zegrze Pomorskie began. 41 PLM Malbork took over several aircraft.
On 01.01.2001, 41 PLM in Malbork ceased to exist and in its place 41 ELT and 22 BLot were established. At that time, the squadron was equipped with MiG-21 bis and TS-11 Iskra aircraft. Hunting tasks were performed with these planes, as well as limited support of the Land Forces and the Navy. The squadron was subordinated to the 1st Tactical Air Brigade from Świdwin. Its first commander was Lt. Col. Dr. Jan Rajchel, and from February 14, 2004, the squadron was commanded by Lt. Col. Dipl. pil Robert Dziadczykowski. At the end of 2003, the MiG-21 aircraft operation ceased.
In 2002, 3 ELT Krzesiny took over 12 pieces of MiG-21 bis from liquidated 9 ELT from Zegrze Pomorskie. Two of them were built in 1979 and 10 in 1980. On 16.06.2003, two other MiG-21 bis from MW arrived in Krzesiny, which reached the place by road from Babich Dół. But they never soared into the air, due to the exhaustion of the renovation period. They served as a spare parts warehouse.
During the disaster, 5 MiG-21 bis machines were lost. Most of the disasters occurred at the time of landing.
In mid-1999, 6 MiG-21 bis and 1 MiG-21 UM machines were sold to Uganda. There is not much information on this subject so far. From the available information it appears that the planes were collected at the airport in Zegrze Pomorskie, because all the planes belonged then to the 9 PLM being dismantled from Zegrze Pomorskie. Their numbers are; MiG-21 bis nb 9211, 9307, 9799, 9801, 9811, 9818, and MiG-21 UM nb ... There, a special group dismantled the aircraft. The aircraft were loaded onto the An-124 transport deck (large machine). According to another account, the aircraft flew to Dęblin and it was only here that they were dismantled and loaded onto the An-124. We estimate that the entire operation was similar to 26 years earlier when selling MiG-21 F-13 aircraft to Syria.
In 2000, 47 (other sources give 50) MiG-21 bis remained in service.
The last flights on the MiG-21 bis aircraft were performed at 3 ELTs in Krzesiny on 16.12.2003.
All other Polish MiG-21 bis were collected at three airports; Babie Doły, Malbork and Krzesiny. One should know that after proper renovation, planes could be used for almost 20 years. They were offered for sale. Romania was proposed to rebuild it into the Lancer version.
At this point, it is worth mentioning the inspections and repairs of the MiG-21 bis and R-25 engines. The aircraft underwent the first inspection after 50 hours of flight. Engine and airframe were viewed. Later, the airframe was inspected every 100 hours and the engine every 50 hours. The first general overhaul of the engine was carried out after 400 hours of operation. The first major airframe renovation was carried out after 800 hours. The second major renovation was carried out after 1,600 hours and the aircraft could fly up to 2,400 hours. Further operation depended on the manufacturer. Since Polish relations with Russia at the turn of the century were partner rather than surrender, the decision to withdraw the MiG-21 bis from operation was rightly made. Calendar service was also possible, but our machines reached the recommended hours before 1990. The calendar service was talking about 20 years + -2 years. When our planes finished service, they were 22 years old and few of them reached 2,400 hours in the air. On average, they had about 1,600 hours. It resulted from the financial limitations of the budget of the Ministry of National Defense in the 90s.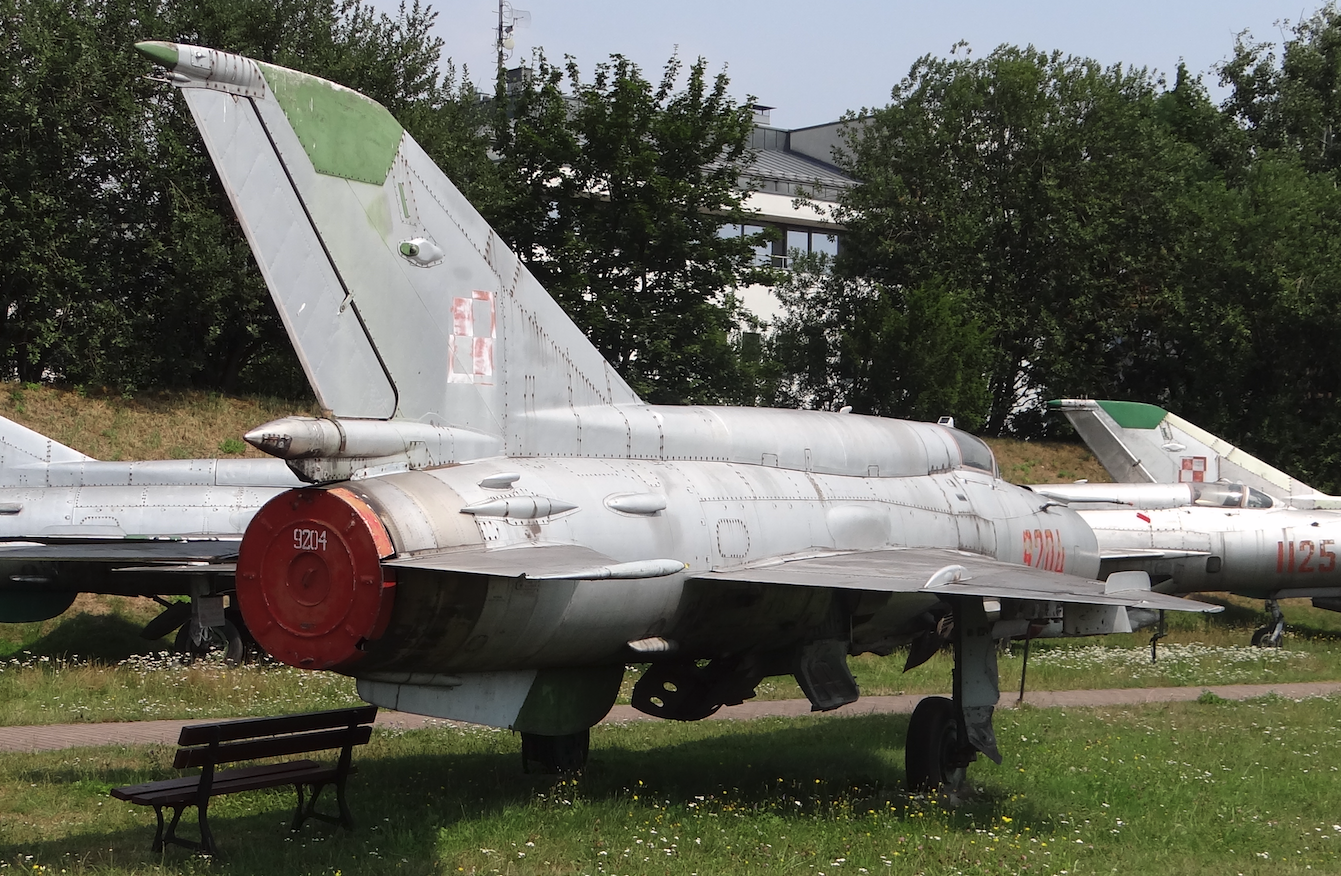 Saying goodbye to "quick".
December 19, 2003, went down in the history of the Air Force and Air Defense by saying goodbye to the most popular supersonic warplanes in Poland, the MiG-21. Time is running relentlessly, especially with first-line combat equipment and its operation cannot last forever. So the decision of the commander of the Air Force and Air Defense on the final withdrawal from service on December 31, 2003, MiG-21 aircraft was correct. The aircraft have not undergone renovations for many years, although many of them still had a large supply of calendar resources. The calendar resource for MiG-21 was 30 years, which could be extended to 40 years. The reason was the concentration of funds on the operation of the MiG-29 and Su-22. As a consequence, the command decided to liquidate units with older versions of MiG-21 aircraft. In the first place in 1993, 2 PLM from Goleniów were dissolved. In 1997, 32 PLRT from Sochaczew was dissolved, and in 1999, 11 PLM from Wrocław-Starachowice. The opportunity to sell the MiG-21 to other countries for "hard currency" was also used. In 1999, 6 MiG-21 bis and one MiG-21 UM with 9 PLM were sold to Uganda, through Israel. $ 50 million transaction. However, the next transaction did not take place.
In 2000, we had approximately 100 machines in stock. In 3 PLM in Krzesiny (MF, bis, UM versions), in 9 PLM in Zegrze Pomorski (bis, UM versions), in 10 PLM in Łask (MF and UM versions), in 41 PLM in Malbork (bis, UM versions) , in 1 MW Air Squadron in Babich Doły (bis versions, UM).
On 01.01.2001, ELT (tactical air squadrons) and BLot (air bases) were created on the basis of the regiments.
In 2002, units were liquidated again. 9 ELTs from Zegrze Pomorskie were dissolved, and its MiG-21 bis and UM were transferred to 3 ELTs in Krzesiny. At the end of 2002, operation of the MiG-21 MF aircraft at 3 ELT and 10 ELT in Łask was completed. In the case of 10 ELTs it was the end of flights on MiG-21 aircraft at all.
On January 24, 2003, the ceremony of termination of service of MiG-21 MF aircraft in Poland and flight training at MiG-21 in the squadron in Łask took place at 10 ELT in Łask. This was caused by a letter from the WLOP Commander from October 2002, informing about the end of training on December 31, 2002 on MiG-21 MF aircraft, UM in Łask. The ceremony took place with the participation of; commander of the 3rd KOP, Brigadier General Lech Majewski, acting commander of the 2nd BLT lieutenant colonel pil Arkadiusz Poluszyński, commander 32 BLot Lt Col Col Dariusz Pacek. The order of the 3 KOP Commander was read. They honored; Major Pilot Aleksander Nietupski, Capt. pil Krzysztof Stachurski, Maj. pil Andrzej Śliwiński, Capt. pil of Marek Misztal and others. Honorable pilots of MiG-21 aircraft from the airport in Łask were also mentioned; Capt. pil Bogusław Wasilweski (master of air combat), Capt. pil Czesław Rejman (air combat champion), Capt. pil Jan Woźniak (commander of the master key). In its history, 10 PLM had in stock MiG-21 PF, PFM, M, MF, U, UM.
Also at the end of 2002, operation of the MiG-21 bis, UM aircraft at 1 DL-MW in Babich Doły was completed. Her planes; 5 MiG-21 bis and one MiG-21 UM machine were transferred to 3 ELT Krzesiny.
In 2003, MiG-21 bis, UM were still in stock 41 ELT in Malbork, 1 Tactical Air Brigade in Świdwin, 3 ELT in Krzesiny (belonging to the 2nd Poznań BLT). A total of 27 MiG-21 bis and several MiG-21 UMs remained in service.
On December 16, 2003, the last 20-minute flight was performed by MiG-21 bis nb 9507 with 3 ELTs in Krzesiny. The pilot was major Krzysztof Siarkiewicz. However, MiG-21 bis planes remained on duty in the NATO NATINADS air defense system until 4.01.2004.
The farewell ceremony of the MiG-21 aircraft in Poland took place on December 19, 2003, at the 22 BLot airport in Malbork where 41 ELTs were stationed. On this day, the last several-minute school flight was performed by MiG-21 UM nb 9323 No. 516999323, in stock from September 26, 1980. The pilots were; commander of 22 BLot lieutenant colonel Eugeniusz Gardas (first cabin) and commander of 41 ELT lieutenant colonel dr Jan Rajchel (second cabin). Thanks to perfect reconciliation, pilots were able to present numerous spectators gathered on the board a show of effective pilotage demonstrating mastery of the machine. After the flight, pilots reported to the representative of the WLOP commander Brig. pilot Zbigniew Bielewicz, also once a pilot of MiG-21 aircraft. Polish aviation veterans also said goodbye to the plane, who laid a bunch of flowers on the wing of the plane. There were occasional speeches and a parade of subunits.
Similarly to the 3rd ELT, the MiG-21 bis planes remained in NATO combat duty for the next two weeks in the 41 ELT in Malbork.
At the beginning of 2004, all MiG-21 bis aircraft in stock, UM, were transferred to the Military Property Agency.
Epilogue of Polish MiG-21 aircraft.
By order of the Commander of the Air Forces and Air Defense No. 150 of 8.12.2003 regarding the discontinuation of training and flying on MiG-21 aircraft of all types and modernization, the history of this machine family in Poland was finally and irrevocably completed. It lasted a long time, over 42 years. In 1961-1981, we purchased 582 MiG-21 aircraft in 10 types and modernizations at CCCP, of which; 469 combat, 77 training and combat, 36 reconnaissance. At different times, they were armed with 13 hunting regiments, 2 reconnaissance regiments, an experimental squadron, a special squadron and the Aviation Training Center. The peak service life is the beginning of the 80s. There were 491 MiG-21 in the line.
Deliveries of MiG-21 aircraft to Poland.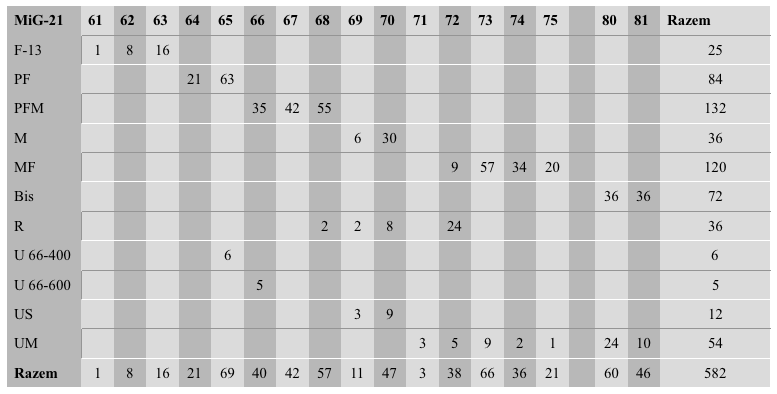 Written by Karol Placha Hetman