Kraków 2014-03-10
History
220b Section 1970-11-17.
Lockheed L-1011 Tristar.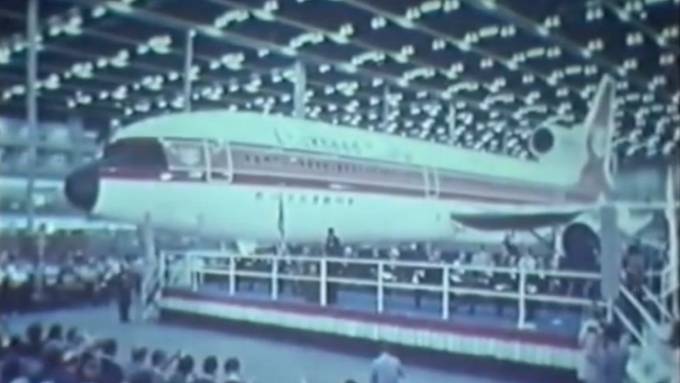 The Lockheed L-1011 Tristar is a large passenger, transport and air tanker aircraft. The Lockheed L-1011 was the third wide-body aircraft, after the Boeing B-747 and McDonnell Douglas DC-10, to achieve moderate success, although it was one of the most modern designs in the world.
In 1966, the American airline American Airlines developed requirements for a future commercial short-, medium- and long-range aircraft intended to serve passenger lines with heavy traffic. Due to the fact that the plane was to serve connections at distances from about 500 km, it had to be accepted by airports with weaker infrastructure and slightly shorter RWYs. This increased the requirements for the equipment of the future aircraft. There were also strict requirements as to the distance to be covered; from 500 km to 11,000 km. The plane was to take 380 passengers on board in a one-class arrangement (economy class) and about 270 passengers in a mixed-class arrangement. Such requirements were difficult to reconcile in one plane. Other major air carriers have set high demands as well. Among others, the airline Pan Am (Pan American Airlines), which held talks with the Boeing concern (1965). The airline was interested in an aircraft capable of taking 400-500 passengers on board and with a range of up to 10,500 km. The determinant was the route New York - Rome, 6,897 km (4,286 miles, 3,724 NM), which the plane was supposed to cover with full passengers.
The tasks were undertaken by three companies; McDonnel Douglas (DC-10), Lockheed (L-1011), and Boeing (B-747). The first two companies developed planes powered by three turbojets. The Boeing company was working on the B-747 colossus. It is significant with the B-747, because it was a design being developed as a transport plane for the USAF.
The DC-10 plane was created as the first joint cannon after the merger of McDonnell Aircraft Corporation and Douglas Aircraft Company. The new company was named McDonnell Douglas. McDonnel Douglas signed an agreement with American Airlines, which adopted the proposed solutions for the design of the aircraft.
In the second half of the 70s, the Lockheed L-1011 aircraft was offered to PLL LOT as a transatlantic aircraft in place of the Iliuszyn Ił-62 aircraft.
Written by Karol Placha Hetman