Kraków 2008-10-26
232b Section 1972-09-13
Antonow An-26
Poland
History
Transport plane.
See Antonov An-24.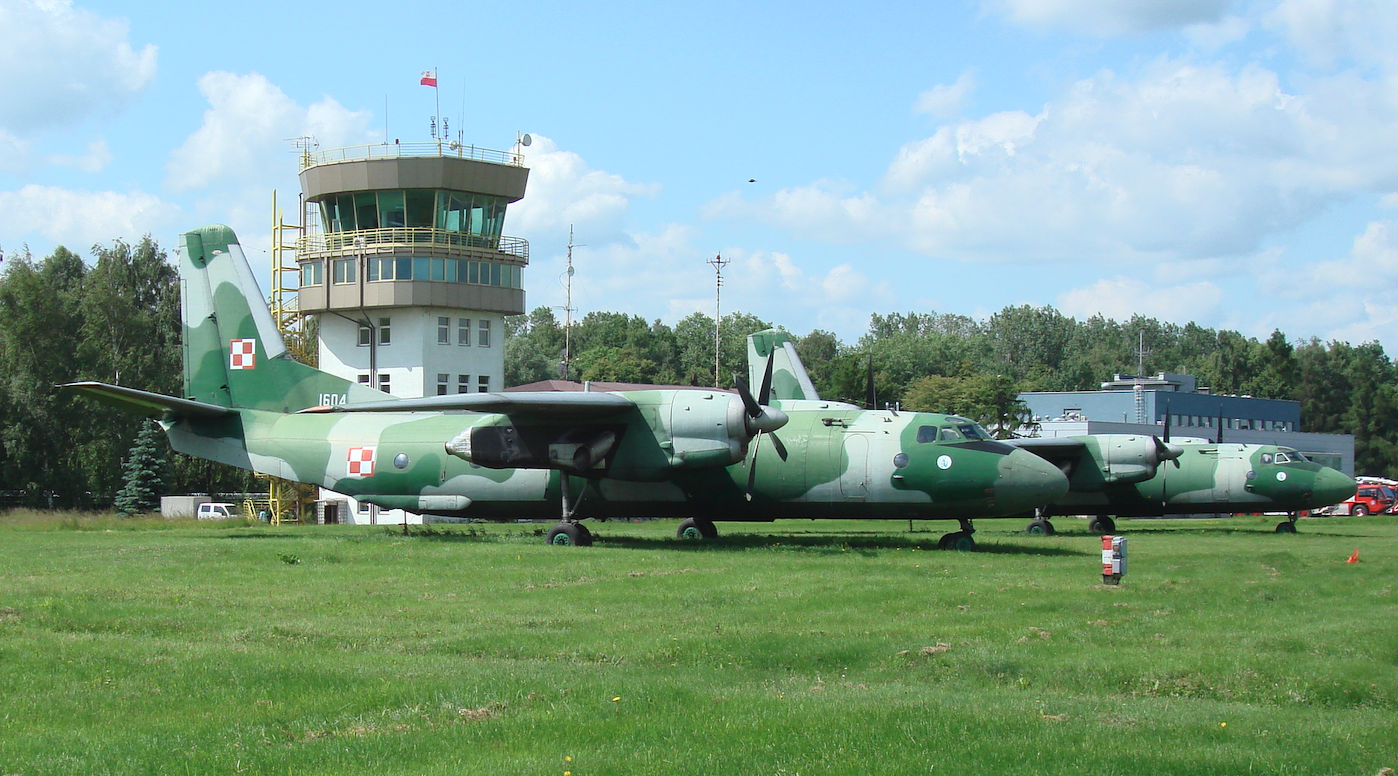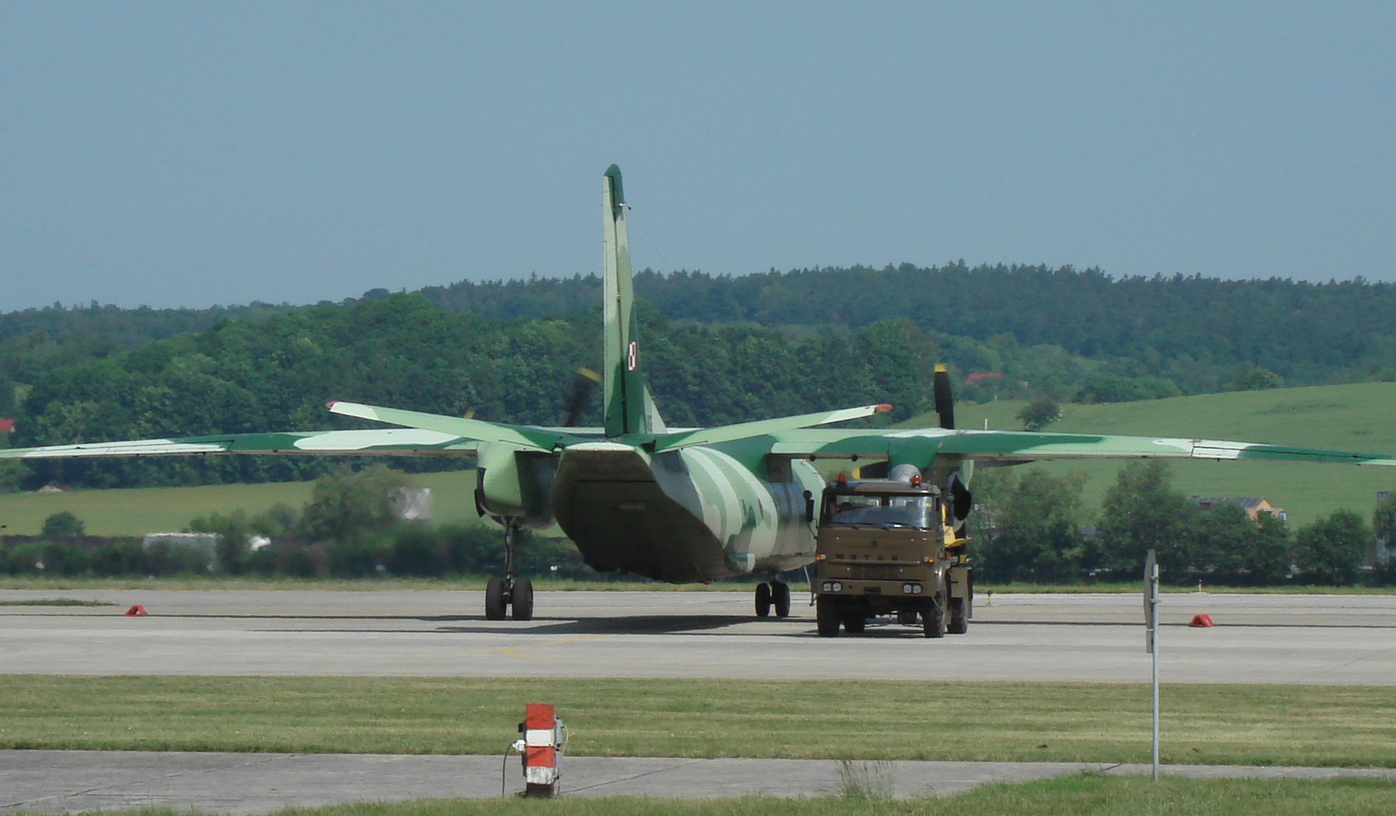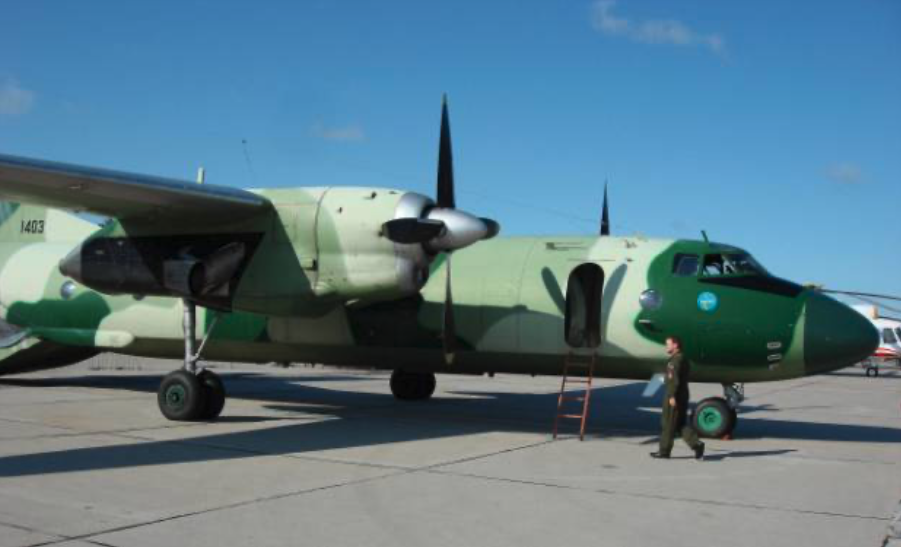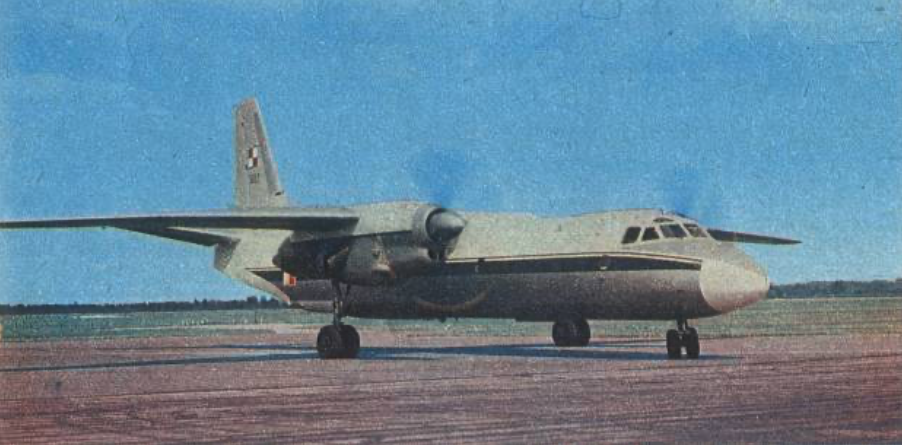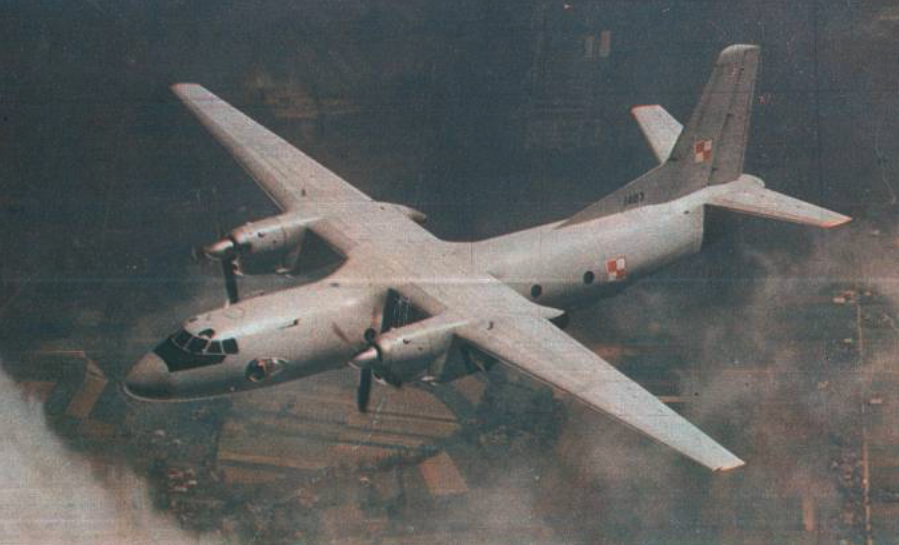 History

In 1968, another design of the widely used An-24 transport aircraft was developed at the design office of Father K. Antonov. The aircraft was designated An-24 TW. The aircraft combined several solutions used in previous constructions. The changes were large enough that the aircraft received the new An-26 designation. At the same time, the plane wanted to be presented best abroad, so a new name was necessary.

The main innovation was the use of rear loading through a large gate closed by gates. When opening, the element is lowered down and then forms a gangway followed by loading. In addition, this element can be moved under the hull to allow e.g. direct unloading from the truck. These doors are opened both at standstill and during flight. The door allows passage of objects 2.1 m wide and 1.5 m high.
The aircraft hold is large. Equipped with a floor conveyor with a load capacity of 4,000 - 4,550 kg and a ceiling crane with a load capacity of 1 500 kg. The main element of the crane is a ŁPG-250 / 500T or BŁ-56 winch with a load capacity of 1 500 kg. It moves along the rail placed in the ceiling. The floor transporter has, among other things, the task of ejecting the load from the hold during a flight that will fall on a parachute. Loads are automatically dropped using the PGS-24 device. It can be programmed into cycles and groups. Loads dropped from the air (during a flight) can be dropped aiming at the drop area. The NKPB-7 sight is located in the navigator's cabin in a semicircular fairing of organic glass. Just the navigator can make this dump.

However, the basic function of the transporter is loading and unloading at the airport. The working element are chains hidden in the floor, which do not protrude. Suitable locks are attached to the slots. The chain is set in motion by electric motors that use power from the on-board electrical installation. A passenger car the size of the Volga or Mercedes or an off-road UAZ-469B (typical military vehicle 70/80 years) can board.
The hermetic cockpit and hold allow passengers to be transported at heights of up to 6,000 m without the need for oxygen equipment.
In addition to transporting cargo, the aircraft is adapted to landing skydivers. There are seating places for 41 people along the cargo hold sides. The last spot, on the right, is for the landing commander. The seats are easily folded. Under the ceiling there are two lines for forced opening of parachutes and a system for folding hanging release lines and a safety railing. They increase the safety of conducted exercises.

The aircraft can easily be adapted to evacuate patients. The hold can accommodate 24 people with stretchers and two medical staff.
The shape of the rear fuselage is aerodynamically unfavorable and increases the resistance of the aircraft. Exactly there are two unfavorable vortices. To partially eliminate this phenomenon, two fins were placed. The covering was made of laminate, filled with glass fiber and stiffened with foam.
New technologies were used in the aircraft production process. Among other things, welding and gluing. Eg the side members are spot welded to sheet metal. Then glue is applied, which capillary penetrates into the gaps between the stringers and plates. Heat treatment hardens the adhesive. Then the element undergoes X-ray inspection. Then anticorrosive coatings are applied. Elements prepared in this way are mounted to the skeleton. To reduce the weight of the structure, the fuselage plates and tailings are chemically etched.
The airframe was mainly made of large-size panels. The production uses mainly aluminum alloys and high-strength steel. Non-metals were also used; Volocite, powder molding, polarized organic glass, foam materials, polyamide resins, Teflon and polyurethane.

An-26 engines.

The propulsion system of the An-26 aircraft is a sensation on a global scale. It consists of three engines. Two main turboprop and one turbojet RU-19 A-300 with 1 x 8.80 kN (1 x 900 kG). This turbojet engine acts as a starter for main engines, supports start, and can also be a marching engine. The RU-19 A-300 engine is a typical APU and driving motor. Starting engines is independent of airport sources. In reality, however, the engine is started using airport power sources. During start, a failure of one of the engines does not interrupt its continuation. Main engines are AI-24 T with 2 x 2 103 kW.
The prototype of the aircraft was flown in 1969, and because it was decided to show it at the Paris Salon this year, it was given the new designation An-26 and board number CCCP-261. During this salon, the aircraft was described as one of the most interesting constructions. When returning from Paris, the plane had a stop at Okęcie. The first presentation of the Antonov An-26 aircraft in Poland took place then.
In 1969, serial production of the Antonov An-26 aircraft was launched. About 1,000 were built. In 1981, an improved version was flown, designated An-26 B. The aircraft has good flight characteristics. With a load of 2,100 kg it has a range of 2,550 km.

Antonov An-26 aircraft has several more varieties. Versions are noteworthy; aerophotography An-30 with a glass bow. First flight in 1974. It has a glazed nose, in which the position of an officer-camera operator was placed. The cockpit was also rebuilt. It was placed higher to improve visibility. The aircraft has automatic and semi-automatic cameras on board. Some cameras are gyroscopically stabilized. On board, you can process movies and photos on an ongoing basis.
The drive unit consists of 2 x 2,003 kW AI-24 NT engines and a RU-19 A-300 turbojet engine with 1 x 8.83 kN thrust.
The second plane is An-32, or An-26 with much more powerful engines. The An-32 aircraft in 1977 was first shown at the Paris Air Show. AI-20 M engines with 2 x 3 862 kW. Thanks to these engines, the aircraft is able to operate from airports located at altitudes of 4,000 - 4,500 m above sea level and at an air temperature of up to + 25 degrees C. An-32 version adapted to Western standards was offered to Polish Military Aviation.

Antonow An-26 in Poland. 1972.

The An-26 aircraft belongs to the class of small transport aircraft, however in Polish conditions we treat it as a medium-sized aircraft.
In 1972, An-26 aircraft were introduced into the aviation equipment of the Polish Army. The main task of the An-26 aircraft was to secure the landing of soldiers of the 6th Pomeranian Airborne Division. They replaced the outdated Iliuszyn Ił-14 aircraft. In total, 12 pieces of Antonov An-26 were purchased.
The first three planes with the numbers 1308, 1309, 1310 were delivered to Poland on September 13, 1972. The next two nb 1402, 1403 were delivered on November 4, 1972, and a week later, on November 11, 1972, another two nb 1406, 1407. The remaining five machines were delivered the following year, on March 20, 1973.
Initially, Polish An-26 aircraft were painted according to the following pattern; in the middle of the fuselage at the height of the windows a navy blue belt, upper part is white, lower part is gray. Quickly reach, the planes were repainted in a gray uniform color.
The first public show of Polish An-26 aircraft took place on November 16, 1973, when a group of soldiers from 6 PDPD flew to Cairo, Egypt.

From autumn 1974, Polish An-26 aircraft were included in the transport of mail as part of the Post-LOT system. Planes carried mail from distant provinces to Warsaw and back at night. An-26 night flights have significantly improved the transport of letters and parcels throughout the country.
Along with Poland's accession to NATO, major repairs of almost all machines were carried out, enabling their operation for another 10-15 years, until about 2010-2015. The aircraft received new equipment with means of communication and navigation, as well as new multi-colored painting (camouflage). This camouflage means that these planes are eagerly photographed at Polish and foreign airports.
An-26 aircraft proved to be good machines and even the purchase of 10 modern CASA C-295 M did not cause their mass withdrawal. The huge demand for transport flights dictated by the changed war doctrine, causes the need to increase the transport capacity of Polish Military Aviation. However, since 2005, the slow process of decommissioning An-26 aircraft has begun. The last flights were made at the beginning of 2009.

An-26 aircraft belong to machines in the Polish Army that have not suffered any major disasters.
Written by Karol Placha Hetman
---
Kraków 2008-10-26
232b Section 1972-09-13
Antonow An-26
Poland
Construction

Transport plane.
See An-24.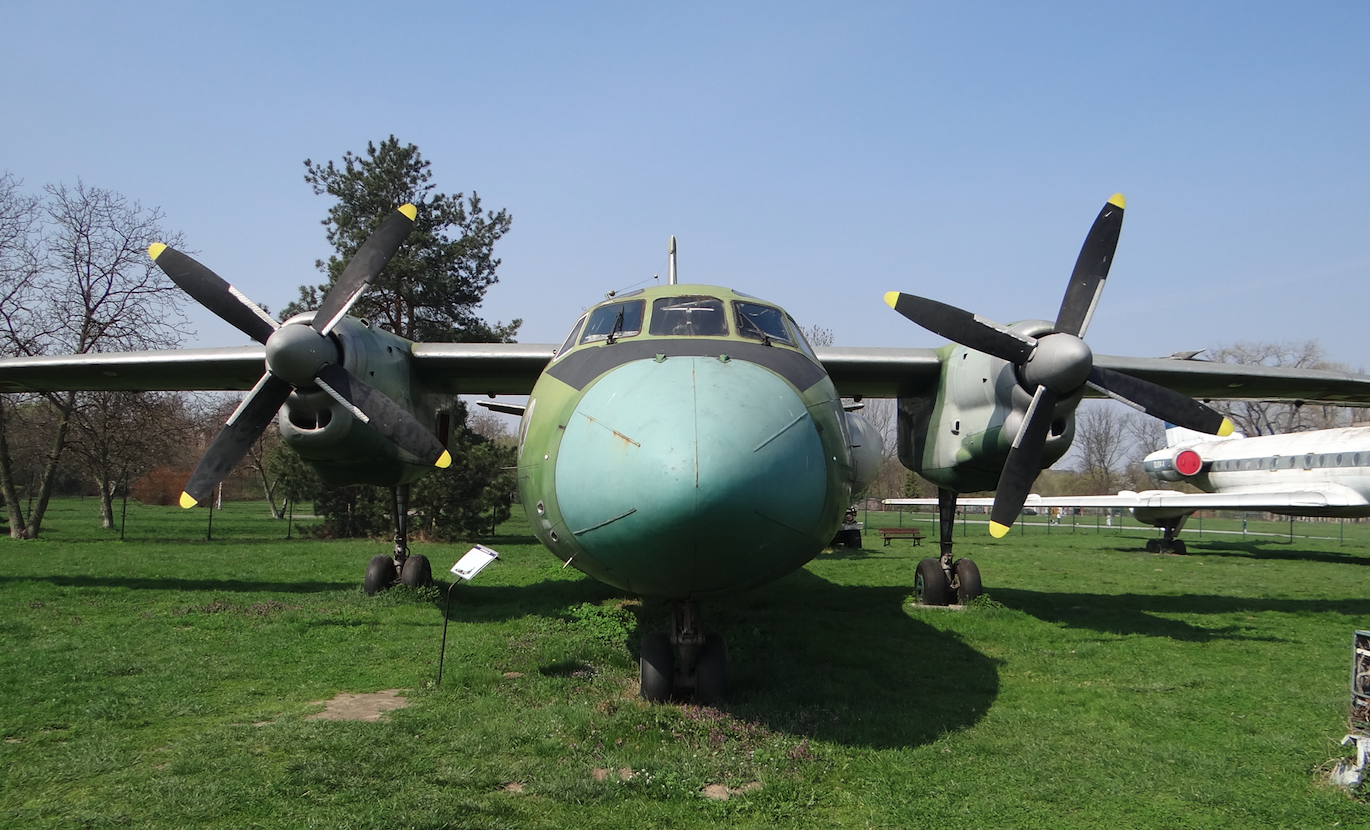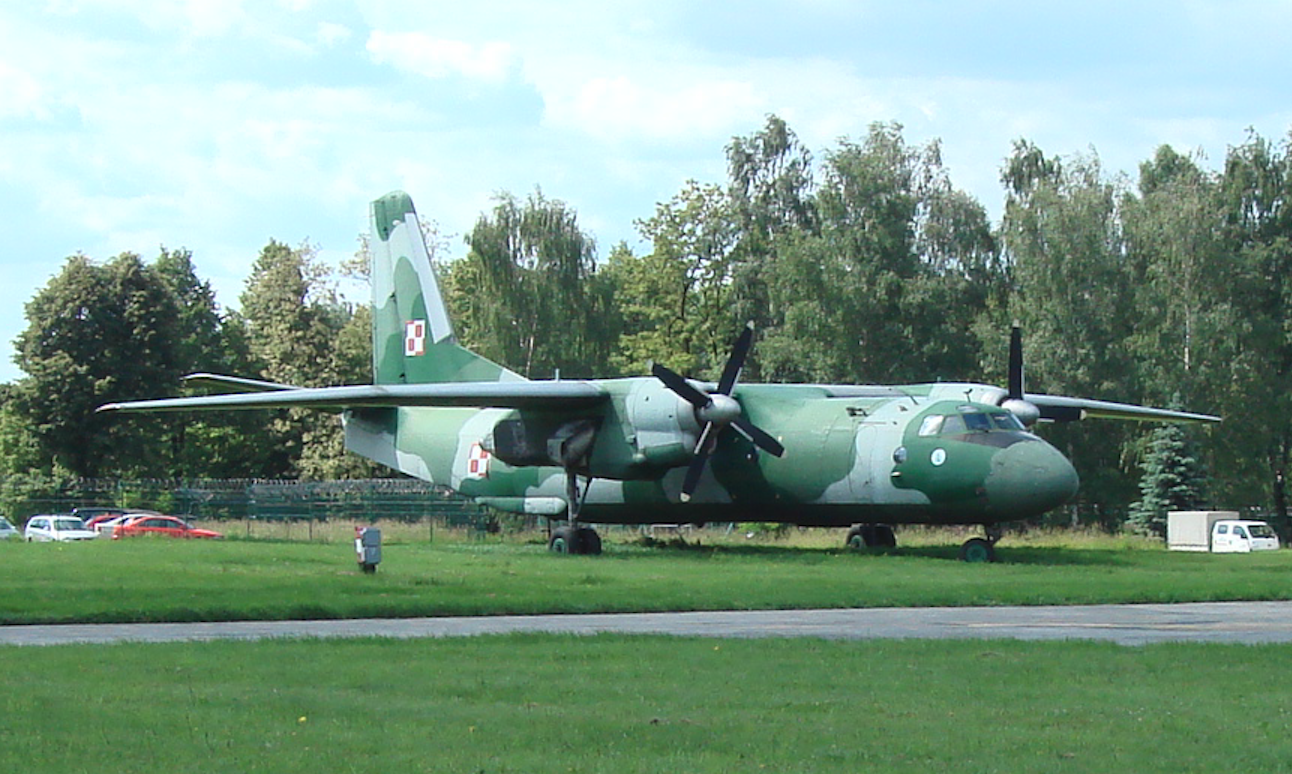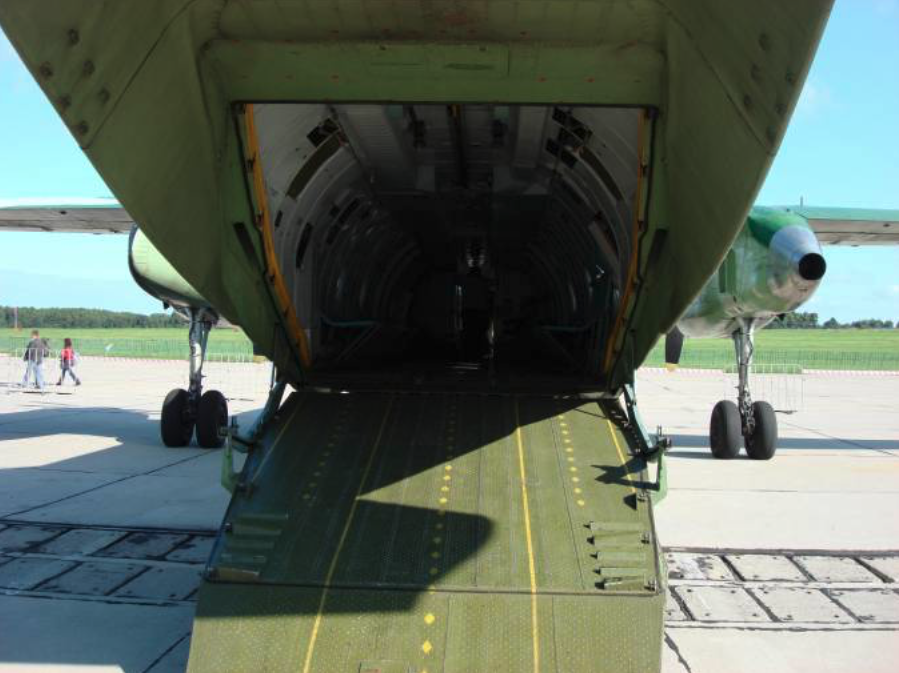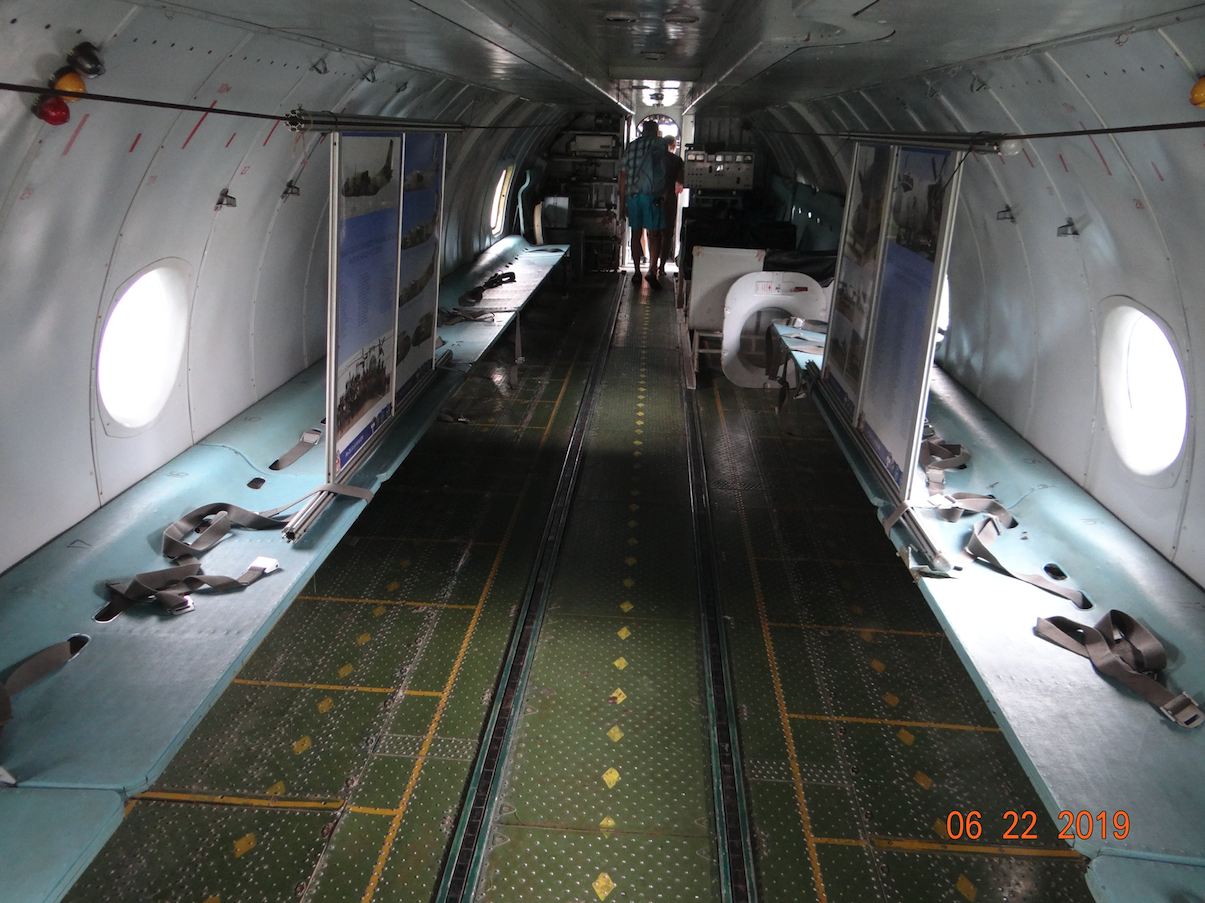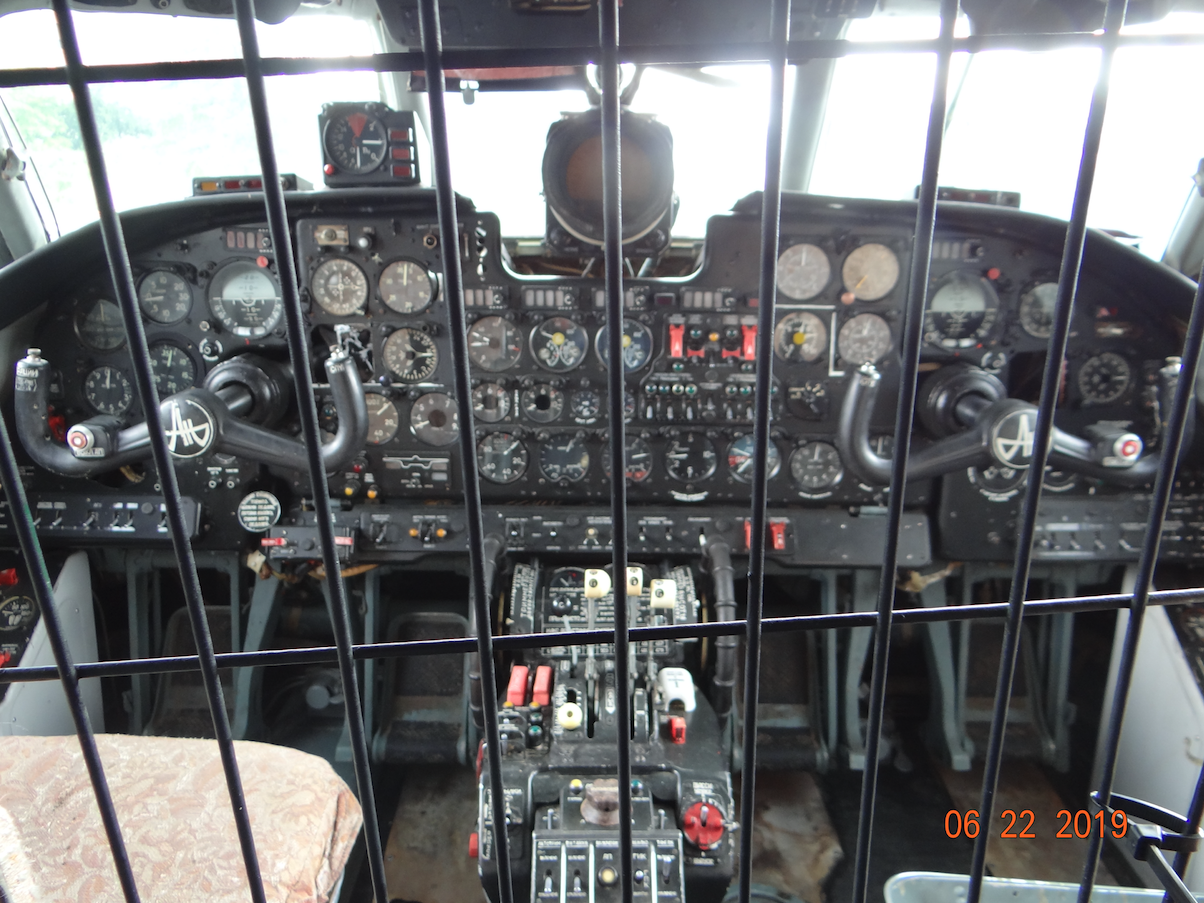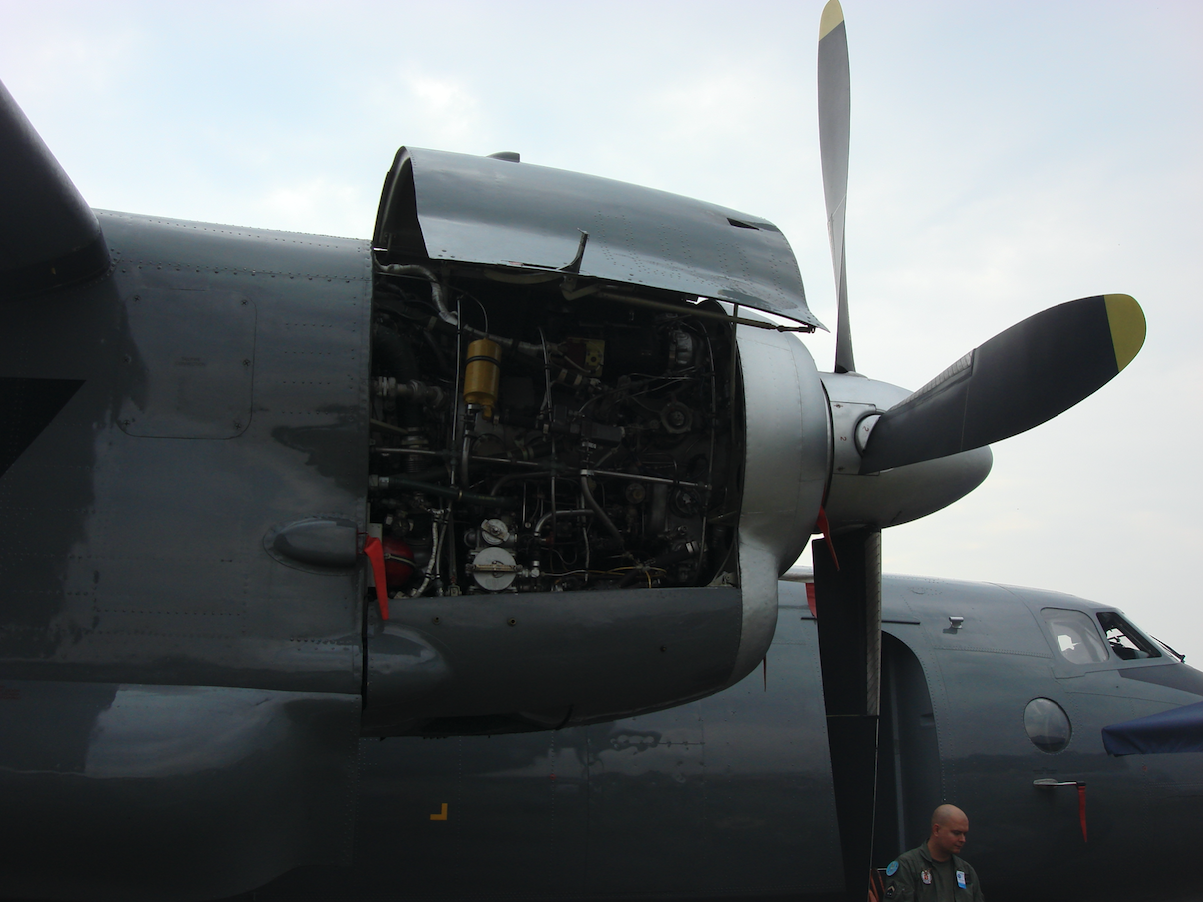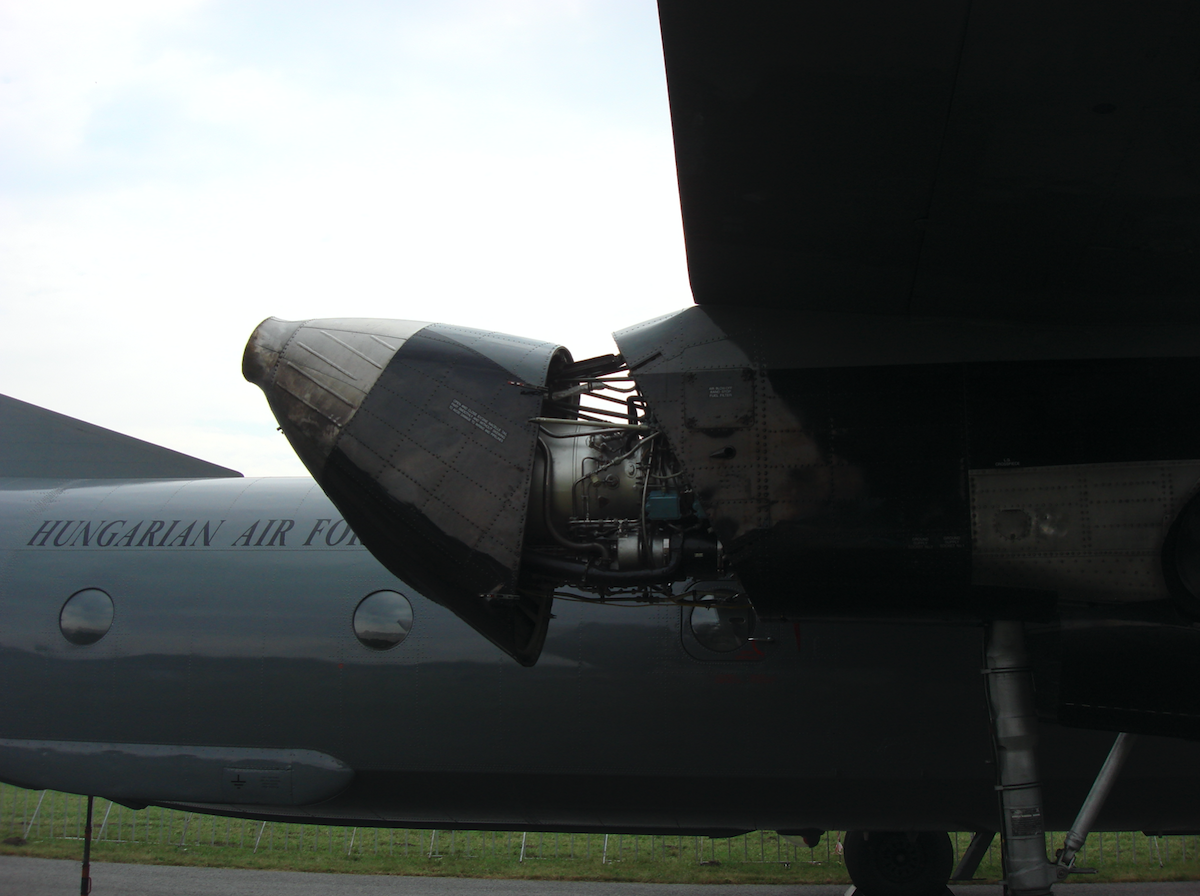 Construction

The An-26 aircraft is a medium and short range transport machine. It is also used for landing parachutists and cargo as well as transporting the sick and injured. The crew consists of 3-5 people.
As a standard, the crew consists of two pilots, a navigator, radiotelegraphist and deck mechanic. You can take 41 skydivers, 40 passengers or 24 injured on stretchers. Three-engine high wing, semi-shell structure. The aircraft is adapted for use with ground surfaces. Five-part, double-girder wing. The wedge angle is 3 degrees. The outer parts of the wings have a negative rise of 2 degrees.
The wings are equipped with flaps and ailerons. Shuttlecocks are made of glass laminate. They were balanced massively and equipped with balancing flaps. Fowler graying flaps are hydraulically driven. The internal flaps are single-slot, the external are double-slot. Engine wings are attached to the wings connecting the chambers of the main chassis. The leading edges are made as channels through which hot air flows for de-icing the wings.
The fuselage is technologically divided into three main parts. The front part begins with a honeycomb laminate cover under which the equipment is placed. The crew cabin is intended for 5 crew people; two pilots, a navigator, radio operator and on-board mechanic. The left, rear position is occupied by a navigator, which has a window in the form of a semi-circular dome in which the sighting device is placed. In the upper part of the crew cabin there is a hatch for emergency crew leaving the aircraft. Between the crew's cabin and the hold, a wall was opened with doors opening to the hold. The hold has dimensions; length 15.68 m, width 2.17 m, height 1.77. It holds a load of 55 cubic meters. There are 41 folding seats along the sides. A chain conveyor was placed in the floor for loading, unloading and ejecting loads in flight, which will fall on parachutes. The transporter has a load capacity of 4,550 kg. A winch with a lifting capacity of 1 500 kg moving on the rail was placed under the ceiling. A door was placed in the right wall of the fuselage and another emergency hatch was leaving the bottom of the fuselage. The hold is equipped with only 8 windows, 4 on each side. The first window in port and the last in port are at the same time emergency manholes. The rear cargo door has dimensions; 3.40 m long and 2.40 m wide. It is closed by a 3.40 mx 2.60 m ramp ladder. The crew and cargo cabins are hermetic and air-conditioned. The rear part of the hull, to which the tail is attached, is also hermetic and provides a room for aggregates for pilot-navigation and radio-electronic equipment. Access to this part is possible through the sight glass.

Classic setup divided into rudders and ballasts. The horizontal is mounted with a large positive rise. Vertical with high inflow. The edges of the tail are de-iced with warm air.
Three-support chassis with front wheels. All wheels are double. The front assembly is retracted to the hull backwards. Left-right control. Main chassis with long shins, retractable forward to the chambers located in the engine nacelles. The main undercarriage covers have large ribs to use as large tires as possible. The covers are still closed, and they only open to extend or retract the chassis. This protects the chambers against dirt. Oil-gas (nitrogen) shock absorbers placed in the shins. The hydraulic system retracts and extends the landing gear, turns the front assembly, brakes with the main landing gear wheels. Emergency opening of the chassis under its own weight.
Engines An-26.

Two AI-24 WT turboprop engines with 2 x 2 076 kW - 2 x 2 103 kW (2 x 2 820 HP) with 4-blade AW-72 T propellers.
Additional turbojet engine RU-19 A-300 with 1 x 8.80 kN (1 x 900 kG) thrust. His work provides;
Extra string during take-off and climb.
Necessary thrust when one of the engines is damaged in major. Then you can easily continue to the planned airport.
Starts AI-24 WT engines from on-board power sources.
It supplies the plane with electricity when the main engines are not running.
Works as a generator in the event of failure of the main generators.


An-26 fuel installation.
The aircraft was equipped with three fuel pumps. Each of them supports one motor, but thanks to the cross system, one pump can power two motors simultaneously. As fuel is depleted from the tanks, the free space is filled with carbon dioxide or nitrogen. Depending on the system used. This limits any explosion of fuel vapors.
Fire protection installation.
Automatically detects fire sources and extinguishes them with CFC. Especially engines, fuel tanks, generators and others.
Anti-icing system.
They are de-iced; wing edges, vertical and horizontal tail edges, engine inlets, propeller blades, and crew cab windows.


Data T-T An-26 1972.

Span 29.20 m
Length 23.80 m
Bearing area 74.98 m2
Curb weight 15 020 - 16 914 kg
Total weight 23,000 - 24,000 kg
Load weight 5 500 kg
Top speed 540 km / h
Climbing speed 3.3 m / s
Cruising speed 420 - 450 km / h
Landing speed 175 - 190 km / h
Maximum range 2 250 - 2 400 km
Range with a load of 900 - 1,400 km
Flight ceiling 7,600 - 8,100 m
Take-off run Dobieg 680-870 / 650-1 500 m
Engines Type AI-24 WT + RU-19 with 2 x 2 076 kW + APU 1 x 8.80 kN
Crew 5
Number of items in Poland 12
Written by Karol Placha Hetman
---
---
Kraków 2008-10-26

232b Section 1972-09-13

Antonow An-26

Poland

Tally

Transport plane.
1 An-26 nb 1308 delivered on September 13, 1972. Decommissioned in October 1991, and sold to Ukraine.
2 An-26 nb 1309 delivered on September 13, 1972. Decommissioned in October 1990, and sold to Ukraine.
3 An-26 nb 1310 delivered on September 13, 1972. In 1999, it underwent a major renovation. Withdrawn in 2007.
4 An-26 nb 1402 was delivered on November 4, 1972. In 1999, it underwent a major renovation. Shown in Radom in 2003 and 2007. Withdrawn in 2009.
5 An-26 nb 1403 delivered on November 4, 1972. In 1998, it underwent a major renovation. Withdrawn in January 2009.
6 An-26 nb 1406 delivered on 11.11.1972. In 1998, it underwent a major renovation. Withdrawn in 2008.
7 An-26 nb 1407 delivered on November 11, 1972. In 1999, it underwent a major renovation. Withdrawn in 2007.
8 An-26 nb 1508 delivered on March 20, 1973. In 1999, it underwent a major renovation. Withdrawn in 2007. From 2010, presented at the Polish Aviation Museum in Krakow.
9 An-26 nb 1509 delivered on March 20, 1973. In 1998, it underwent a major renovation. He had on board equipment for calibration flights of the RSBN navigation system. Shown in Krzesiny in 2007. Withdrawn in 2008.
10 An-26 nb 1602 delivered on March 20, 1973. He wore civil painting (with a navy blue belt) and checkerboard. For several years he flew abroad carrying civil registration SP-LWC (in the period 17.06.1991 - 25.11.1991 year), then SP-KWC (in the period 25.11.1991 year - 16.04.1996 year) and flew for the needs LOT Polish Airlines. In 1998, it underwent a major renovation. Withdrawn in 2008.
11 An-26 nb 1603 delivered on March 20, 1973. For several years, the aircraft carried SP-LWB civil registration (from 3/01/1989 to 29/02/1996) and flew for the needs of LOT Polish Airlines. In 1998, it underwent a major renovation. Withdrawn in 2008.
12 An-26 nb 1604 delivered on March 20, 1973. In the period from March 11, 1986 to February 29, 1996, he carried SP-LWA registration and flew for the needs of LOT Polish Airlines. In 1999, it underwent a major renovation. Withdrawn in 2007.
The term withdrawn means the suspension of flights on it, not deletion from the records.
Most of the planes had gray uniform military painting. Some initially wore civilian painting with a navy blue stripe at window height, upper white, lower gray and checkerboard. In the 90's, emblems appeared on planes. After major repairs in 1998 - 1999, they received painting in three-colored camouflage and white side numbers. Around 2004, the side numbers were repainted black, the chessboards were reduced, and those from the hull were removed.
Written by Karol Placha Hetman
---