Squadrons
5 Fighter-Assault Aviation Regiment then 3 Fighter-Bomber Aviation Regiment in Bydgoszcz in 1944r.1992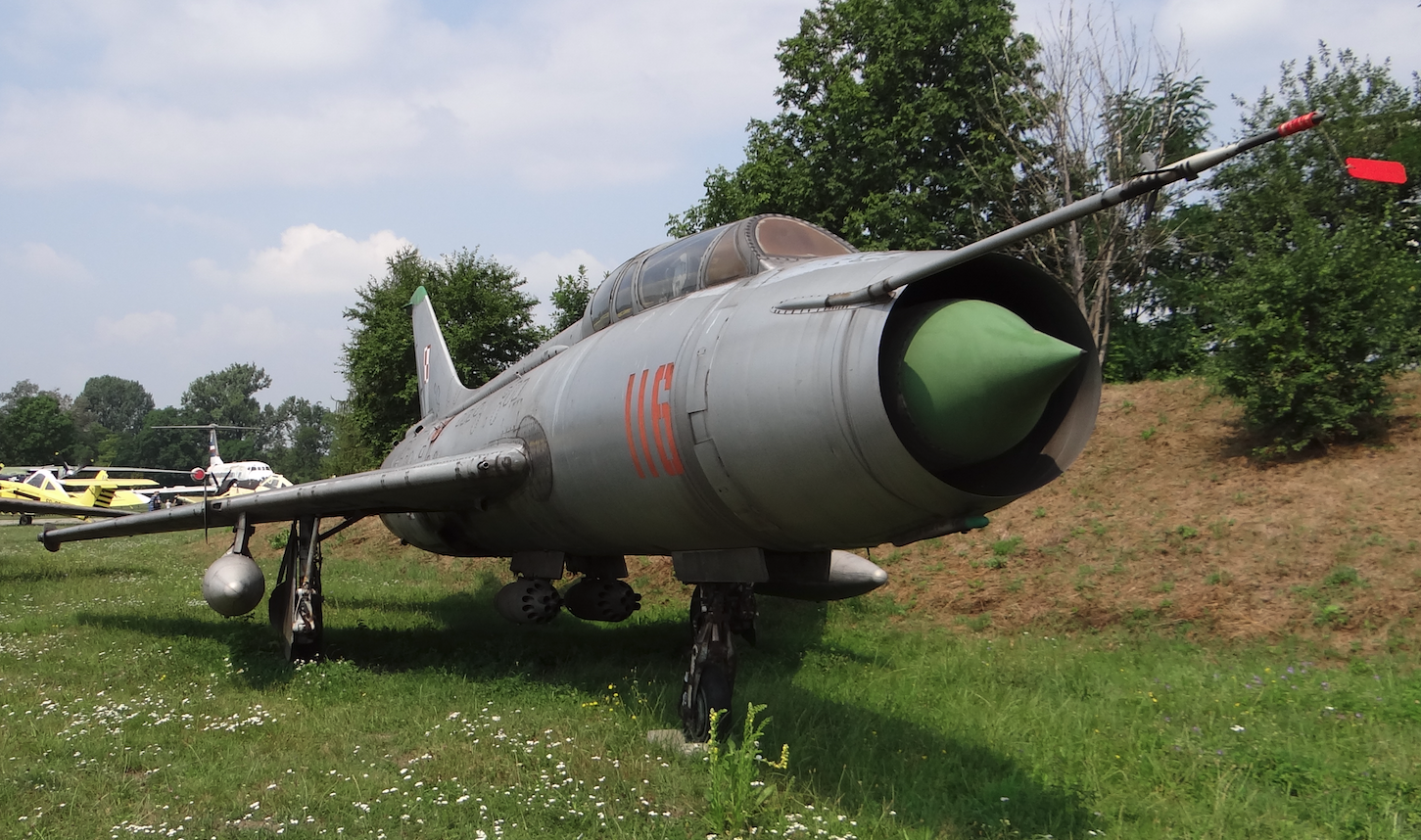 Kraków 2007-11-29
5th Fighter-Assault Aviation Regiment in Bydgoszcz,
and then
3rd Fighter-Bomber Regiment in Bydgoszcz
1944r.-1992.
History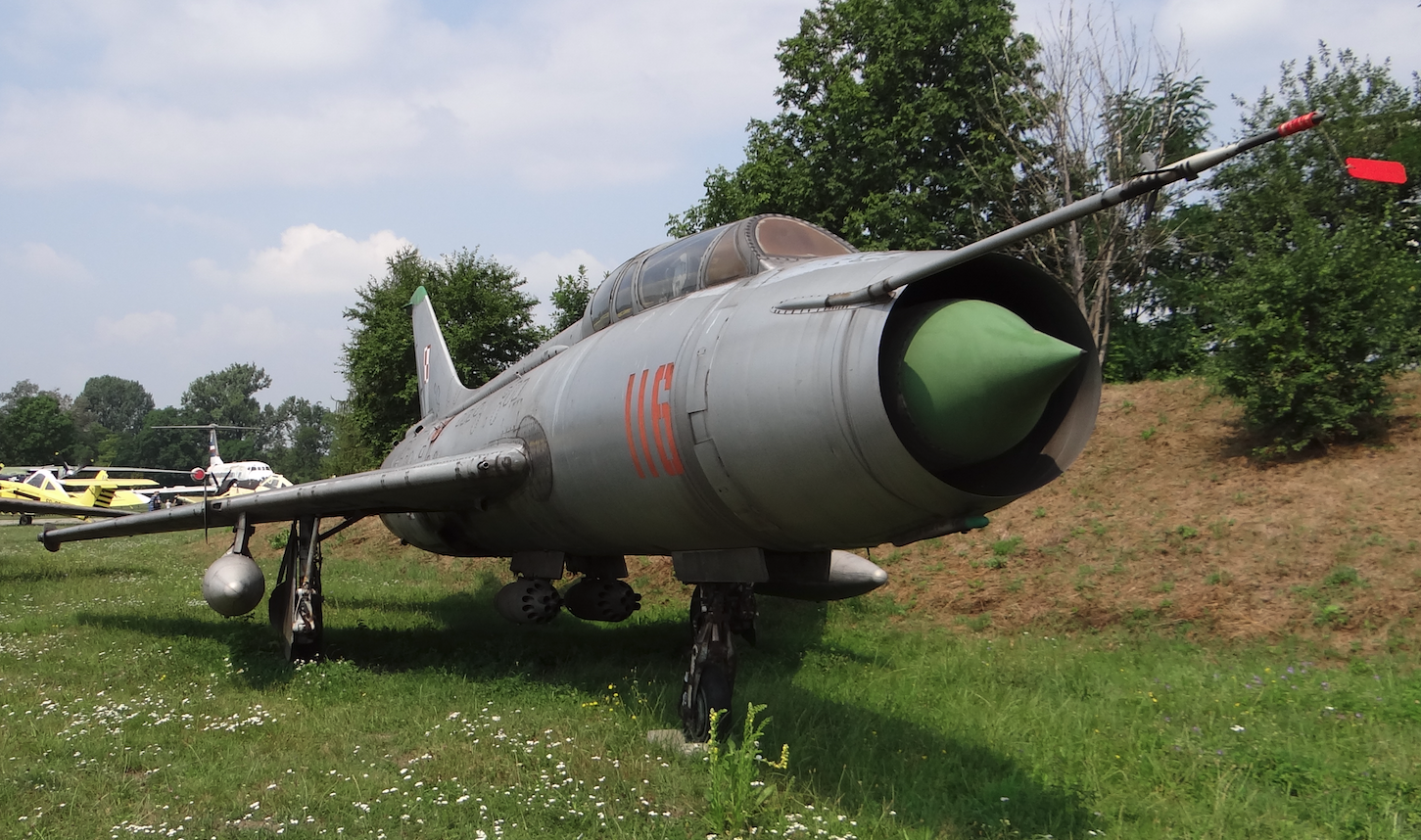 Introduction
The history of 5 PLM-Sz (3 PLM-B) dates back to World War II. At the end of August 1944, the Soviet 611 Assault Aviation Regiment was incorporated into the 1st Army of the Polish Army, which was formed according to the position No. 015/282, with a total condition of 199 people. By virtue of General Order No. 0211 of the Commander of the 1st Army of the Polish Army of August 28, 1944, regarding the inclusion of arrived units, the regiment was incorporated into its structures. This regiment had a long combat trail behind it and used the already well-exploited famous Il-2 attack aircraft. His staff was one hundred percent Soviet.
On August 30, 1944, the regiment was subordinated to the commander of the 1st Air Division, Col. Józef Smaga. It happened pursuant to the Order of the Commander of the 1st Polish Army No. 0213 of August 30, 1944, "on the temporary organization of the command of the 1st Air Division".
On August 31, 1944, the 1st Airborne Division was renamed the 4th Mixed Aviation Division, and the 611th Air Aviation Regiment was renamed the 3rd Airborne Regiment. This was done under Order No. 91 of the Supreme Commander of the Polish Army of August 31, 1944, "on the organization of unions and air units." In this way, three units; On August 31, 1944, 1 PLM "Warsaw", 2 PNB "Kraków", 3rd Regiment of Assault Aviation, formed the 4th Pomeranian Mixed Aviation Division.
Peace Period
At the end of World War II, all Polish units were ordered to return to Poland. On 10.05.1945, 3 PLSz, together with 2 PNB "Kraków" began service from the airport in Bydgoszcz. At the time, the airport was operated by 73 Airport Service Battalion. Many units are being deformed, but the 3rd Attack Aviation Regiment remains. Divisions are dissolved and the regiments pass under the direct command of the Air Forces.
This situation does not last long. On January 24, 1946, the order of the Supreme Commander of the Polish Army appeared. By virtue of this order, the 2nd Division of Assault Aviation was established with the composition; 4 PLSz - previously 2 PNB "Kraków", 5 PLSz - previously 3 PLSz (hero of this article), 6 PLSz - unit participating in II in ś, 7 PBN (Regiment of Diving Bombers) in Łęczyca. Numbers 1, 2, 3 fell to Fighter Regiments. Three fighter units, three assault units and one bomber unit were sought. A new structure and command system for a fully sovereign country was to be created. All these changes took place pursuant to Order No. 019 / Org of the Polish Commander-in-Chief of January 22, 1946, and Order No. 08 of the Polish Army Commander of Aviation of January 24, 1946.
4 PLSz and 5 PLSz operated jointly with the airport in Bydgoszcz. During the general reconstruction of the airport in Bydgoszcz, both regiments were transferred to the Lublinek airport in Ruda Pabianicka, near Łódź.
However, the second half of the 40's was a very difficult period for the Polish nation. We were under increasingly stronger Soviet domination. Many of our countrymen could not return to the country, and those who returned were harassed, often imprisoned and often sentenced to death for alleged espionage for the West. This fate did not bypass Polish airmen fighting in the West. A Soviet officer rules the Polish commands, and they are matched by communists with a Polish pedigree. There were also purges, i.e. the removal of uncomfortable soldiers.
As for the flying equipment, the situation looked bad. Machines that were involved in the war were still used. New aircraft appeared only in February 1949, in the form of modern structures of the Il-10 type and its Czechoslovak license B-33. Even worse, there was no view of modern equipment, as the Soviet offices did not carry out any work on a modern attack aircraft.
1950 year.
At the beginning of the 1950s, due to the war in Korea, there were significant changes in aviation structures. Aviation has grown organisationally. New tactical associations have emerged, including the 8th Division of Assault Aviation. In September 1950, 5 PLSz, temporarily based in Elbląg, was subordinated to 8 DLSz. This happened under Order No. 070 / Org. Ministry of National Defense of July 11, 1950, and Order of the Air Force Commander No. 0160 / Org. Of September 1, 1950.
At the moment, from 01/05/1952 to 01/11/1952, on the basis of 5 PLSz, the Command of the 13th Air Assault Division, 50 PLSz, 66 Communications Company and 56 Mobile Aviation Repair Workshops was formed in Elbląg. The listed units, together with 51 PLSz formed in Gdańsk-Wrzeszcz, were subordinated to Command 13 of DLSz, under Order No. 0096 / Org. Ministry of National Defense dated December 11, 1951. However, this was beyond our country's capabilities. And this organization was abandoned, and 5 PLSz returned to the command of 8 DLSz. Other units of this compound; 13 DLSz was not established, also 50 PLSz was not created, and 51 PLSz was subordinated to Command 16 DLSz, under Order No. 0078 / Org. Ministry of National Defense of November 19, 1952.
The first half of the 50s was a period of rapid development of fighter aviation, but the assault aviation equipment remained old. It wasn't until around 1954 that the first turbojet aircraft appeared in assault air regiments. These were primarily MiG-15 / Lim-1 aircraft withdrawn from fighter regiments. At the same time, the piston Il-10 (B-33) remained in service until 1960.
Changes after 1957.
In 1957, there were major structural changes in the Polish Military Aviation. Their beginning was the establishment of the Warsaw Pact. As a result, among others, Operational Aviation was established, which at the time of "W" would become an Air Army. Without going into the system of changes, let's focus on 5 PLSz.
3 KLMiesz (Mixed Aviation Corps) was created in Operational Aviation. There were 8 DLSz (Assault Aviation Division) in its composition. The division, in turn, had its composition; 4 PLSz in Bydgoszcz, 5 PLSz in Bydgoszcz (hero of this chapter), 48 PLSz in Inowrocław.
Due to the lack of a modern assault plane, fighter aircraft were adapted to assault tasks. Therefore, all assault aviation regiments change over time to fighter-assault regiments.
In the same year (1957), 4 PLM-Sz was transferred to Goleniów and passed under another division (11 DLM in Świdwin). 5 PLM-Sz and 48 PLM-Sz remained in the 8th Division Aviation.
At the beginning of 1958, assault aviation in Poland was completely subject to Operational Aviation and was concentrated in two divisions. First 8th Division Aviation Attack; 5 PLSz in Bydgoszcz, 48 PLSz in Inowrocław. Second 16th Division of Assault Aviation; 6 PLSz, 51 PLSz, 53 PLSz.
The second half of the 50s was a time of intensive training for the regiment's personnel. Pilots are trained on both piston and jet aircraft, which are gradually displacing the former. There is a clear lack of specialized turbojet assault aircraft. By the end of 1960, the regiment's combat readiness and training of individual officers increased significantly. All soldiers from flying personnel already had Pilot Class I or II.
1960 year. New Equipment.
In early December 1960, the regiment received two Lim-5 M aircraft for trial operation, the Lim-5 assault version. It was a long-awaited jet-powered assault plane. In the period from January 19, 1961 to May 10, 1961, the regiment received 13 Lim-5 M aircraft to equip, which means that the unit had 15 new stormtroopers. These aircraft were manufactured and introduced into three regiments, despite not completing all flight tests and tests. This was dictated by the huge demand for this type of aircraft in Poland. But already in the first days of use, many structural defects were found in the units and several accidents and disasters occurred. Therefore, the right decision was made to withdraw them from combat units and subject them to modifications.
5 PLM-Sz returned to training on Lim-2 aircraft and waited for new equipment. The modernized version of Lim-6 built in 40 copies did not suit the army and was not accepted at all. It was only Lim-6 bis that succeeded and it turned out to be in the Polish sky for many years.
On November 14, 1963, the Regiment received a key (4 aircraft) Lim-6 bis with the numbers 1J 05-26 (manufactured on November 9, 1963), 1J 05-28, 1J 05-29, and 1J 05-30. They were the only Lim-6 bis assault planes that the Regiment took on armament. This happened because at that time the decision was made to re-convert the Regiment into a completely new aviation technique, i.e. Su-7 B nuclear impact aircraft. Lim-6 bis and Lim-2 aircraft (and derivatives) from 1964, began to be transferred to other units.
1964 year. The new era of the Regiment.
In August 1964, 5 PLM-Sz received the distinguished name "Pomeranian". It happened on the basis of the Order Pf-40 / MON of August 25, 1964, "regarding the naming of historical names".
The real evolution and new era for the Regiment, however, did not occur because of the name change, but because of the introduction of heavy Su-7 B fighter-bomber aircraft. ) and rocketization (missiles) of the future battlefield. Under the Warsaw Pact, we were obliged to form at least one air regiment capable of carrying out attacks using nuclear weapons.
The decision to accept (purchase) the armament of Su-7 B aircraft was made at the turn of 1962-1963, and Bydgoszcz and the 5th Fighter-Assault Aviation Regiment were chosen to be stationed. The original contract was for 36 single-seater and 6 school, two-seater machines, which constituted the crew of one regiment with three squadrons.
Our air forces took their first 6 Su-7 BM (53 series) a few months after Czechoslovakia in June 1964. They were the only planes adopted by Poland in the Su-7 BM version. We received the next 12 Su-7 BKŁ aircraft in 1966. All these planes were placed in Bydgoszcz. Subsequent deliveries are; 1968. - 2 Su-7 BKŁ, 1969. - 3 Su-7 U, 1971. - 4 Su-7 BKŁ, 1 Su-7 U, 1972. - 12 Su-7 BKŁ, 1973. - 1 Su-7 U. In 1974-1977 - 4 Su-7 U (delivered together with Su-20 aircraft to Powidz). In 1986, these aircraft were transferred to the 3rd Air Regiment in Bydgoszcz.
Exploitation Su-7 BM / BKL / U
The base in Bydgoszcz was powerful, with a lot of facilities. In the first half of the 1970s, at least 30 shelter-hangars were built there for the aircraft to date (2007). Also there, repair workshops were organized for such unique aircraft.
In the second half of the 1960s, a group of pilots and technicians underwent special training in Russian units in CCCP. This training was related to the use of nuclear weapons. Pilots trained the technique of bombardment from an ascending flight at low altitude. Imitation of a nuclear bomb was used for this purpose. A tactical nuclear bomb (called atomic at that time) called 6U-57 was carried on the left sub-fuselage node. The right sub-hull node carried an additional fuel tank. In the same way, additional fuel tanks were carried on under-wing nodes.
In May 1967, 5 PPLM-Sz took over the heritage of tradition and the name and number of the 3rd Assault Aviation Regiment and became the 3rd Pomeranian Fighter-Bomber Regiment. This happened pursuant to Order No. 07 / MON of 4 May 1967 on the transfer of historical names and numbers of frontal troops to military units and the establishment of annual unit holidays.
In this form, the 3rd Pomeranian Fighter-Bomber Regiment lasted for many years. Only in February 1982, he was subordinated to the commander of the 3rd Brandenburg Fighter-Bomber Division. It was the result of our aviation preparing for the adoption of more modern Su-22 aircraft, while leaving Su-7 machines in operation. It happened on the basis of ordinance No. 06 / DWL of the Commander of the Air Forces of February 23, 1982.
For the 3 PLM-B, the next change took place only in September 1988, when due to the ending resources of Su-7 aircraft, the regiment was renamed the 3rd Pomeranian Air Training and Combat Regiment. Su-7 aircraft, starting from the Su-7 BM version, were gradually decommissioned and TS-11 Iskra aircraft were introduced in their place.
In Poland, Su-7 aircraft were used until June 1990. As a result of the Helsinki Agreements, the reduction of combat assets that could carry nuclear weapons resulted in the definitive end of operation of Polish Su-7s. Some planes were scrapped, but a significant number of them went to museums, mainly in 1994.
On March 6, 1992, a formal dismantling of the unit took place, at which the regiment's flag was farewell. On April 30, 1992, unit 3 of the Pomeranian Regiment of Training and Combat Aviation was dismantled.
As a result of various events, 1 Su-7 BM (1970), 5 Su-7 BKŁ (1969, 1982, 2 x 1984, 1987) and 1 Su-7 U (from 7 BB-R in Powidz) were lost .
It is noteworthy that one Su-7 BKŁ nb 023 was handed over to Czechoslovak aviation in exchange for a plane accidentally shot down by a Polish pilot on a MiG-21 PFM aircraft in 1971.
At the beginning of 1988, the Russians gave Poland one copy of Su-7 BKŁ in exchange for a plane destroyed in 1987 by a Russian pilot during a flight to a repair plant.
1992 year. End of Regiment.
On April 30, 1992, the 3rd Pomeranian Aviation Training and Combat Regiment was dismantled. On March 6, 1992, a formal dismantling of the unit took place, at which the regiment's flag was farewell.
Airplanes used in the Regiment.
Ił-2,
Ił-10 / B-33,
Lim-1 / 2,
Lim-5 M,
Lim-6 bis,
Su-7 BM / BKL / U,
TS-11 Iskra.
Written by Karol Placha Hetman